Back to news
How Much Do Timber Doors Cost?
October 24, 2023 | Blog
Exterior timber doors are a popular choice for homeowners wishing to invest in their homes. Whether you are looking to replace your front or back door, timber custom doors offer a stylish solution that stands the test of time. If you're considering replacing or upgrading to an exterior timber door, we've created a cost guide, so you're clued up and can take the next steps with a budget in mind.
How much does a timber door cost?
A factory-finished timber front door complete with a fitted locking system, frame and hinges can cost from £1,600 for a standard 2-panel design, with more bespoke design costing £1,950 to £4,000 for supply only excluding VAT. Factors that affect the cost of timber doors and bespoke doors include the number of panels, bespoke design features, any additional security features and accessories. Finish options such as dual colour or separate frame and leaf finishes and the type of wood used to make the door will also affect the price. Custom made external doors come with the price range they do, thanks to the fantastic natural qualities timber offers; from aesthetics to security and robustness, they are a very popular choice for homeowners, and it's not hard to see why! The final cost of your timber door cost will be dependent on any features you choose.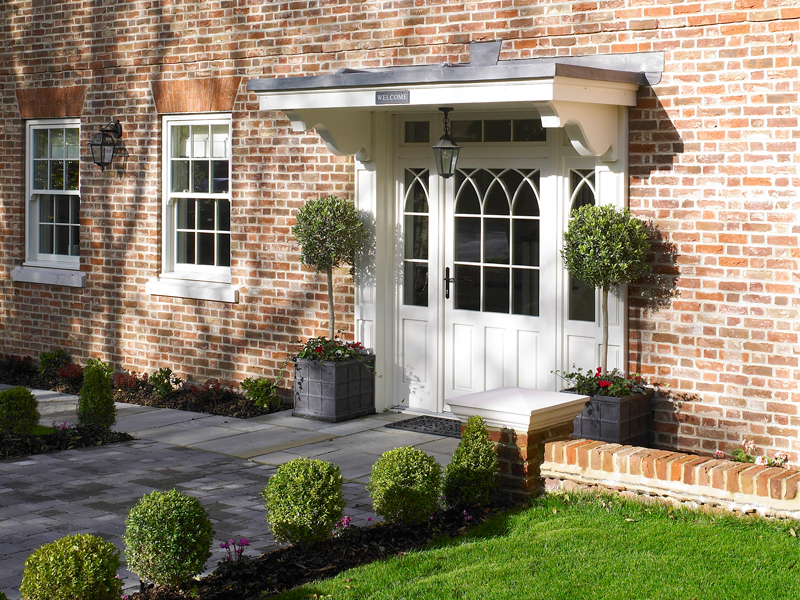 How much should I spend on a timber door?
It is always best to aim to invest in the best quality timber bespoke doors that you can, as they can become a fundamental feature of your home when manufactured and installed correctly. A price tag from £1950 demonstrates that you are investing in a good quality product that will stand the test of time. People often choose to buy wooden custom doors as an investment rather than a quick fix, as they are durable and, with the appropriate maintenance, can have 2-3 times the lifespan of a uPVC equivalent. Custom made external doors made from timber will come with a higher price tag than off the shelf options, and features such as custom sizes, shaped glass, or crafted ironmongery will impact the final cost.
At Bereco, our timber bespoke doors come with a 10 – 30 year warranty for features such as ironmongery, factory coatings, defects, and natural decay and can have a lifespan of up to 60-years. Along with minimal and standard timber door maintenance, you can expect to enjoy your new timber door for years and years. They are an excellent choice to bring style, sophistication, and originality to a property. With so many styles, colours, and finishes to choose from, you can find an option that suits you no matter your price range.
Check out our guide: Choosing the right colour for your timber windows and doors.
How long do timber doors last?
The lifespan of timber doors depends on various factors, including the quality of the product, materials, finish, exposure, and the level of maintenance given. It's always best to do your research upfront to ensure that you purchase a quality product that will stand the test of time. At Bereco, our timber doors have a lifespan of up to 60 years. Timber doors do require some level of maintenance; it's crucial to ensure that the finish is maintained to protect the timber and extend the door's lifespan. The amount of maintenance required will depend on the initial quality of the finish, the quality of its installation and its level of exposure to the weather. For example, if you live near the coast and your door is exposed to salt-heavy sea air, this can cause heavier wear on the finish and require more regular maintenance.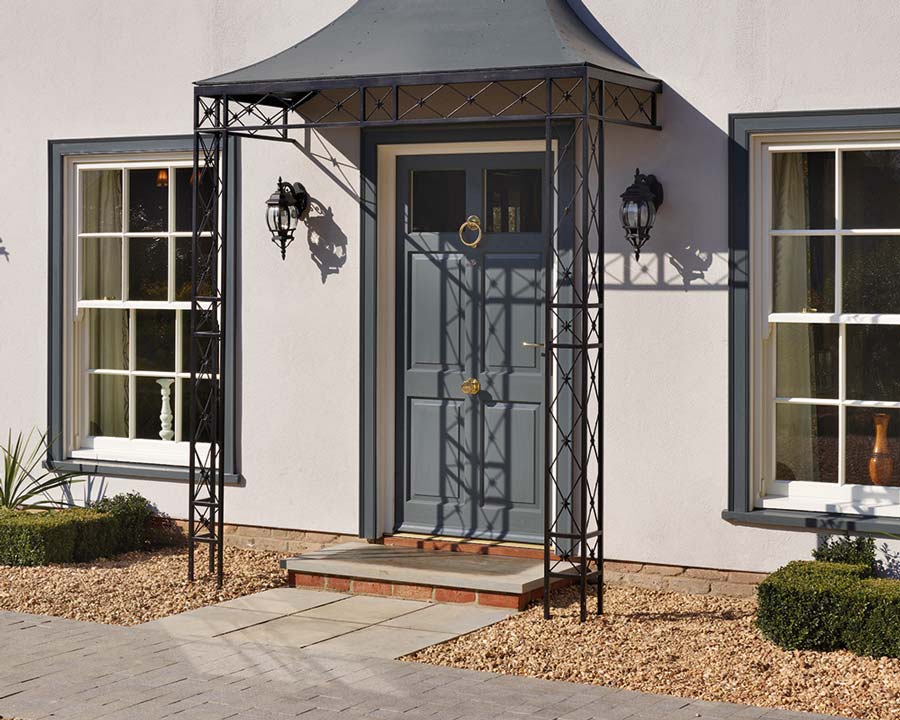 Are there any other factors to consider when buying a new timber front door?
You can upgrade your existing front door with a timber front door without changing any other exterior features of your property. Be sure to check that building regulations do not impact your new timber door; the best way is to use a certified installer, such as Bereco.
Do I need planning permission to change my front door?
You should only need planning permission to change the entrance location, particularly if this change potentially obstructs existing features such as roads or property access. For example, if you are moving your door from the side of the house to a front-facing pavement or changing the size of the door portal, you may need permission. If you live in a conservation area, a listed building or a building recognised by a Heritage body, you may need to check what you are permitted to change as there may be local conservation limitations to the construction, style and colour.
How thick is a timber door?
Door thickness will vary by supplier. Generally, most external door leaves are around 54mm thick. At Bereco, our custom made exterior doors are 68mm thick, offering a robust and sturdy entrance to your home to protect against weather, sound and any would-be burglars. Our timber windows and doors are also tested and compliant with Secure by Design and Part Q compliant with building regulations, so you can rest easy that your home is safe and secure day and night.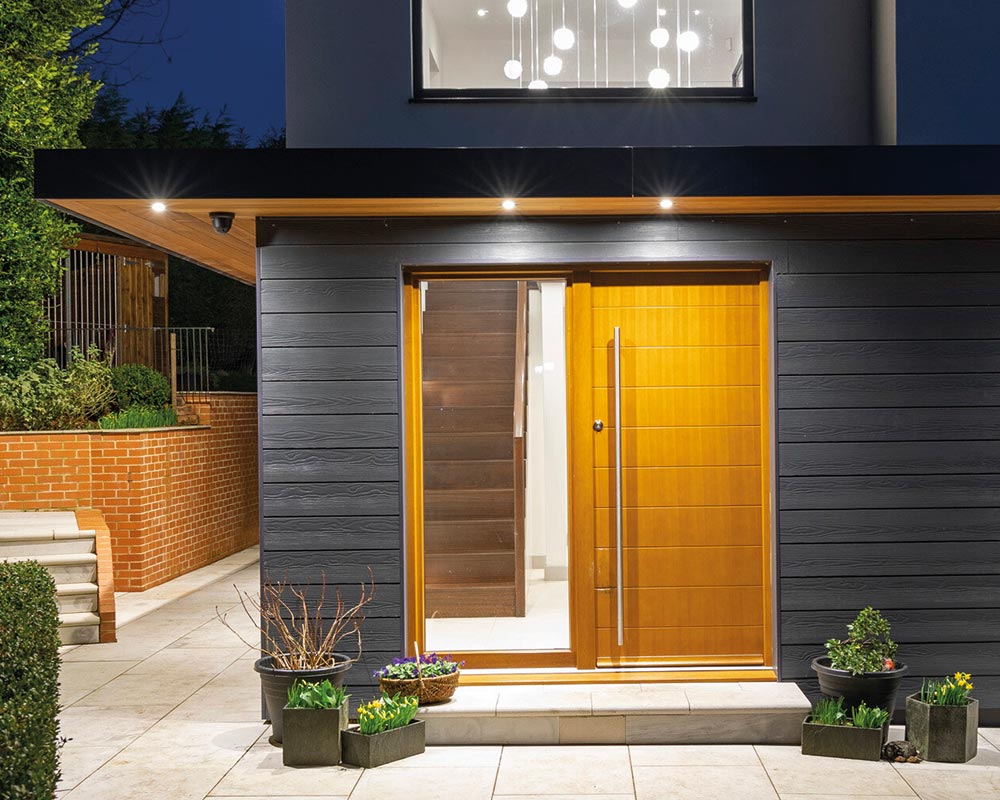 What kind of wood are most timber doors made from?
Timber door suppliers use a variety of redwoods and hardwoods. Depending on the manufacturer, they may use solid timber or engineered laminated lengths. At Bereco, we only use Engineered laminated wood as it is the most robust and most durable option. Engineered lengths of timber negate the issues of strength and warping seen with solid lengths timber, making the use of redwoods an excellent choice as they are robust, hardwearing, and economical. 75% of all new timber doors in the UK are made from redwood, as it is one of the most sustainable timbers. For doors made from solid timber, oak is a popular choice due to the natural characteristics of the wood and the attractive look of the grain, making it one of the most expensive types of timber.
What is the best wood to use for door frames?
The best wood to use for door frames is engineered laminated redwood that is durable and sustainably sourced. At Bereco, all our doors come pre-hung, meaning that the door and frame are delivered together as one. You can read more about the timber manufacturing process at Bereco to see how we ensure maximum performance from our custom made timber doors and frames.
What is the best type of wood for a timber front door?
As you are investing in your home, you will want to choose a durable and robust door to ensure that you get the longest lifespan and maximum value from your investment. At Bereco, we use defect free lengths of engineered timber, which are both strong and resistant to warping. We offer two options, Redwood (Scots Pine) and Hardwood (Dark Red Meranti). Redwoods provide a smooth surface, which is a perfect timber for painted finishes. Hardwood is ideal for stain finishes to show off the wood's natural grain and create a beautiful feature. All our timber is FSC®100% certified sustainably sourced.
You can read more about the timber we use on our website's timber entrance doors and wooden windows.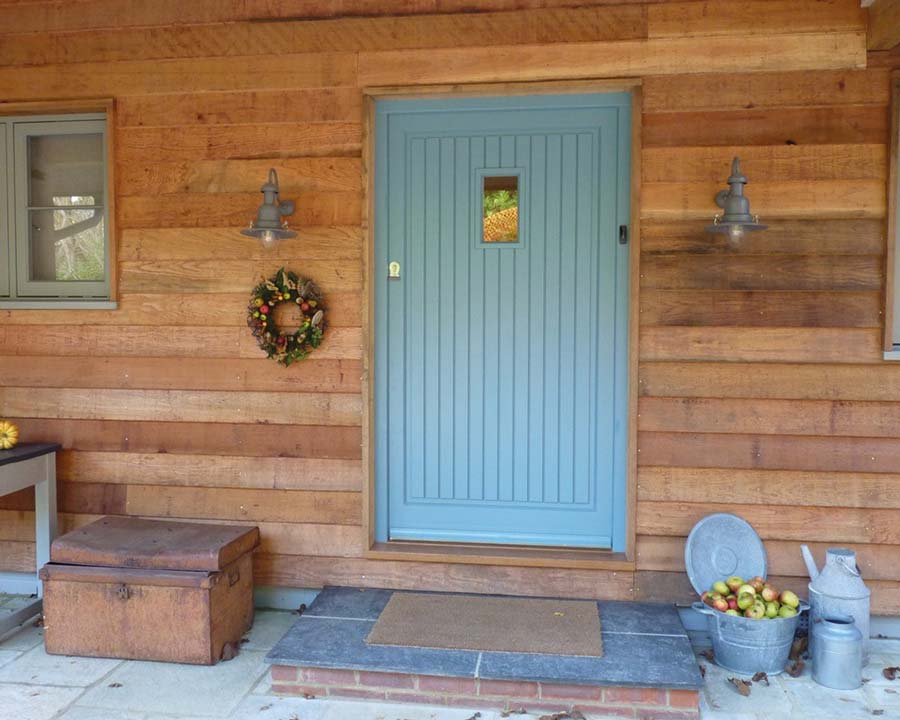 What materials are commonly used in timber doors?
In addition to the timber of choice, some custom doors may feature insulated panels containing a composite insulation material sandwiched between the wood. In addition to this, you can find a variety of materials for finishing features such as handles, doorknobs and letterboxes. Popular options include polished chrome, brass, nickel, and pewter. You can read more about the door accessories and ironmongery in our timber windows and doors style guide.
What types of timber door can I install?
You're not limited to just timber front doors, although these are a popular choice. Many timber door manufacturers, including Bereco, manufacture other types of custom doors such as timber french doors, timber bi-fold doors and sliding patio doors.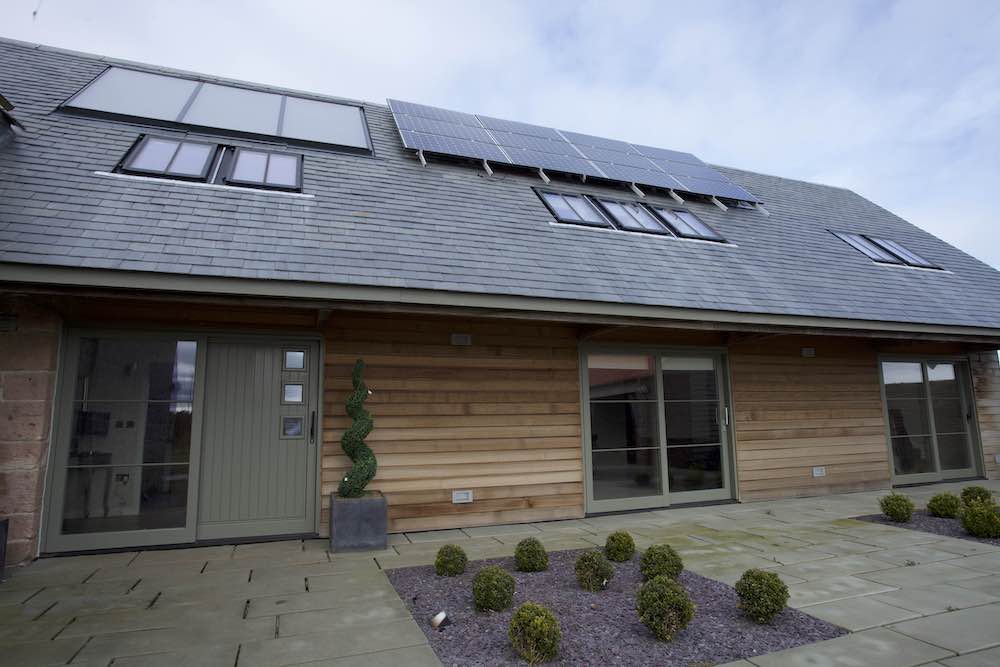 How much does timber door installation cost?
Installation of timber doors will depend on the installation company or contractor you hire to install your door. Just for the installation (not including the door), you can expect to pay anywhere between £2000 and £3000 per day for a team of fitters, and there may also be survey fees to consider. Speak to them about the typical installation process, including how long it will take, what to expect, and the overall cost.
For more information on Bereco's window & door replacement service, see our supply & installation service page, and book a design consultation to get a quotation.
How long is a typical lead time for a timber door?
The lead time for a timber door will depend on the supplier. And can be anything from 6-30 weeks depending on the supplier and whether you are opting for a supply only or supply and installation service and other factors.
Are delivery costs included when ordering a timber door?
Many timber door suppliers include delivery costs within the price they quote to you, as we can do here at Bereco. Be sure to check with your supplier when ordering your timber door.
How long does it take to install a timber door?
Typical installation time can be from as little as a few hours to a whole day, depending on the existing doorframe and type of timber door being installed. You will need to contact a door installer and fitting joiner to install your timber door, who will guide you through the process.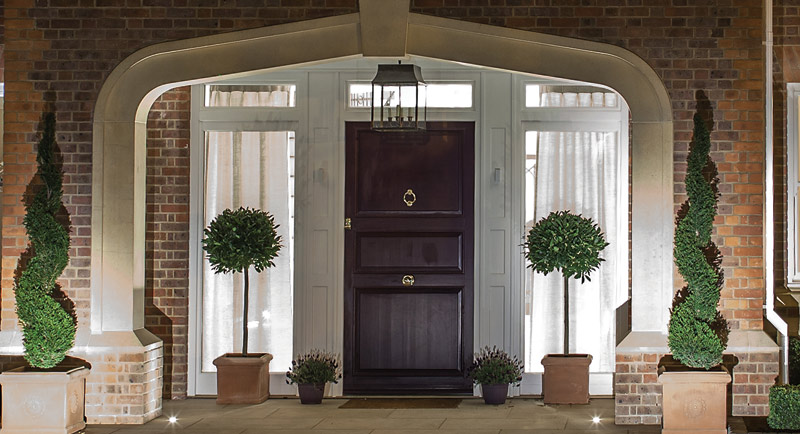 Are certain paints and stains more expensive than others on timber doors?
How do I maintain my wood front door?
It's essential to keep your timber front doors door maintained. You can keep a timber door in optimum condition with annual maintenance, which will involve cleaning your timber door and, where necessary, re-decorating the door with paint or stain. Always follow your door suppliers instructions for maintenance, as the exact procedure will vary depending on the finish type used. Regular maintenance and weatherproofing will extend the lifespan of your door and keep it looking as good as new in the years to come.
Can I see how a new timber door will look on my home?
You could visit a showroom and look at doors, but you will be limited to their styles on display, and you may get the hard sell. You could ask an architect to visualise your home with a new front door, but it will be expensive, and it may take a while. With our virtual design consultations, we can show you different designs, styles, colours and handles and overlay your choices onto photos of your home — all in real-time with live pricing! There's no time spent travelling to showrooms to see only the ones they have on display, there are no costs, it's free in real-time, and there's no hard sell. We will just wow you with visuals of your new door on your home!
You can explore our entire range of timber entrance doors, timber french doors, and timber sliding patio doors here, or head to our blog for more insight.