Back to news
How to Clean and Maintain Your Timber Windows and Doors
October 24, 2023 | Blog
The level of maintenance that your timber doors and windows will require will depend on the types of treatment and protection applied at the factory, as well as the specific timber type.
It is best to contact your supplier if you are unsure of how best to maintain your timber windows and doors. They will be able to provide you with the best advice for the type of finish and timber used to make your front door. You should do this before doing anything else, as you could potentially damage the wood using unsuitable products or cleaning techniques.
How to clean wooden doors
External timber doors need a protective finish to shield the timber from the elements and ensure longevity. Finishes come in many different forms, including paint and stain finishes, which can be water or oil-based. At Bereco, we use only water-based finishes as they are the most environmentally friendly option. Over the years, natural wear and tear from wind and rain can start to impact the look and performance of the finish, especially if you live in an area exposed to the elements. Eventually, all timber doors will need to be redecorated to ensure that the timber remains protected; however, occasional cleaning can help to preserve the finish and reduce long-term maintenance.
The best cleaning method for your door will depend on the finish type. Always check with your supplier to ensure that you are using the appropriate cleaning products. At Bereco, we use the Teknos Clean & Care Kits specifically designed to work with our factory coatings.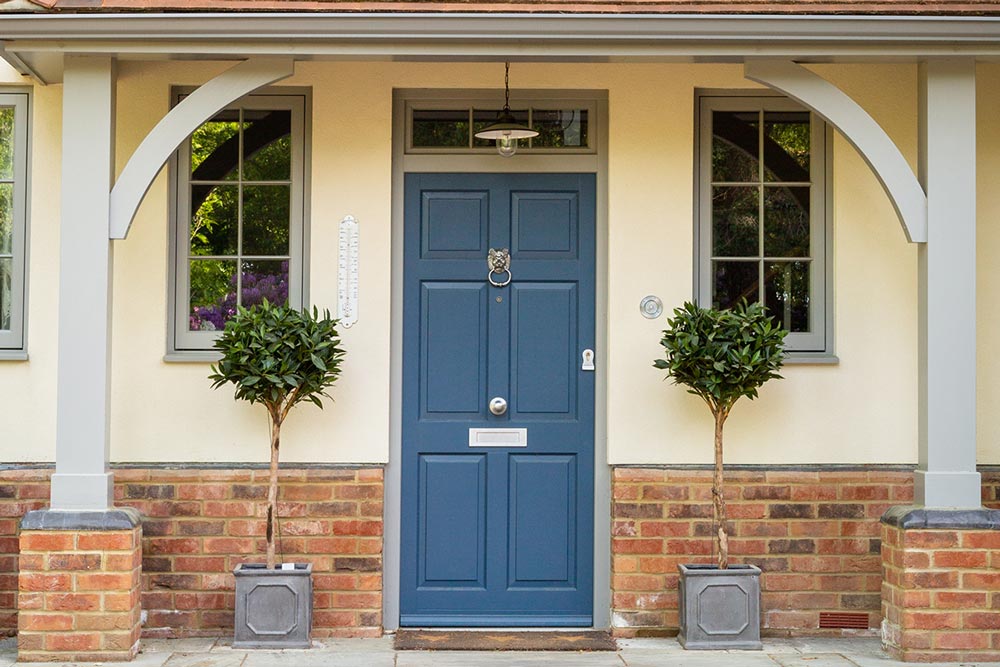 Clean your Bereco wooden door in eight steps 
Prepare your timber door by using a dry paintbrush to remove any dust from the door that may be hiding in the edges or corners.
Fill a bowl with warm water, adding the TEKNOCLEAN 1956-00 solution (for light cleaning, use 10ml per 8-10ltr of water. For thorough cleaning, use 50ml per 8-10ltr of water.)
Use a soft lint-free cloth and water to wipe down the door gently, to remove any dirt and grime.
Remember also to clean the sides of the door leaf. (Ensure the cloth is clean to avoid marking or damaging the door)
Remove any residue from the door with clean, warm water and a cloth.
Apply the TEKNOCARE 4250 solution with a clean, lint-free cloth. Work the product gently into the frame to restore shine and to restore the water repellent properties of the coating.
Clean the door handles and other ironmongery
Clean and lubricate all moving parts, including hinges
At Bereco, we use engineered laminated timber sections that help to prevent twisting or warping. Our timber goes through an extensive process to ensure the wood is protected and sealed when it arrives for installation. All Bereco timber frames receive an initial timber preservative treatment, to protect against rot and fungal decay. Our timber windows and doors then go through a three-stage sanding process to ensure an incredibly smooth finish. We sand the timber after the preservative treatment, basecoat application and topcoat application, respectively.
The final topcoat is applied for a weather-resistant layer of protection, and our drying process ensures the thickness of the coatings is consistent. The timber is then manually checked, ensuring a premium product with suitable paint thickness to last for years.
In most circumstances, you should not need to redecorate your Bereco timber windows and doors for up to ten years after purchase. The exact time will depend on your home's location and the amount of exposure to harsh weather conditions.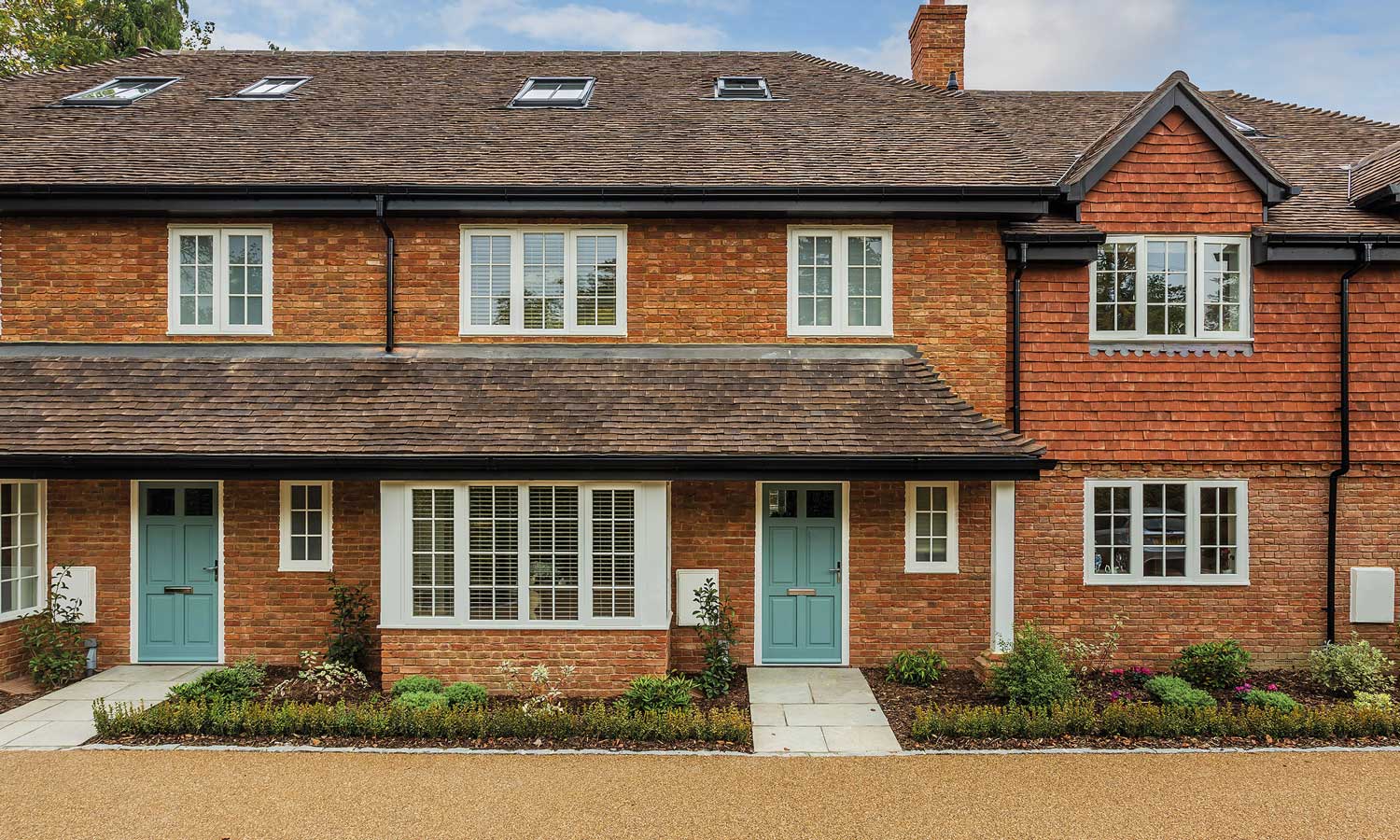 Timber window and door maintenance guidelines
How often should you clean and maintain your timber windows and doors?
At Bereco, we recommend that you carry out maintenance twice a year, in spring & autumn, to ensure optimum performance from your timber doors and windows.
If you find peeling, flaking, or surface damage to your timber doors or window, repair the area as below, or see our Timber window and doors routine maintenance guide for full details.
What cleaning products should I use for my timber doors and windows?
The best type of products for cleaning your windows and doors will depend on the finish. It's always best to check your supplier's recommendations. For Bereco timber windows and doors, we recommend only using our approved Teknos Clean and Care set. Other cleaning products may contain ammonia, which acts as a corrosive agent and can damage the glazing and coating on your timber windows and doors.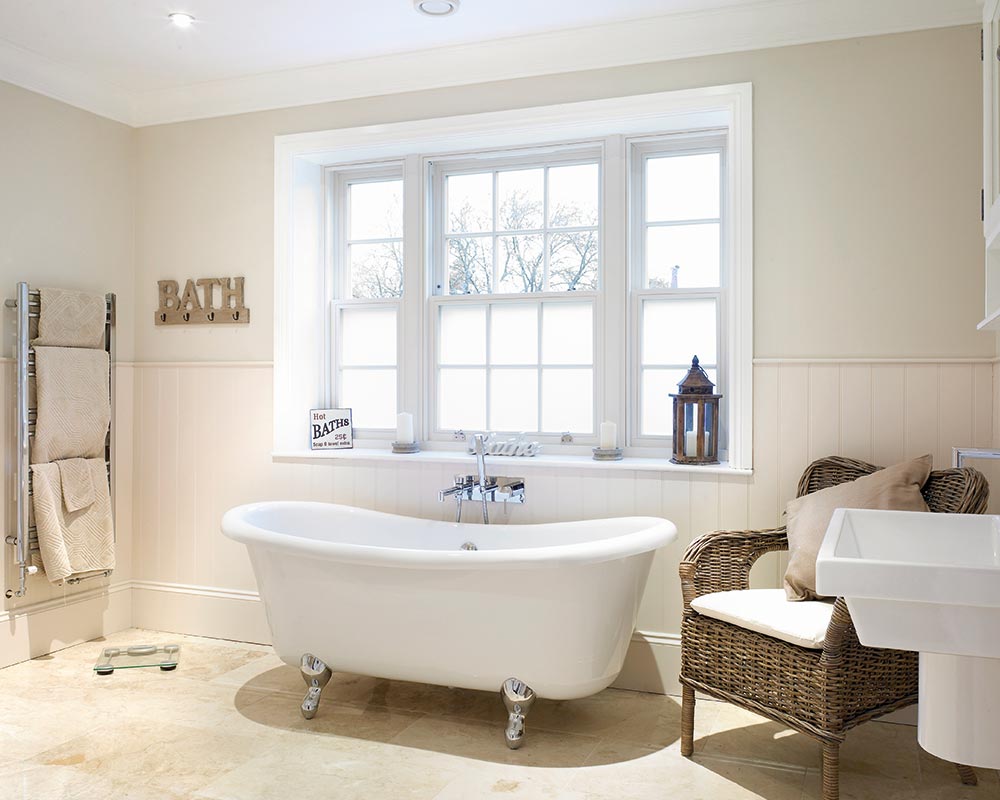 Signs you need to redecorate your timber windows and doors:
Widespread flaking or peeling of paint from coating surfaces
Widespread colour fading or dulling of the coating
Pronounced or raised grain where it wasn't previously noted
For peeling or flaking paint
Prepare the area by removing any loose or flaking sections of the coating. Use sandpaper with a p120 grade to achieve this. Clean the sanded area with warm water and a lint-free cloth or sponge.
Allow the area to dry thoroughly.
Apply two coats of Teknos Aquatop 2600 in the appropriate colour and gloss level. Allow at least one hour in between the coats for drying.
Our tips for effective, long-lasting repairs:
Ensure the whole window frame has been cleaned and is free from dirt and surface contaminants, as failure to do so may affect the adhesion of the coating and the longevity of any repairs undertaken.
Mix any paint or stain well before use and check it's still within its expiry date before applying (our paint has a shelf life of 18 months)
Use an angled makeup sponge to apply the paint or stain rather than a brush to avoid overapplication and ensure a smooth and even finish.
Use a hairdryer on a medium setting to speed up drying time between coats.
Maintenance guidelines for timber damage
For timber damage, use a two-part wood filler to fill any areas of damaged timber dents. Once the timber is dry, sand the filler, so it's smooth, using a p120 sandpaper. Wipe the area clean to remove any dust.
Apply one layer of basecoat Teknos Aquaprimer 5200-1 (for opaque tainted finishes). Use Teknos Aquaprimer 2900 for translucent stained finishes.
Then, apply two coats of Teknos Aquatop 2600 in the colour and gloss appropriate. Give one hour of drying time (at least!) between drying. Apply a minimum of 2 coats, and add more if necessary.
We advise cleaning your timber at least once a year. Use a soft cloth and warm water to wipe down your timber windows or door, as this will help remove any dust and dirt and prevent buildup. Always rinse your windows with cold water once you have cleaned them to remove any remaining cleaning products you have used, and avoid soaking the timber with a hosepipe. Check with your supplier about the types of cleaning products you can use, to prevent damaging the timber in any way.
You can read more about caring for your timber windows and doors via our blog. If you are considering buying a timber window or timber door, book a design consultation to find out more and discuss the best options for you.