Back to news
Design Ideas for Your Entrance Door
October 24, 2023 | Blog
What's the best design for your front door?
If you're looking to transform your home exterior, your front door is a great place to start. The right door design can transform your home, and custom front doors add instant kerb appeal and value. If you are looking to revamp your timber front door and need some inspiration, our front door design ideas can get you inspired for your own transformation.
As experts on wooden entrance door design, Bereco have been manufacturing bespoke front doors since 2003. We share what we've learned below so that you can make the right choice for your own custom front door. Read on for some unique and decorative door ideas to get you excited to transform your own home.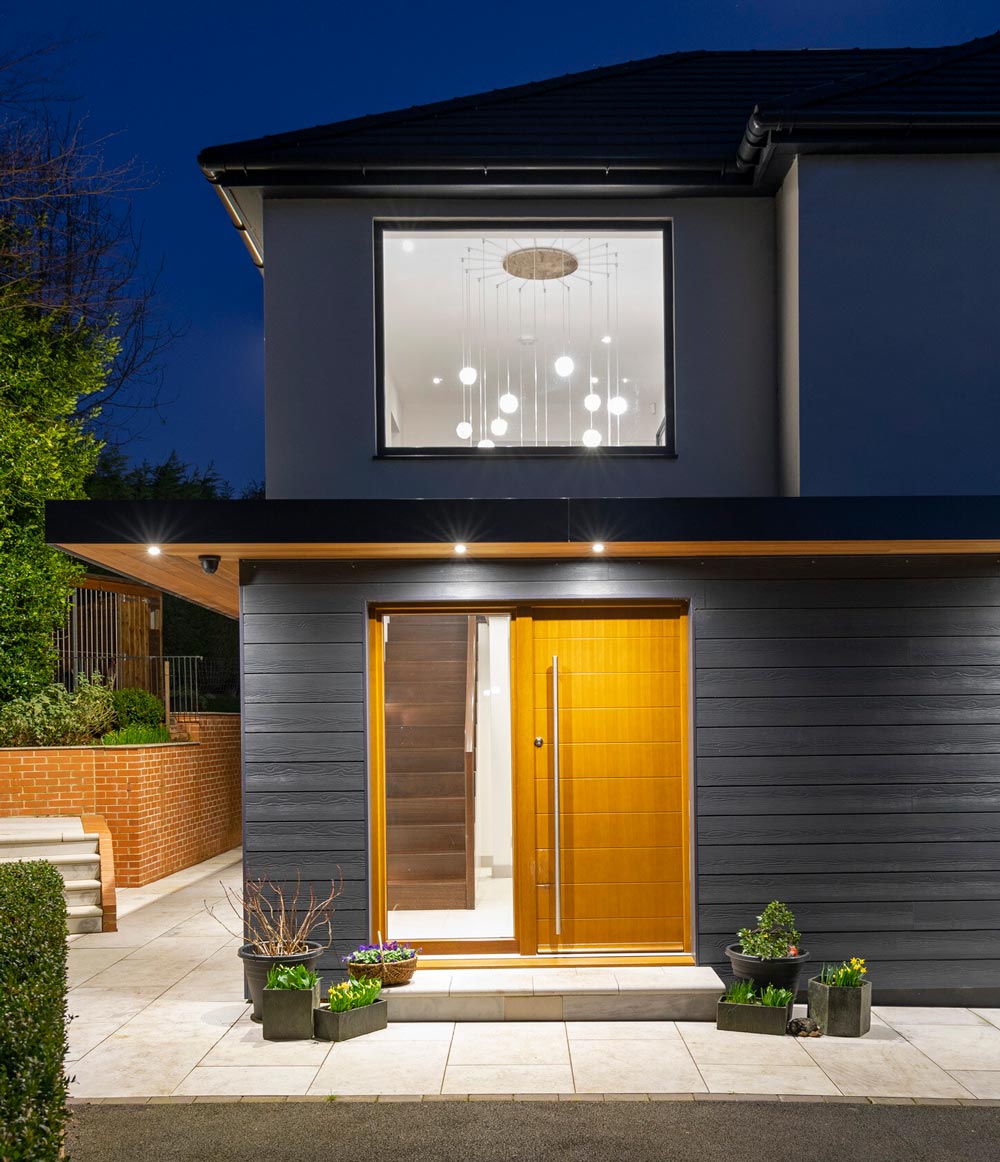 What type of timber front doors are there?
There are plenty of wooden entrance door designs to choose from. Wooden front door design options include traditional panelled doors that can include glass (often called vision panels) and more contemporary timber door styles that feature large timber panels with minimalistic linear detailing. Some styles and designs will be more suitable than others based on the aesthetics of your home. From traditional style with doorknobs and stained glass to modern, sleek designs with clean lines, the design you choose should complement your existing home design and be in keeping with your existing colour schemes and themes.
Explore our front door styles here
Wooden entrance door design
Your entrance door is one of the focal points of your homes' exterior. You'll use it every day, and a great front door design will make for a bespoke feature that you look forward to coming home. With the dual colour finish possibilities available on timber doors, you can effortlessly blend indoor and outdoor styles and easily find the perfect paint colour for your door that's in keeping with your vision. The possibilities are endless, from traditional cottage charm to modern, clean lines, to calming and welcoming pastel tones. What's more, timber is one of the most robust and long-lasting materials you can choose for your front door, ideal for the heavy daily footfall your front door receives and for keeping your home secure.
You can read more about the timber we use in our wooden front doors at Bereco here.
How can I make my front door attractive?
Everybody wants to enjoy coming home. An aesthetically pleasing entrance door can transform your exterior home for that all-important kerb appeal, and depending on the style of your home exterior, some front door designs will be more suited than others. We explore options below with top tips for what to consider when designing your front door.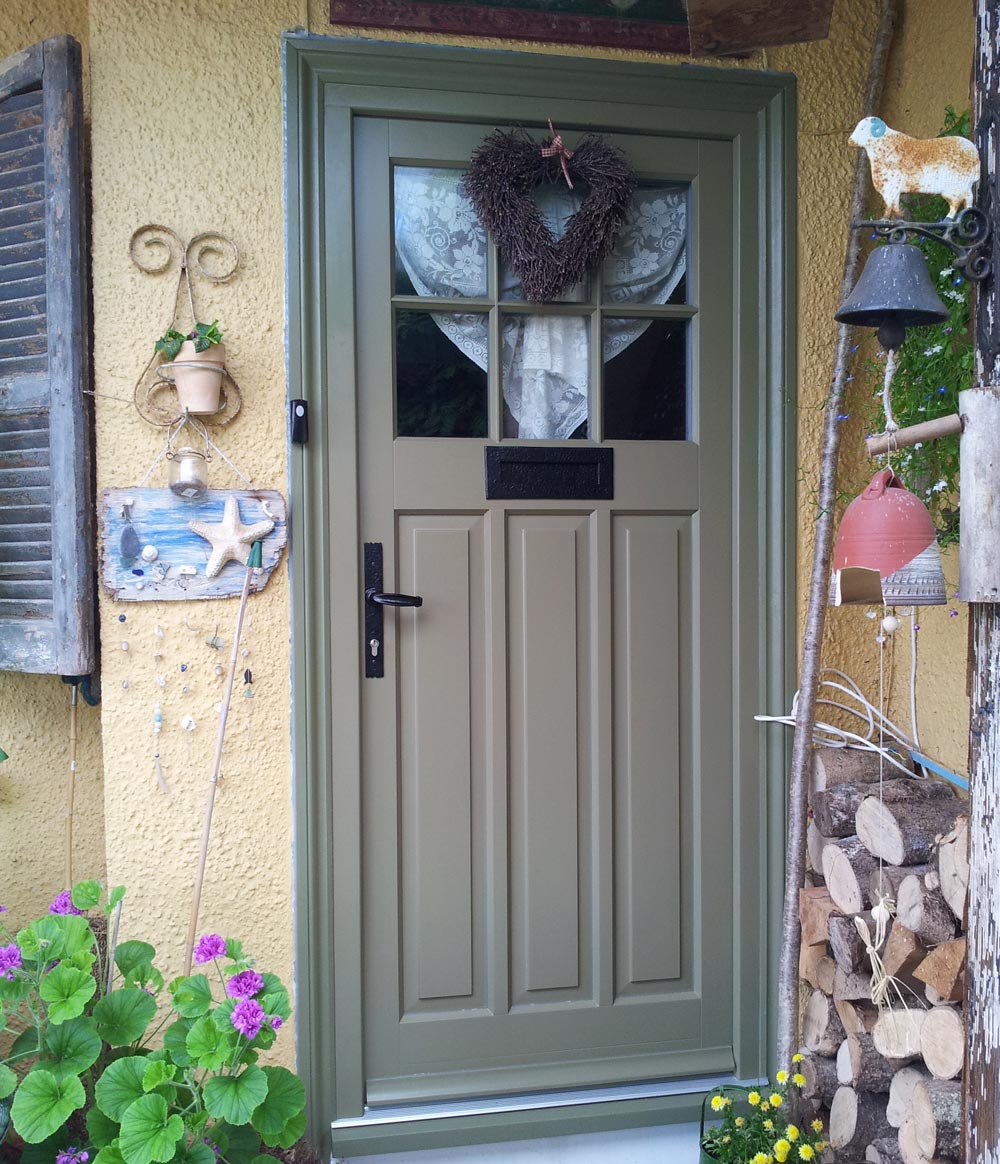 Design ideas for your timber front door
Install frosted glass and bright colours
Frosted glass panels match well with bright and bold colours, creating an instant feature of your home. Adding glass to your front door design can add another striking effect to your home and make it a welcoming entranceway. Obscure glazing on a timber entrance door matched with a bright and bold shade can instantly transform the look and feel of your front door, allowing for a little extra privacy while letting light into your hallway. A pop of colour such as a pillar box red or cobalt blue can lift your home exterior, making a real feature of a property. For traditional homes such as Georgian and Edwardian townhouses, a brightly coloured front door is a popular choice.
Use soft pastels
Soft pastels have grown in popularity over recent years. The most popular colour for a front door is often disputed, but calming lavenders and duck egg blues regularly top the list, thanks to their calming shades that compliment pretty much any style of home. Softer, lighter pastel shades work particularly well with lighter exteriors and period properties such as listed cottages and barn conversions. Soft pastels work brilliantly to bring extra character and period charm as they work so well with materials such as stone and exterior render finishes typical on older properties.
Download our style brochure to explore Bereco's exterior door colour range.
Match your external front door and windows
An excellent tip for those looking to add some kerb appeal to the front of their home is to match the colour and style of your windows with your front door. You can create synergy between your windows and front door by matching the colour of your door frame to your window frames. You can still have a feature door leaf colour that pops, but by matching the door frame to the windows, you can create an association between the two. Similarly, in design, if your windows sit on either side of your doors and feature glazing bars, make sure you line them through; it's much more appealing to the eye.
Match bold colours with black features
Go sleek and simple for modern homes with your entrance door design. More contemporary timber entrance doors in bold colours such as black and dark grey can create a bold statement. These doors often feature large panels, sleek vertical stainless steel pull handles and slim vertical glass panelling.
Include feature ironmongery for period properties
Bespoke ironmongery can help to complete the look you desire for your property. Bespoke hardware such as door knockers, door handles and letterboxes can add a touch of sophistication, style and flair to any front door. From modern, subtle brushed steel for contemporary designs to traditional knockers and doorknobs, door accessories can bring a timber front door to life with elegance and complete your design vision effortlessly.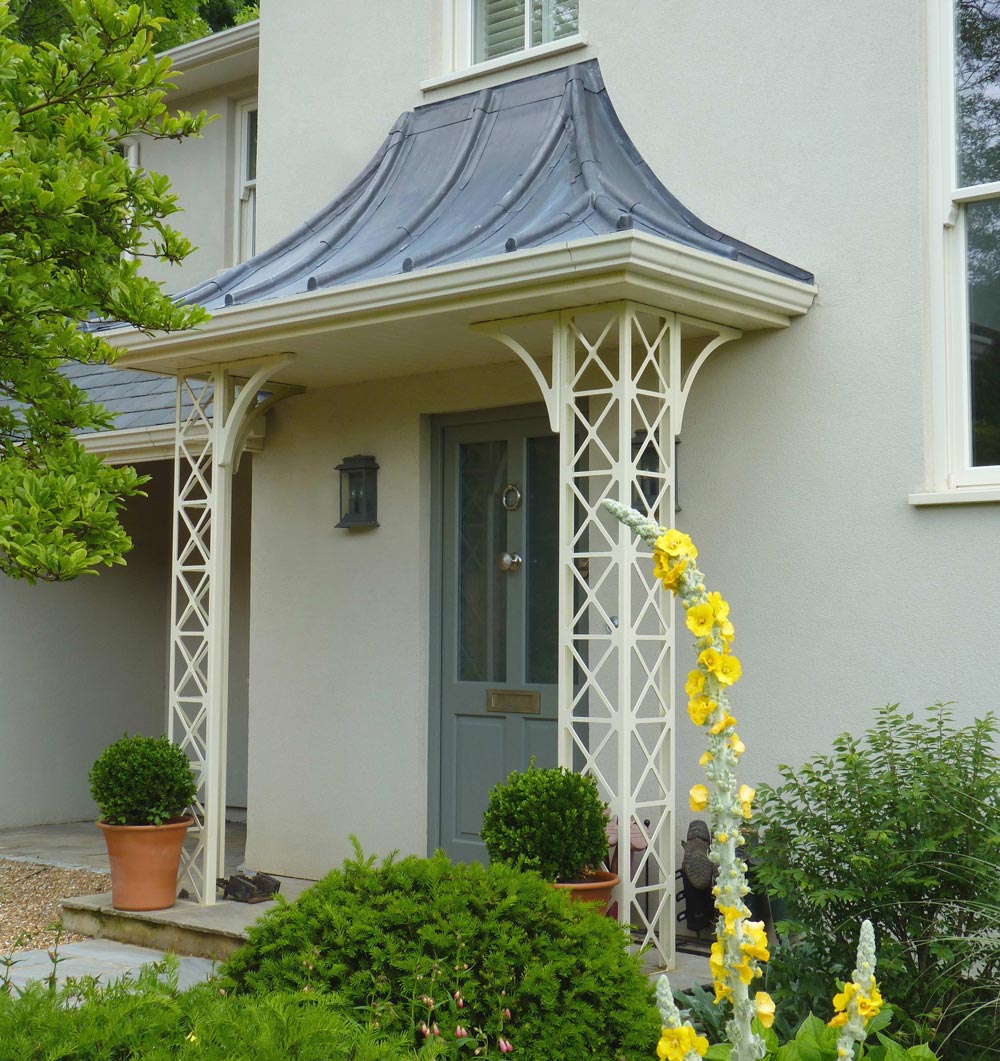 Consider a canopy, porch or portico
Framing your front door with a canopy, porch, or portico gives a couple of great benefits. Porches or canopies will protect your front door from excess weathering and will provide shelter from the rain when needed. Such features also frame your front door to create another attractive focal point of the front of your home exterior. From simple timber structures with climbing plants to a small overdoor roof, features such as this will draw the eye and add heaps of kerb appeal. This stylish metal porch with a zinc roof doesn't close the door in but makes the entrance inviting.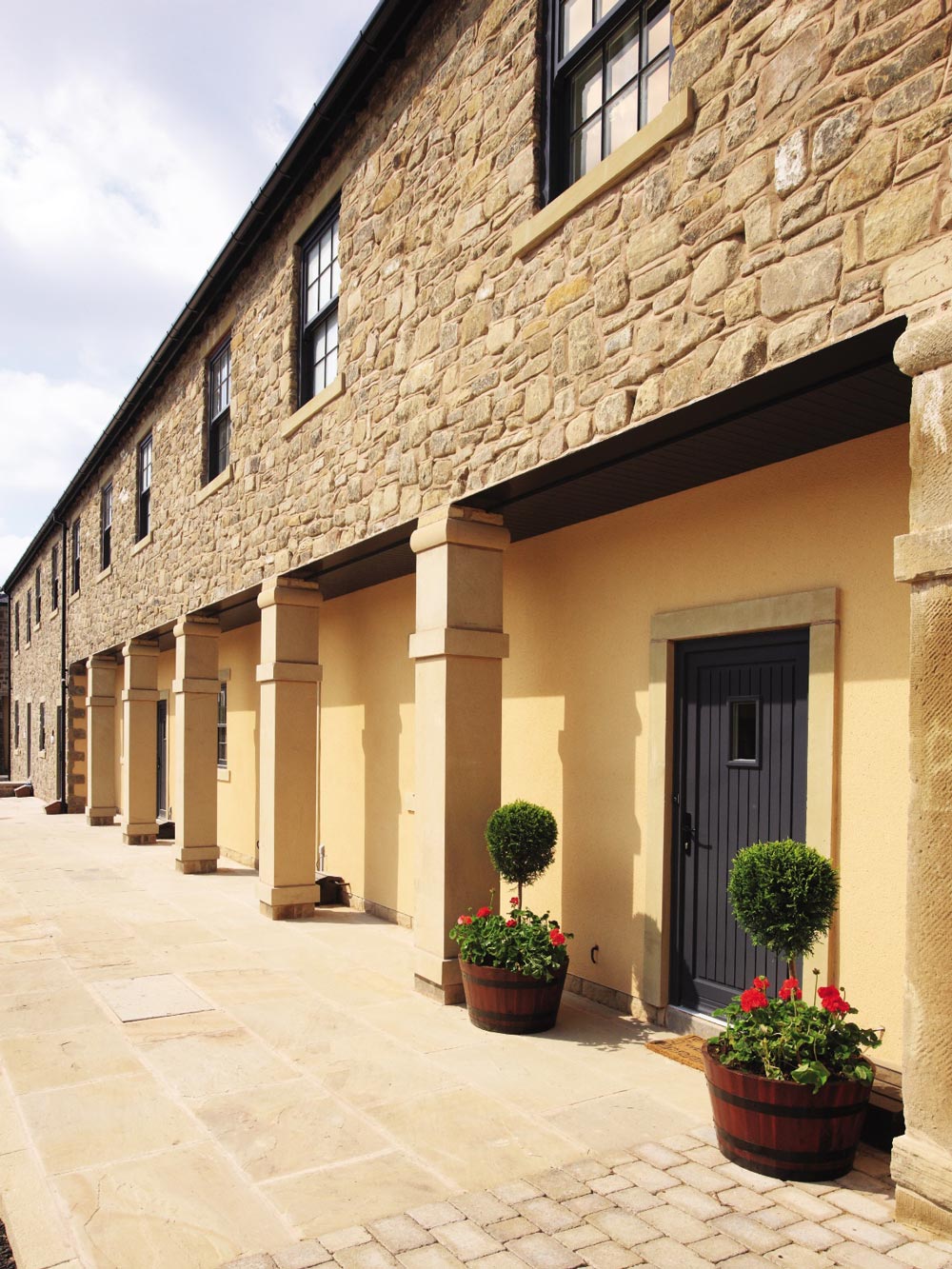 Add greenery
Adding a touch of green and a splash of colour with plants and shrubs will enhance the simplest of entrances. Framing your wooden entrance door with symmetrical greenery can create an inviting space that's easy to maintain and a cost-effective way to add plenty of style. Adding foliage and outdoor plants can create a welcoming and calming space to come home to. Hanging baskets are another popular choice, thanks to their minimal upkeep and bright colours.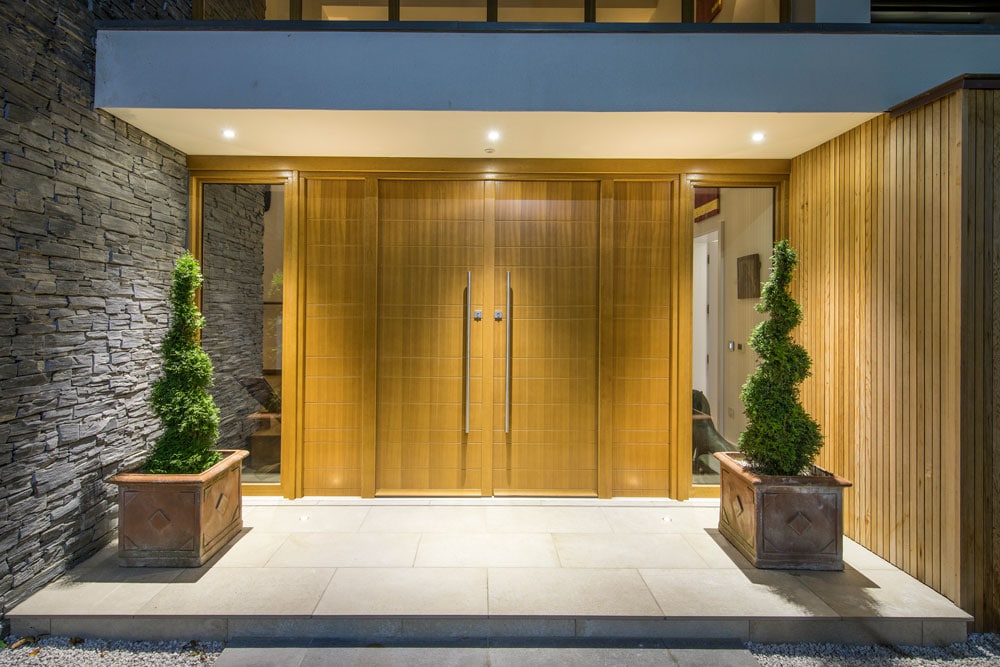 Light it up
Choosing good lighting can create a great impact and add a touch of personality to your property. In particular, utilise attractive lighting if you have a porch, canopy or entryway to light up the space at night. Simple lighting such as LED downlights offers a contemporary, welcoming look. Find lighting that is easy to maintain to brighten up darker spaces and shine a spotlight on your centrepiece your front door. Additional outdoor lighting such as lanterns and post lights can also help create character and are relatively cost-effective, allowing your home's personality to shine through.

Find out more about our timber custom made external doors here, or head to our blog for more insights into how you can transform your home with timber windows and doors.