Back to news
How Secure are Timber Windows and Doors?
October 24, 2023 | Blog
From bespoke Entrance Doors to traditionally styled timber Flush Casement windows and contemporary Bifold Doors, timber windows & doors can bring a sense of style and character to any property. With a wide range of finishes and bespoke design options, timber windows and doors can be personalised to suit your style, making them a key design feature of your home and instantly adding value and kerb appeal. But it's not just about the premium finish; engineered laminated timber is solid and sturdy, and if you choose a company that uses sustainably sourced wood, it is one of the most eco-friendly material choices for windows and doors, helping to reduce your carbon footprint.
Of course, one concern is ensuring the entranceways into your home are secure. It's essential to choose windows and doors that offer security and peace of mind, giving you the confidence that your home is secure and safe whether you are away or during the night
What is the most secure material for a front door?
It is always best to choose a solid material for your entrance doors. Materials such as engineered laminated timber, composite and steel are the best options for a secure front door, particularly when paired with an advanced locking system. Engineered laminated timber is a naturally robust, unyielding material with many natural defensive qualities, making it an excellent choice for your front doors and windows. Like all materials, the timber will need to be maintained for optimum performance.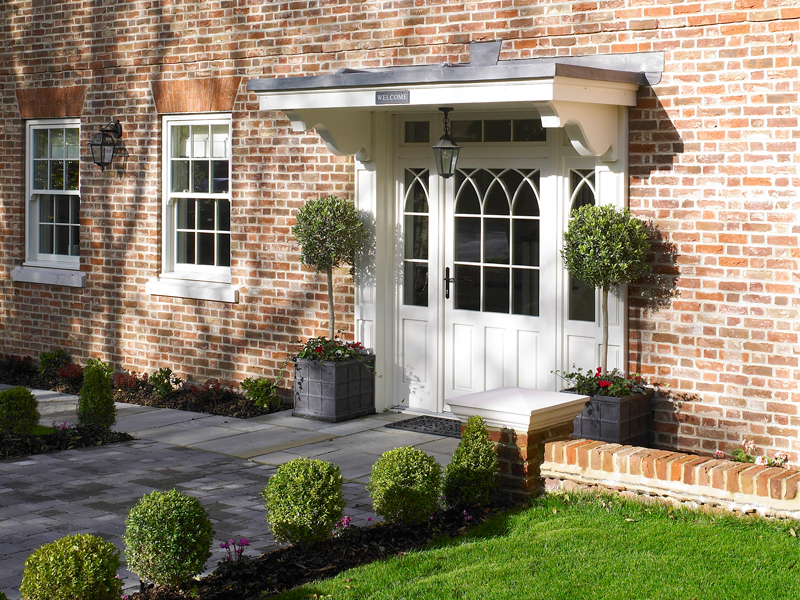 Building regulations for windows & doors
All timber doors and windows must comply with the UK building regulations and should be installed by a competent and reputable professional who can assure that this is facilitated. At Bereco, all of our products can be specified as Part Q compliant, meaning it meets government standards relating to a window or door's ability to "resist physical attack by a would-be burglar".
How secure are timber windows?
When Timber windows are designed & manufactured with the appropriate features, such as high-security multi-point espagnolette locking handles and being internally glazed, they can offer excellent safety and security to homeowners.
For your peace of mind, be sure to look for a manufacturer with rigorous 3rd party testing and certification, proving that the designs and enhanced security features effectively stand up to physical attack.
How secure are timber doors?
When choosing a timber door, be sure to look for a high-quality timber supplier that offers additional security features such as multi-point espagnolette locking systems and high-security P1A or P2A laminated security glazing. A reputable timber door manufacturer such as Bereco will test their products at the design stage; in fact, to be installed in a new build property, windows and doors must now be compliant with Part Q of the building regulations, meaning they are certified to the PAS 24 enhanced security windows & doors scheme.
This scheme consists of a series of tests that are carried out to check the security of a products' design and construction, including:
A manipulation test using small tools such as paint scrapers and screwdrivers to gain access
A glazing removal test using chisels to attack the glazing infill in an attempt to remove the glass
Mechanical loading and impact resistance tests carried out on various features, such as the doors hinges, locking system, the body of the door leaf and window openers in an attempt to gain entry.
Enhanced security features are necessary for windows and doors to pass this rigorous testing regime, such as; robust frame sections, TS007 compliant door cylinders, laminated security glass and external doors, and TS003 compliant door chains.
At Bereco, we go above and beyond this and are also part of the Secured by Design initiative, launched by the government to bring additional reassurance to homeowners.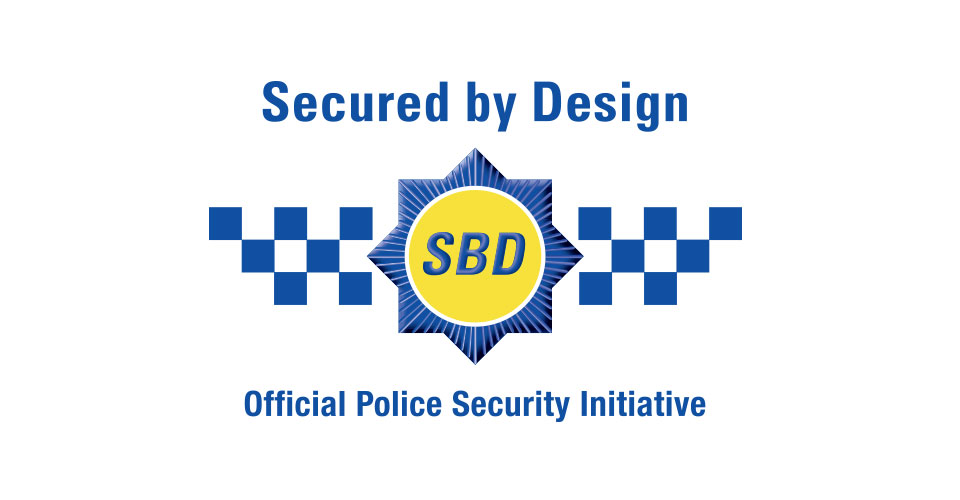 What safety features come with timber front doors?
As well as the security of choosing a robust and naturally strong engineered laminated wood, timber front doors can come with plenty of additional features for added security and peace of mind. Our door leaves are 68mm thick, and our internally glazed entrance doors are PAS24:2016 certified, approved by Secured by Design and Part Q compliant.
Locking systems
At Bereco, our timber front doors are made with handle or key-operated high-security multi-point espagnolette locks, alongside 3-star Neighbourhood Watch approved cylinders from leading brands in the home the security sector. This comes as standard with all our front doors.
Door chains
Additional options include door chains for increased security against forced entry. These are required for new build properties under Part Q of the building regulations.
Viewing hole
Viewing holes, also known as eye-viewers or door viewers, are another possible addition to your door for additional security, allowing you to further check who is at your door. Under Part Q of the building regulations, they are also required for new build properties unless there is non-obscured glazing within the door or an adjacent window that allows the homeowner to see outside.
Robust hinges
Bereco doors are made with 3D fully adjustable hinges.
Quality security glass
Good front door design should not compromise safety! If your front door has glass sections, P1A or P2A rated laminated security glass offers additional protection. All Bereco products are also internally glazed as standard, meaning that the glazing units can't simply be removed from the outside of the property, offering further reassurance for homeowners wanting to add a glass design to their external front door.
At Bereco, our products continue to be at the forefront of the industry's technical standards, with all our windows and doors tested to the latest PAS24:2016 under the Enhanced Security Window and Door Schemes. Security is one of the driving factors in the design process, and we have created a range of timber entrance doors that offer security and safety for all our customers.
You can explore our entire range of timber Entrance Doors, French Doors, and Sliding Patio Doors or head to our blog for more insight.