Back to news
Complying with UK Building Regulations on Windows and Doors in New Homes (Updated for 2022)
October 24, 2023 | Blog
Access our full technical guide: Complying with the 2022 Window & Door Building Regulations
Log in to the Bereco Resource Centre
Compliance with the building regulations in the UK is something that every builder or developer has concerns about, and with so many building regulations vying for priority on a development, how do you ensure you get the right windows and doors that are fully compliant with, not one, but all of the current building regulations, ensuring you get the sign off from building control?
To answer this, we will provide an overview of the current building regulations that apply to new windows and doors in new homes in England.
Changes to Building Regulations in 2022
The latest amendments to the building regulations, including Approved Documents F, L & O, came into effect on 15th June 2022. One of the key updates is that new dwellings will be required to reduce carbon emissions by 30% by 2022. This significant overhaul also revamps existing home energy efficiency criteria and serves as a forerunner to the Future Homes Standard's implementation in 2025. The details below have been fully updated to reflect these amendments.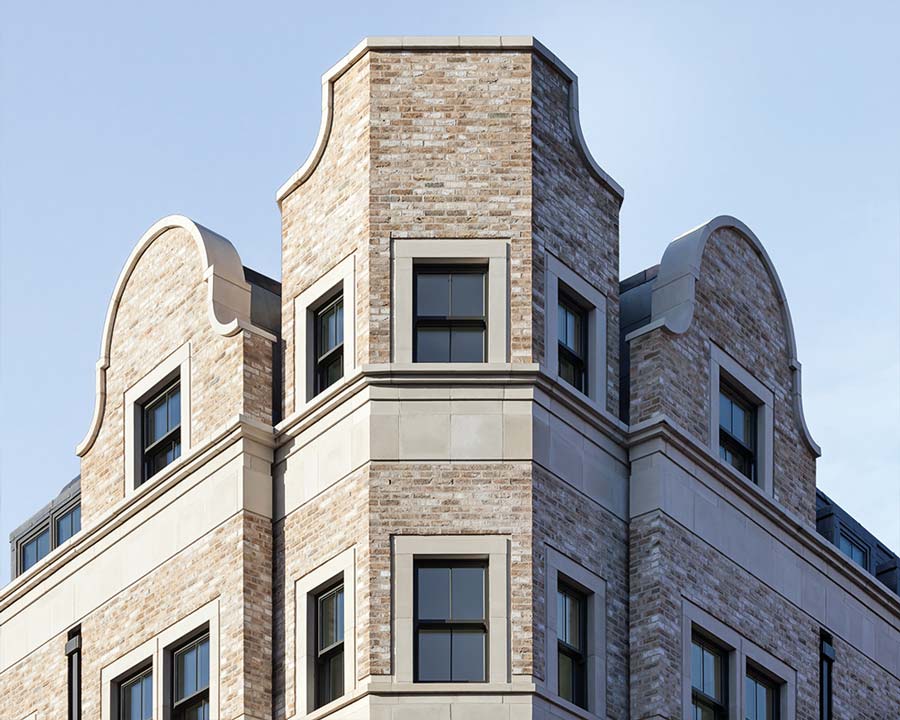 Building Regulations Jargon Buster
Several terms pop up throughout the regulations that you will need to know to understand them. We've provided a simple definition of these below:
What is a habitable room?
Habitable rooms are a dwelling's living quarters, where people who live there spend most of their time, including the living room, dining room, study, home office, conservatory, and bedrooms. The bathroom, WC, utility room, storeroom, circulation area, and kitchen are not included (unless it provides space for dining).
What is an EA rating?
EA stands for the "equivalent area" of a trickle vent. To put it simply, it is a measurement of the airflow performance of a vent. 
What does U-value mean?
A U-value is a measurement of a product's ability to transport heat from the inside to the outside. The lower the U-value, the slower or more difficult heat transport is via the component, and the better its thermal performance.
The Window and Door Regulations for New Build Homes
Part B – Fire safety
To ensure fire safety, provisions must be made to allow emergency escape from all habitable rooms within a building. For upper floors (up to 4.5 meters from ground level), all habitable rooms must be fitted with escape windows unless they directly connect to a protected fire route. On the ground floor, any habitable rooms deemed to be internal (i.e., that do not directly connect to a hall that leads to an exit door) must have means of escape via a window or door.
To comply as means of escape, the window should have an unobstructed openable area of at least 0.33m2 and a minimum of 450mm high and wide.
Part F – Ventilation
With the ever-increasing thermal and air permeability performance of building materials, and the strict requirements of Part L (Conservation of Fuel & Power), which are only going to get tighter over the coming years, allowance needs to be made to ensure that homes have proper ventilation. As such, the requirements of Part F have been increased, and from June 2022, habitable rooms and kitchens require 8,000mm2 EA, while bathrooms require 4,000mm2 EA (our Triton XS16 trickle vents give 4,600mm2 EA per vent!) in multi-story houses. Single-story homes differ in that the usable rooms and kitchens require 10,000mm2 EA, while the bathrooms require 4,000mm2 EA.
Part K – Protection from falling, collision and impact
In terms of windows and doors, this regulation can be broken down into two parts:
Protection against impact with glazing
This ensures that a person will not be severely injured by broken glass if they fall into a window or door. The regulation states that safety glazing is required for "critical locations". These are deemed as any section of a window that falls below 800mm from the finished floor level (FFL) and any section of a door or window located within 300mm either side of a door, up to 1500mm from FFL.
Protection from falling
This is to protect people from falling from a height out of a window or door and applies wherever the difference in floor levels is greater than 600mm (i.e. the external floor level is more than 600mm below the internal floor level). In these areas, guarding must be provided wherever a window openingfalls below 800mm from the finished floor level (FFL). Windows are increasingly being used as barriers in place of an actual barrier or balustrade, and building inspectors are now looking for evidence that the glass in the windows can withstand the forces of impact set out in British Standard BS6180:2011. Bereco's standard laminated glazing is tested to BS6180:2011, meaning additional guarding or balustrades are not required. Download our BS6180:2011 certificate.
Part L – Conservation of fuel and power
Part L covers energy efficiency, with compliance being demonstrated through SAP models (Standard Assessment Procedure), which use a range of data, including U-values of the building fabric. The 2022 amendment to the regulations has increased the requirements, resulting in all elements of the building fabric now required to be more energy efficient. From 15th June 2022, the notional target of a window U-value will change from 1.6W/m2K to 1.2W/m2K, with the limiting standard changing from 2.0W/m2K to 1.4W/m2K. Timber windows have a slight exception to this and can be used with a limiting standard U-value of 1.6W/m2K until 14th June 2023.
What's the difference between Notional Targets & Limiting Standards?
In short, Notional targets are the main target to strive for, as they will ensure that a building meets its own notional dwelling target. However, Part L also allows limiting standards in some (not all) elements in the building fabric. Limiting standards are the absolute minimum U-value that can be specified, and they offer flexibility on build costs and design so it is common to have a mixture of notional targets and limiting standards in any SAP model.
Part M – Access to and use of buildings
This regulation is designed to ensure accessibility. This principally relates to access doors which must provide a clear opening width of 775mm and a step of no more than 15mm. This is where the overall frame size of the doors will need to be considered to ensure compliance, and the appropriate threshold design should be incorporated.
Part O – Overheating
Requirement O1 aims to protect the health and welfare of occupants of the building by reducing the occurrence of high indoor temperatures. Under the regulations, new build homes must make reasonable provisions to limit unwanted solar gains in summer and provide an adequate means of removing excess heat from the indoor environment. The exact requirements vary depending on several factors, including where the building is located in the country. There are multiple ways in which compliance with the requirement can be demonstrated. The design of the building fabric plays a significant role, as the size of glazing impacts solar gain. However, specialist glazing options can offer designers flexibility, and this is where windows and doors can aid the design process. Bereco offer a range of glazing options, including solar control glazing, which helps limit the unwanted solar gain into a dwelling.
Part Q – Security in Dwellings
Approved Document Q was published and came into effect in England on 1st October 2015. The document is designed to ensure the prevention of unauthorised access to dwellings (including flats). As part of this, doors and windows which could be accessed will need to resist physical attack by a casual or opportunist burglar. Therefore, they must be sufficiently robust, fitted with appropriate hardware and most importantly, be proven to have security performance. This blog has a full breakdown of the requirements.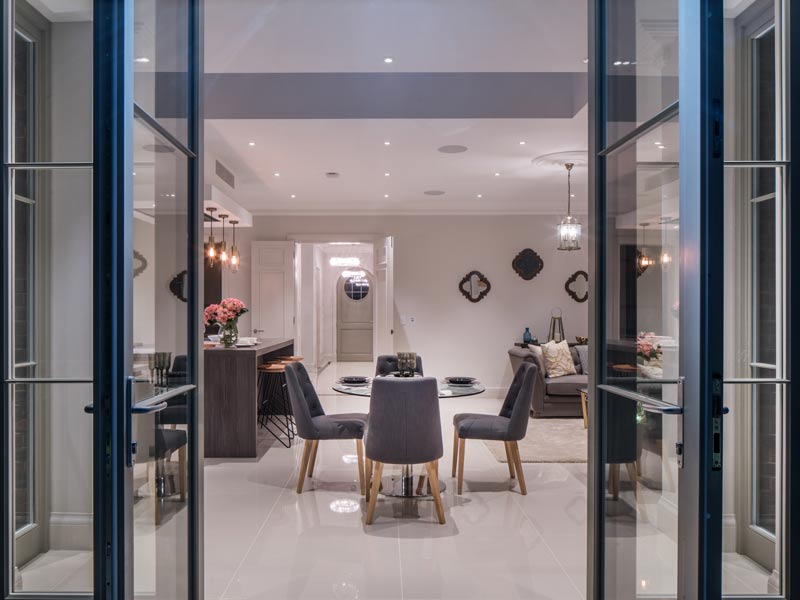 What about The British Standards & CE/UKCA marking; where do these fit in?
In addition to UK Building regulations, you will want to ensure your supplier complies with the relevant British standards. Those that relate to new builds and windows are:
BS644 (Fully Finished Factory Assembled Windows – Specification)
Selecting a supplier with this compliance ensures the highest level of quality assurance.
BS6375 Part 1, 2 + 3 (Performance of Windows)
This relates to air permeability and wind load and ensures that the windows are tested to the highest levels of weather performance to ensure longevity.
BS8213 (Code of Practice for the Survey and Installation of Windows and External Doors)
This document serves as guidance and recommendation to ensure the correct installation of windows and doors.
UKCA marking & CE marking
The UKCA (UK Conformity Assessed) marking was introduced on 1st January 2021 to replace the previously required CE marking; however, CE marking is still allowable until 1st January 2023. It's a legal requirement for your supplier to have UKCA or CE Marking on their products and provide access to the correct certification.
At Bereco, we have full third-party accreditation to assure that we are compliant with all British standards. See Bereco's certification here.
Who is responsible for window and door compliance, the Architect, the Builder, the Client, or the Supplier?
The first port of call for advice and design of a new home is the architect. Architects are relied upon very heavily to know and understand the most extensive range of building products and how to specify them to ensure compliance with the current building regulations for windows and doors. They have tools at their disposal to assist with this, such as source.thenbs.com.
Part of an architect's process will be to develop a design based on guidelines from the local authority and statutory requirements in order to provide the best chance of gaining planning permission if required, whilst also ensuring that the proposed works can be carried out in accordance with the Building Regulations.
However, an architect cannot usually be held responsible for compliance, as this can only be ascertained as work is signed off by the Building Control Officer (BCO) throughout the life of the project.
Developers and Contractors should also have knowledge of the regulations and will likely have regular suppliers that they trust to help them ensure compliance. However, with more and more developments being client-led and marketing playing a big part in a client's decision-making, this is not always the case.
So, how do you balance the architects' designs with the clients' desires and the wrath of the building inspector?
How can I check my windows and doors comply?
You could spend hours and hours reading the approved documents, but in our experience, that will leave you more confused. Our advice is to leave it to the experts, know which regulations that you need to comply with (as detailed above), and ask your suppliers to prove compliance with them.
Bereco's team of timber window or door experts are fully versed in building regulations and are on hand to assist. Contact us today to see how our beautifully bespoke windows and doors can enhance your project and take the stress out of building regulation compliance.
What does Bereco do to ensure compliance with the regulations?
We can achieve the notional target U-value 1.2 W/m2K with double glazing across the vast majority of our product range, with the remainder all able to achieve 1.3 -1.4 W/m2K, well below the 1.6 W/m2K target set for timber. This allows you to keep using the same double-glazed product that you're used to, whilst giving flexibility in your SAP calculations for other areas of the build.
We train our staff to quote to ensure you comply and offer advice and guidance if we see a problem.
We test with UKAS certified body BlueSky.
We show U-values, certificate numbers, and airflow on our quotes. By declaring the total EA on our quotes and order document, we help you achieve the required levels to ensure compliance.
In order to prove fully and without doubt that our wooden windows are fully compliant with Part K, we have undertaken the testing of our sash window to the British Standard BS6180.
UKCA Marks are displayed on all order and quote paperwork, and certificates can be downloaded via our website.
To ensure compliance with Part Q, we have the most comprehensive range of products tested to PAS 24: 2016.
Get in touch with the team at Bereco, or head to our blog for more advice. Explore our entire range of timber windows and doors today and start your journey with us to create your dream hom