Back to news
A Buyer's Guide to Timber French Doors, Bi-Fold Doors and Sliding Doors
October 24, 2023 | Homeowner
Timber patio doors are a great way to open up your home, connect you to your outdoor space and can make all the difference in providing natural light. With various options available, we'll be discussing how you can choose the perfect door to suit your individual space.
The world of exterior patio doors can sometimes be overwhelming. This article offers practical planning advice to help you choose what is right for you. French Doors, Sliding Doors and Bi-fold Doors can all be great solutions for your home and are especially perfect if you aim to bring the outdoors in. It is, however, important to know which is the most suitable for you and your home space. When making this decision you will want to be considering the following:
What are the different types of timber patio doors?
There are three main types of timber patio doors. These can be used to great effect to connect the exterior and interior of the home.
They are as follows:
Timber French Doors
French Doors are a modern take on a traditional favourite, taking the classic two-door design that is traditionally seen on balconies or in kitchens. French Doors can be used to great effect to connect indoor and outdoor spaces. The French casement design brings not only charm but character to any interior space. Most modern timber French Doors offer high security locking systems and cylinder locks. High-quality timber French doors will also have built-in draught-proofing and will be internally glazed, offering a more secure product than older, traditional French Doors. 
Bereco timber French Doors are available in a classic flush fitting design and a modern lipped (also know as stormproof) design, with a choice of mouldings and handles that perfectly match with our windows for continuity of design throughout your entire home.
For period homes, French Doors are often designed with Georgian bar patterns in keeping with the character of the property, but French Doors are versatile and can be designed without bars if you want to maximise natural light or change the external appearance of your home. When open, double-leaf doors have what we call a 'flying mullion' meaning that the opening space is uninterrupted. As French Doors are available up to 2 meters wide, you can still use this traditional style to create large glazing expanses that maximise your views. These doors are ideal for both smaller existing openings and larger new openings in, for example, extensions, orangeries and conservatories, as you can play around with various sidelight combinations to create your desired look.
They are typically the most cost-effective of the options, however, perhaps also the most versatile in that you can create various designs by incorporating sidelights and fanlights, which are fixed glazed units on either side of the doors, and above. French Doors can open in or out, so you need to bear in mind that doors will interfere with indoor or outdoor space. If opening out, Bereco timber French Doors are designed with a handy device that restricts the door leaves at 90 degrees ensuring that they do not blow in the wind and cause damage.
Our French Door sets are beautifully factory finished using the most environmentally friendly water-based paint or stain. Choose from any RAL Classic, RAL Design, NCS and BS colour charts or match to Farrow & Ball, Earthborn or Fired Earth colour collections.
With single or dual colour options, you can create the perfect match for the property's exterior facade and interior decor. Check out our paint and stain finishes here.
Explore our range of timber French Doors.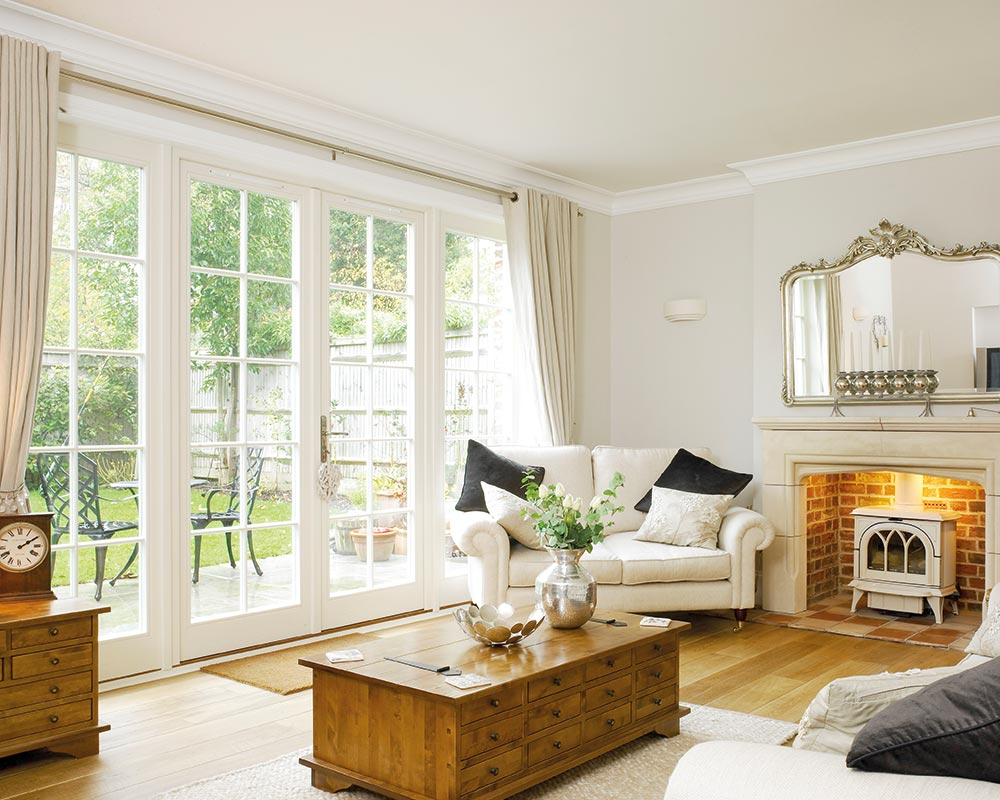 Timber Sliding Patio Doors
Timber Sliding Patio Doors are a great space-saving solution that can bring a significant amount of light into your home. Exterior timber sliding patio doors work well in open plan areas, as they don't invade any internal or external space. The wide expanses of glass and slim frames mean they work well with any style of decor, but open up your space considerably.   
Bereco timber Sliding Patio Doors are bespoke in size and design and are made with FSC 100% certified timber from sustainable sources, have a life expectancy of 60 years, and come fully factory finished which means they are easy to maintain.
Similar in price to Bi-fold Doors, Sliding Patio Doors are popular in that they work well with large openings, work great as an entrance door if your hallway has little room to manoeuvre, and can be designed with two, three or four door panels.
The real beauty of sliding timber doors is that the door panels can span up to just over three metres each, thus enabling you to create large expanses of glass without interruption, which is perfect for making the most of your views. Easy to use, these doors slide effortlessly and can span a total width of thirteen metres for a four-leaf door (two opening centre leaves with a fixed panel on either side). It is worth noting that with most sliding door designs (including Bereco's) the opening door will slide behind a fixed panel, so if you are looking to maximise opening area then you may want to look into alternative options.
Whilst older versions of these doors were notoriously low security, modern patio doors (including Bereco's) will feature several contemporary security features including cylinder locking, locking handles, multi-point espagnolette locking and secure night vents, meaning you can have them open at night which is particularly great for bedrooms.
These doors are perfect for the modern home and are ideal for extensions, kitchen, dining and living room spaces. Also ideal for bedrooms leading onto a balcony space as the doors open without affecting the indoor and outdoor space.
Explore our range of Sliding Patio Doors.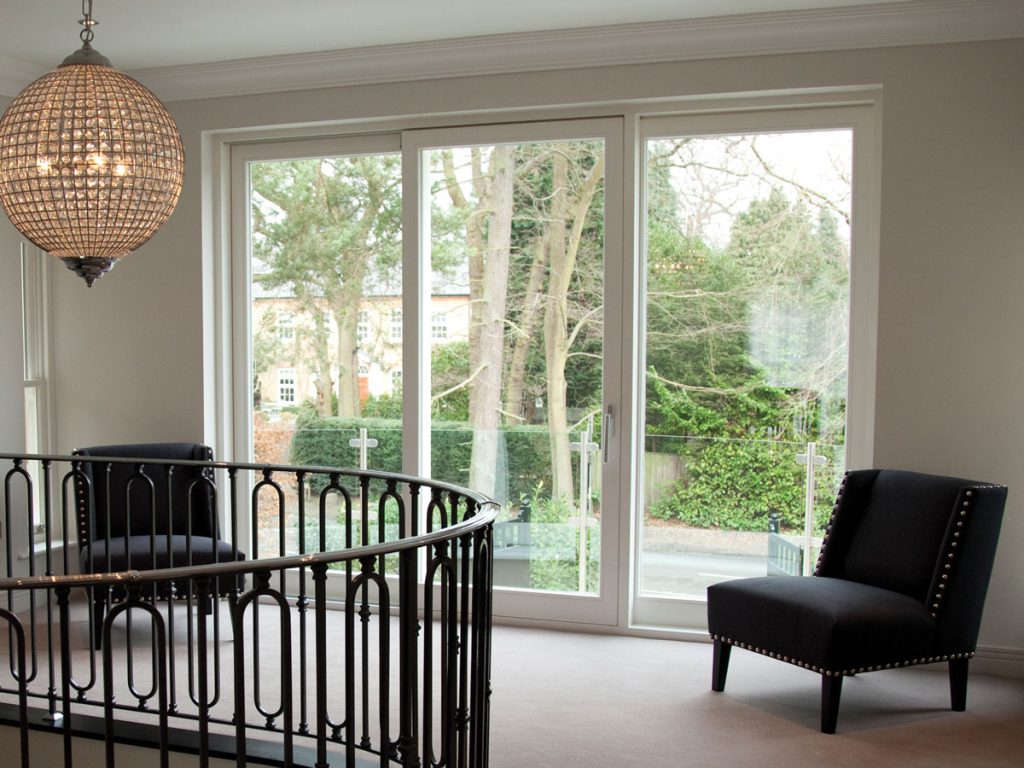 Timber Bi-fold Doors
Timber Bi-fold Doors, also referred to as folding doors or folding sliding doors, are another great example of a timber door that allows you to expand space and seamlessly integrate interior and exterior spaces. By maximising the opening area with their folding door leaf design, timber folding doors make a feature of both your living space and outdoor area. Bereco timber Bi-fold Doors are made to a high-quality finish, with modern manufacturing ensuring that security, safety and durability are considered. 
When it comes to rear extensions, garden rooms and open plan living/dining spaces, a folding door can completely open up the back of your home and has become a very popular way to make the best use of living space. Bi-fold Doors can be designed in different pane numbers and can span up to ten metres. You also have the option of being able to open one door as a single leaf door if you want to gain access without opening up the whole expanse.
If you are looking to make the most of the views of your garden space these doors are ideal, as you can create large expanses of glazing the door leaves fold and stack to the side to allow a seamless connection. Each door leaf can span up to one metre wide so you will need to consider the correct number of door leaves for your space. These doors offer by far the best option for achieving interrupted space when open. When closed, views are similar to the sliding patio but if you are looking to achieve large uninterrupted panes of glazing when closed you may want to consider a sliding patio door as door leaves can span up to just over three metres.
Bereco timber folding sliding doors open outwards so as not to interfere with indoor space and are designed with Brio hardware, which is at the forefront of the industry. Brio is passionate about shaping the spaces in which people live, work and play and is recognised by architects worldwide as a leading designer and manufacturer of bi-fold door hardware.
The epitome of style, Bereco timber folding doors slide effortlessly to create a seamless transition between indoor and outdoor space. These doors sit perfectly in a modern, contemporary home but also work well alongside traditional styles. Essentially, your home, budget and style will determine which door is best for you but if you are building a new opening and you want to connect with outdoor space and create a feature talking point in your home then the sliding folding door is the one for you.
Explore our range of timber Bi-fold Doors.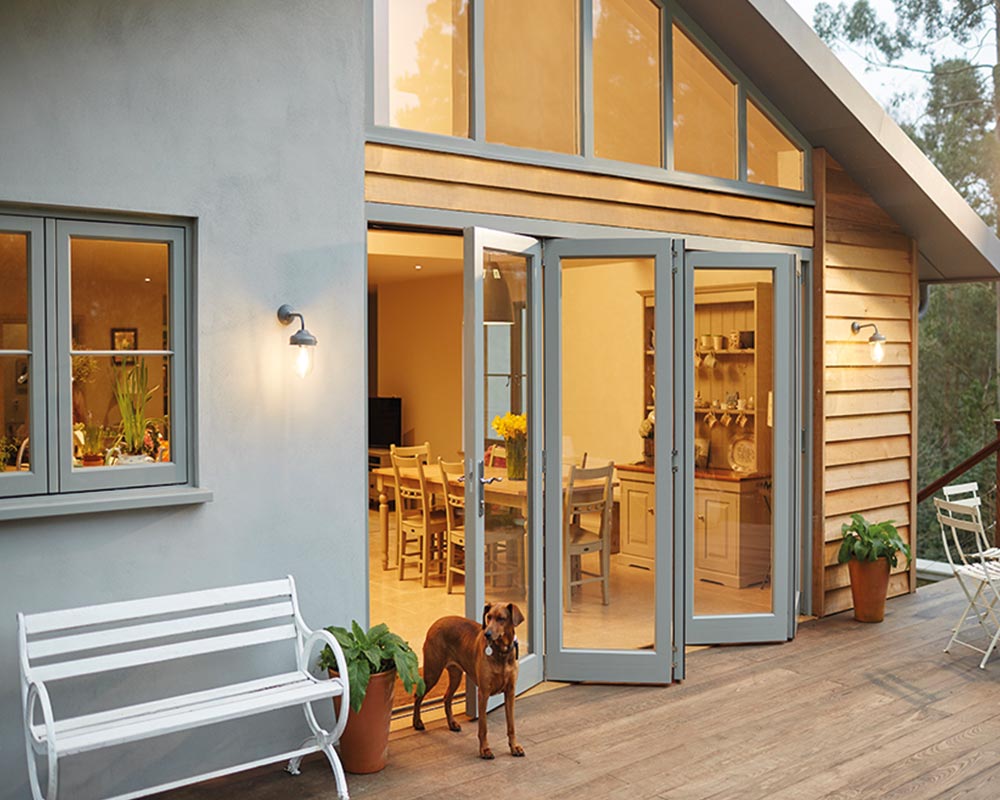 What are the benefits of timber patio doors?
Timber patio doors are a great way to maximise space
With the multiple options available, you can choose the perfect option to get the most from your space, whether that's maximising glazing for sweeping views with sliding doors, maximising opening areas for a seamless connection between indoors and outdoors with bi-fold doors, or adding beautiful and timeless traditional aesthetics with fully customisable French doors.
Patio doors bring lots of natural light into your property
Regardless of which option you choose, timber patio doors full height profiles and large expanses of glass help to optimise the natural light and bring in as much as possible into your home. 
Timber doors are robust and durable
Timber is one of the best choices of material for patio doors, it has naturally robust characteristics, and is durable, strong, workable, and is resistant to wear from weather or heavy usage. When properly maintained, Bereco doors can have a lifespan of up to 60 years.
Timber doors can be low maintenance, really!
Bereco timber doors are manufactured from engineered laminated timber sections which are durable and stable. Each section is given a preservative treatment before the assembly of the frames, which are then fully factory finished to an exacting standard. This factory finish is extremely durable and with basic maintenance (rubbing down the frames with a cleaning solution twice annually), will not require any redecoration for several years (the exact period will depend on exposure and other factors as detailed in our routine maintenance guide). Long gone are the days when timber windows and doors needed to be refinished annually. Furthermore, with proper maintenance and subsequent redecoration (which is also a simple procedure as detailed in the above manual), your doors can have a lifespan of up to 60 years, three times that of the equivalent uPVC door.
Timber patio doors are energy efficient
Bereco's energy-saving door designs and high-performance glazing give u values that are up to 82% better than the current building regulations meaning the average 3 bedroom home can save the equivalent of £212 on heating bills each year.
Timber patio doors are naturally eco-friendly
Research suggests that wooden window and door frames have the lowest embodied carbon of any window material at just 85kg CO²e compared to uPVC windows at 110kg CO²e and aluminium windows at 161kg CO²e. In fact, as trees naturally store carbon which is retained when the timber is harvested, Bereco's timber frames are actually carbon negative. At Bereco we only use FSC® 100% certified redwood and hardwood to ensure that our products help in the fight against deforestation.
Timber patio doors offer enhanced door security
Timber patio doors that are manufactured today come with more security features than ever before. Bereco timber French, Sliding, and Bi-fold doors, feature neighbourhood watch approved cylinder locks, and are available certified to the highest security standards (PAS24:2016, certified by Secured by design). This offers a great amount of reassurance that you will be safe and secure when you install timber patio doors in your home.
Timber patio doors add value to your home
Timber is a high-quality material, and adds a great amount of value to your home in terms of aesthetics and also durability. Timber is low maintenance, and when properly cared for (regularly cleaned, and redecorated when necessary) it can last for 60 years plus. When you decide to sell your home, the quality of exterior doors is an important factor in a buyer's decision. This means that timber patio doors are not only aesthetically pleasing, but they are also an investment for years to come.
What size patio doors do I need?
The size of the patio doors, be that French Doors, timber Sliding Patio Doors or timber Bi-fold Doors, will be determined by the layout of your existing space. Bereco timber patio doors are bespoke, so, regardless of the size of your space, you can work closely with us to create a bespoke, made-to-measure design to fit perfectly with your existing space. Book a design consultation with us today to design the perfect patio doors for your home.
Our doors come in various sizes
Our timber French doors can be made up to 1.2 m wide with single doors, or 2.1m wide with our double doors. Click here to explore our timber French Door styles. 
Which are better, Bi-fold or Sliding doors?
The answer to this question is to be determined by the characteristics of your existing space. Depending on the configurations of your property, you may find sliding doors are a more suitable choice. Bi-fold doors work better with larger spaces, and are ideal for those looking to make a feature of a patio area, as Bi-fold doors seamlessly merge the outside and in a contemporary way, bringing another dimension to your home. Sliding Patio doors are a good choice if you are looking to bring plenty of light into your property, with wide expanses of glass. They are also a great way of creating open plan areas without invading either the external or internal space. 
How much do timber French Doors cost?
At Bereco the cost of a pair of timber French doors can start at £1,550 for supply and delivery only. 
The costs of your timber French doors will naturally be determined by the measurement specifications, style and features. Our style guide explores your options, and with additional extras such as door handle styles and paint finishes, you can work closely with us to determine the budget and final cost. 
You can explore our range of timber French doors here. 
How much do timber Sliding Patio Doors cost?
At Bereco the cost of bi-fold doors can start at £4,000 for supply and delivery only. 
The cost of timber sliding patio doors will depend on the size of the space you are working with, as this will affect the number of leaves and amount of material used. There is a range of features and finishes, too. You can learn more about our timber sliding doors here. 
How much do timber Bi-fold Doors cost?
At Bereco the cost of bi-fold doors can start at £3,600 for supply and delivery only. 
The cost of timber bi-fold doors will be determined by the overall size, the number of leaves, the design and style you go for. It will largely be dependent on the amount of material used and any additional features you choose in the final design. 
You can explore our range of timber bi-fold doors here. 
What to consider when buying timber patio doors
Design
You need to make sure that the design you choose for your timber patio doors fits with your existing property. Consider how your French, sliding or folding doors will look from an aesthetic perspective, as well as a practical perspective. Consider the space you have to make sure that you choose a design that is coherent with the surroundings, without being invasive or restricting. 
Style
The style of your timber patio door is an important consideration; depending on the style and age of your property, a certain style may suit your home more than others. For example, period properties with exposed brickwork will suit timber French doors more so than a contemporary sliding door design. Of course, a large percentage of this is personal preference, but by tying in the style with existing features, the final look will be coherent and complement effortlessly. 
Cost
You'll have plenty of options when it comes to choosing your timber patio doors, and you can find timber patio doors within your price range. There will be additional costs for bespoke features, but by working with an experienced timber doors provider, you'll be able to choose the best options to meet your needs. 
Material
There are a range of different timber types on the market for timber patio doors. At Bereco, we use only sustainably sourced FSC100% engineered laminated timber, available in redwood (Scandanavian Pine) and hardwood (Dark Red Meranti). 
Colour
There will be plenty of paint and stain finishes to choose from. Try to consider the aesthetics of your home, its exterior and interior when you pick the paint or stain colour for your timber patio doors. Think about how the colour you choose will work with any period features, natural surroundings, and garden features. 
You can read our guide for more advice on choosing the right colour for your timber doors.
Space and light
One of the main reasons why people choose timber patio doors is to increase the amount of space and light in their property. When deciding which style and design to go for, think about how much light the design will bring in, and whether or not you are maximising the space as much as you could.  It will reduce your carbon footprint and your electricity bill!
Interior design
As well as the outside space you have to work with, consider your homes' interior design to make sure that your chosen timber patio doors blend well with the interior of your property. The doors you choose should complement the space, and not invade the space. The right timber patio doors for a traditional kitchen may not be the same as a modern, contemporary kitchen, where large Bi-fold doors would suit the space well.
Outside space 
Make sure your patio timber doors suit the outside space you have. If you don't have space for a certain design, work to ensure the right configurations are made, and that the design works with space rather than against it. As mentioned above, if you are short on space then sliding doors may be preferable to bi-fold, as they do not invade internal or external space. 
Check out our inspiration page for more ideas of how your new timber doors could look.
Pros of timber patio doors
They add value to your home
Timber patio doors offer a premium finish, look and feel, and instantly add value to your property, making them a design feature of the home. 
They are energy efficient
The laminated timber used in our French, Sliding and Bi-fold doors is a strong, sturdy material that acts as a draft excluder due to its natural properties. They also come with energy-efficient double glazing or even triple glazing that could save you £££'s not only on your heating bills but also your electricity bills as they maximise the natural light entering your home, so the lights stay off inside for longer. 
They are safe & secure
Engineered laminated wood is one of the most robust materials you can use, and if your external door also features cylinder locks and certified security features, you'll rest assured your doors are secure. 
They are sustainable
With only sustainably sourced natural materials used, choosing timber patio doors means you are doing your part to combat climate change.
Cons of timber patio doors
At Bereco, we are big fans of timber and we feel that the advantages of patio doors made from wood greatly outweigh the disadvantages; but every product comes with its own care label, and the one for maintaining wood is a little longer than that of other materials, but we like to be upfront about it, so here they are:
Some amount of maintenance is required
Bereco timber patio doors do need to be cleaned twice annually with a clean and care kit to maintain the finish and ensure that the timber is protected from the elements. Failure to maintain the finish can potentially result in it breaking down over time, which can eventually lead to problems such as swelling with the wood, however, if they are cleaned and maintained in accordance with our routine maintenance guide they can have a lifespan of up to 60 years.
They are less resistant to scratches and dents
As timber is a natural material, it can be less resistant to scratches and dents than other materials, however, unlike other materials, it is easily repairable without specialist tools, products or skills. Most cosmetic damage can be repaired with simple 2-part wood filler, sandpaper and touch up paint. Your timber door should only require a minimal amount of treating and maintenance to keep it looking fresh. 
For more information about our timber patio doors and to find out more about our entire collection, <a hre