Back to news
Choosing the Right Colour for Your Timber Windows and Doors
June 7, 2021 | Blog
What is the right colour to paint your timber windows and timber doors? With so many paint colours, hues and finishes to choose from, it can be hard to know where to start. We've provided some tips for painting wooden window frames and doors below.
What colour is best for wooden windows and doors?
The best colour for your windows and doors is dependant on several factors, including:
The exterior finish of your home
The style and age of your property
The overall aesthetic you are aiming for
Your personal style and preference
We take a closer look at this below.
Factors to consider when choosing the colour for your timber windows and timber doors
The exterior finish of your home
The finish of your home will greatly impact the appropriate paint colours for windows and doors. Wooden door colour should always work to complement the overall finish of your home. For example, if you live in a traditional brick house, then a more classic and traditional paint colour may suit your exterior door more than a bright colour
The style and age of your property
Generally speaking, modern homes can be complemented with a stylish, modern and contemporary colour choice. If your house is of a more traditional style or is a period property, then a more neutral, traditional colour palette would work best.
The overall aesthetic you are aiming for
Neutral greens, russet reds and neutral blues are a solid choice for wooden doors and windows, as they offer a smart finish, and can contrast well with the exterior of your property without being overwhelming. For a more neutral, muted look, then natural browns or greens will complement existing greenery. White paint can be used to great effect for a bright, clean and sharp look, however, you want to avoid the white colour contrasting too much with the finish of your house. White paint works wonderfully on period properties that have been restored, for example, but could clash with a house that features a modern design with a muted colour cladding.
In terms of modern homes, grey is a very popular choice. From pebble greys to stone grey to dark grey/black, grey is a strong paint colour for your windows and timber doors. Grey shades can tie the property together for a modern, contemporary look. What's more, the colour grey compliments many different exterior finishes, and is never too bold or off putting; rather, it is modern, stylish and contemporary. Grey is a versatile colour with a whole host of various shades, each provoking its own feel.
Case Study
Darker shades promote a modern and architectural feel whilst lighter shades add character and elegance to period properties as seen in this lovely refurbishment by Back to Front Exterior Design in Hampshire.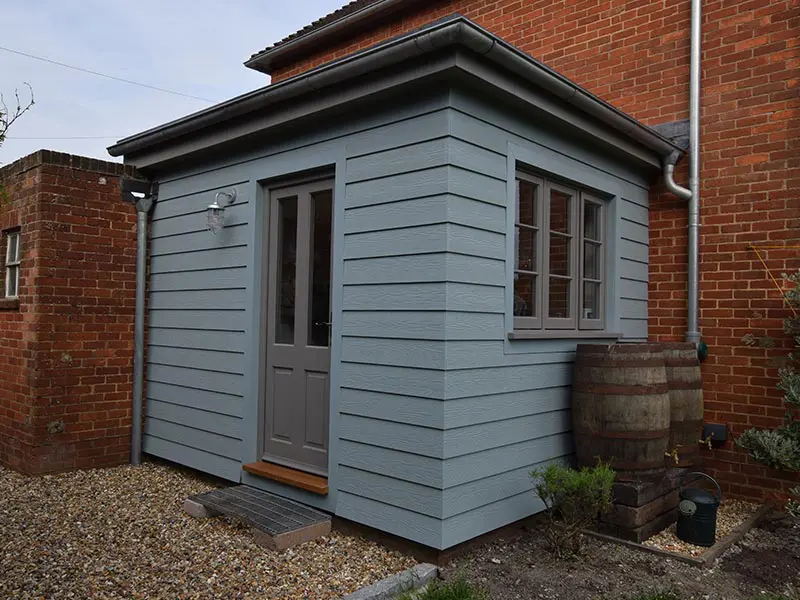 The surroundings of your property
An important consideration when painting wooden window frames and deciding on timber window colours is to ensure you are in keeping with your surroundings. At the same time, it is wise to look to these particular surroundings to provide colour inspiration. Should you be renovating a Victorian Townhouse you may wish to blend in with the style and colour of neighbouring properties and in doing so would keep your colour choice to simple whites and creams, for example. If you are surrounded by rolling hillsides and countryside why not look to take inspiration from the colours of nature by using earthy tones such as Oatmeal and Moss Grey.
Your personal style preference
Of course, at the end of the day, it is down to you! If you have a colour in mind or have a particular look you'd like to achieve for ultimate kerb appeal, work around that and find a suitable hue that meets your vision. If you are going for a bold colour, consider how this will look and make sure your property suits the contrast. If you find it doesn't, but you are set on the colour, then a more subtle shade may be the perfect solution.
Think about what you want to achieve. If you are looking for a simple, timeless finish you may opt for crisp white colour and this in itself comes with an array of shade options from Pure White, to a slightly more muted Traffic White, so consider the shade that works for you. Colour trends in painting wooden window frames are expanding beyond white, with elegant pastel shades such as those seen in our Heritage Paint Collection becoming increasingly popular in creating calming, serene home décor.
Your home interior décor
Of course, another factor that will affect your paint colour choice for your timber windows and timber doors is the interior decor of your property. A general rule is that the exterior paint colour of your front timber door is not the same as the paint colour of the interior side of the door. This is because a strong colour that may work well on the outside may not necessarily work on the inside of your home; it may be too dominant or dark. A lighter colour is often best for the interior side of your front door. Be sure to choose an interior door colour that compliments the decor in your entranceway.
By working with experienced timber windows and doors professionals, you'll also have access to a design consultant, who will be there to help you in choosing the right colour to bring your vision to life. You can get in touch with one of our team today to discuss your options.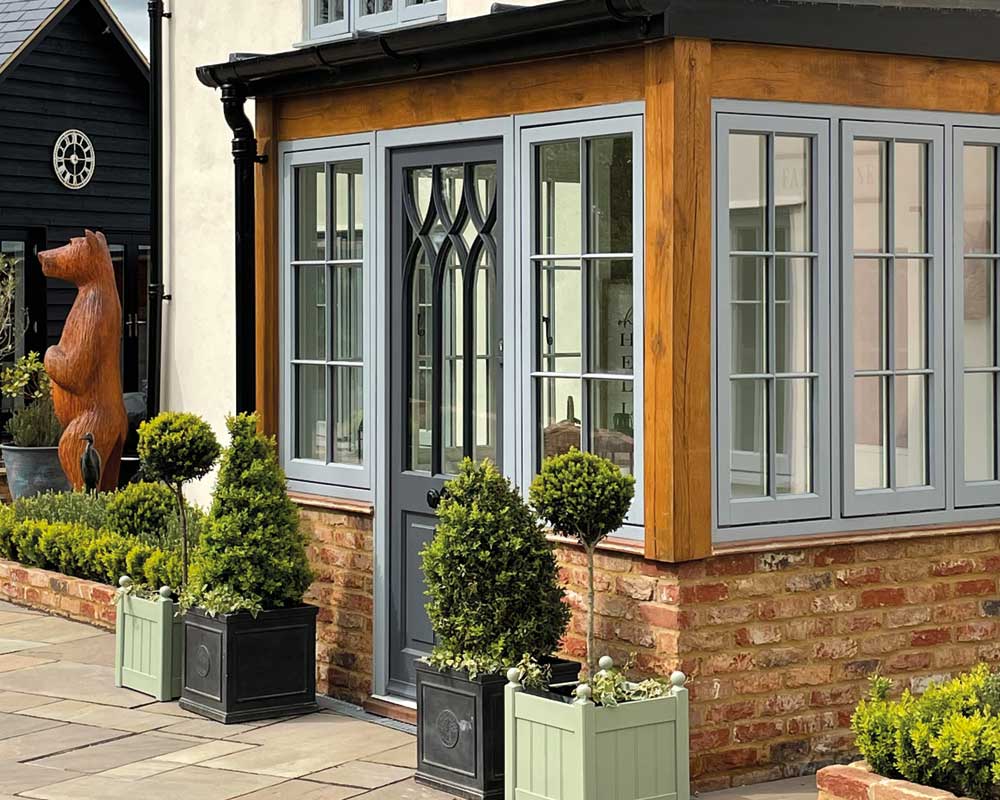 What is the most popular window frame colour?
The most popular wooden window paint colours tend to be neutral colours, such as white, grey, stone, beige and black. This is because these muted neutral colours fit with most styles of house, and can even bring a look to life. Darker tones on a red brick house can contrast nicely, and white paint on windows always works well with period properties. This is because wooden windows tend to be a feature of period properties, with traditional styles and traditional window bars. White paint contrasting against black window fastener works incredibly well and can make a real feature of your wooden windows.
Window frame colour ideas – what colour to paint window frames
For Cotswold stone period properties, duck-egg hues or mint greens work very well. Airy and light colours for timber windows will complement the traditional stone for a smart, coordinated finish.
For modern properties with a natural acrylic render, then dark greys and pebble grey works well, and black can make a strong contrast.
For traditional homes with dark brick, neutral or warm subtle colours complement well.
For traditional cottages or homes with charming, period brickwork, a bright coloured front door can bring a pop of cheerful colour to your property. Bright and colourful colours for timber windows wouldn't go amiss either.
For modern, terraced houses, a colourful exterior front door can work well and increase the kerb appeal.
Check out our inspiration and paint and stain finish pages for more ideas.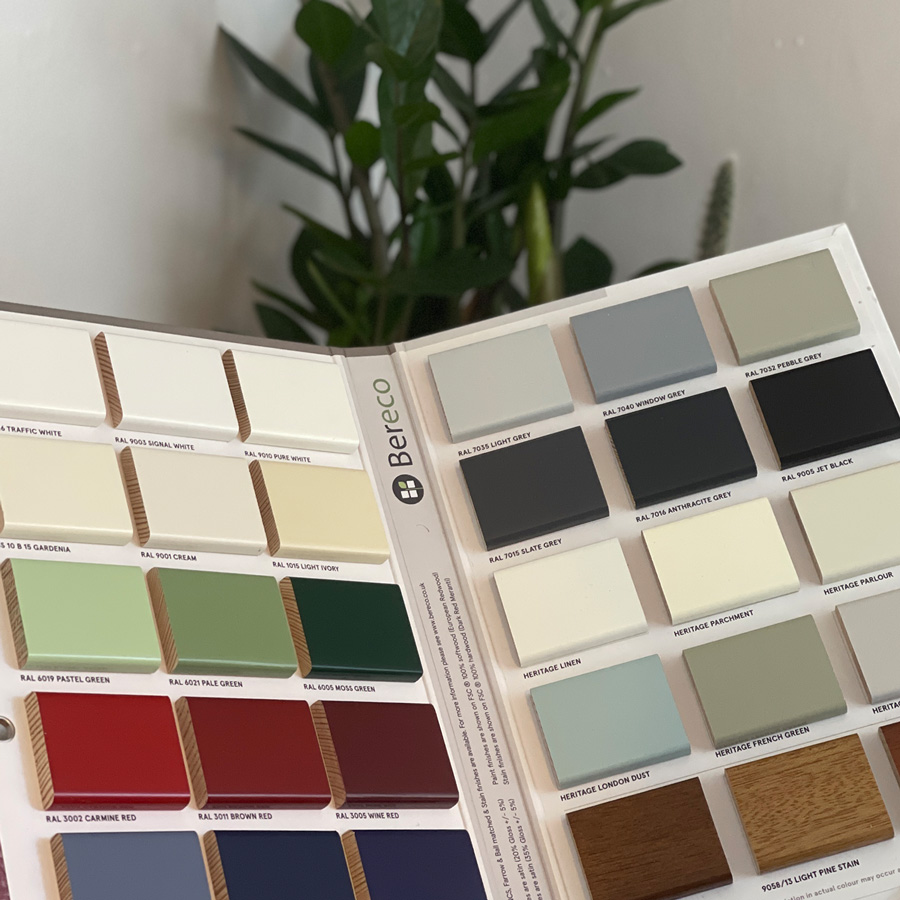 What colour should I paint my timber doors?
The colour you choose to paint your timber door will be dependant on the type of timber doors you choose. At Bereco, we have three core types of timber entrance door. These are Classic, Creative and Stable. Depending on the style you choose, some colours will suit this style more than others.
What is the best colour front door to have?
Regardless of the paint colour for your timber door, it's important to consider the paint finish. You will need to choose a paint that has a protective finish so that your exterior door will be weather-proof, and avoid wear and tear from the elements and everyday use. A protective finish can also avoid scratches and scrapes affecting the overall aesthetic of your home. This can be particularly important if you are planning to sell your property. In a recent kerb appeal survey, a property with wooden windows in a good condition and a well maintained front door score highly, which demonstrates the importance of keeping your home exterior in good condition.
Some popular paint colours for timber doors include:
Neutral greys
Darker greens, blues and russet reds
Pastel greens and blues
Bereco timber windows and doors can be painted in any RAL, BS, NCS, Farrow & Ball, Fired Earth or Earthborn colour matched finish; and with a range of 16 stain finishes, you're sure to find the perfect finish that fits your vision. You can explore our collection of paint and stain finishes here to get some more inspiration.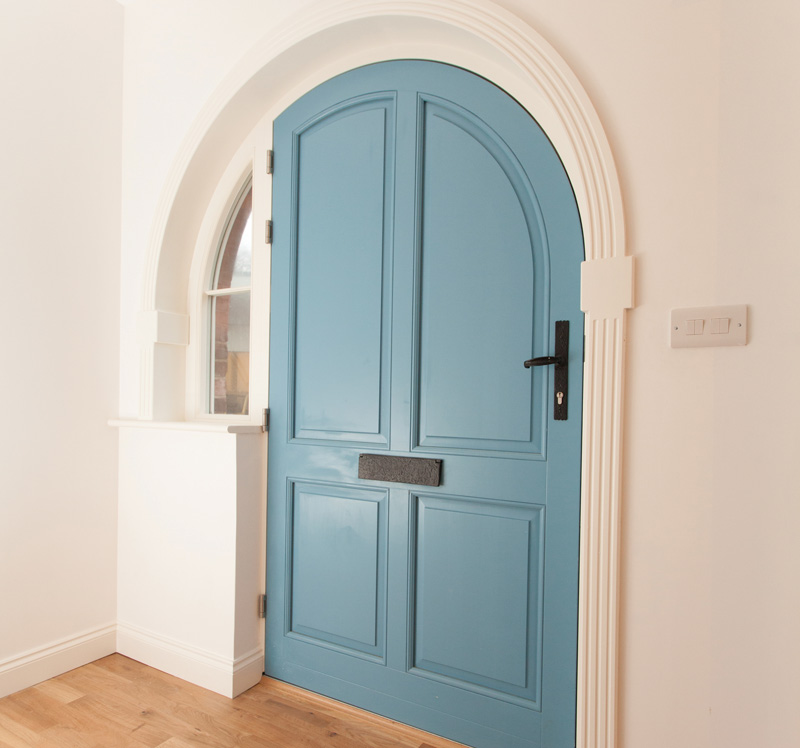 What kind of paint do you use on wooden window frames and doors?
It is best to use paints that are environmentally friendly, waterproof, and resistant to staining. At Bereco we use a 4-stage finishing process using water based paints and stains, which is both environmentally friendly and protects the longevity of the timber. You can choose between various colour matching systems and colour standards, such as RAL, British Standard and NCS (neutral colour system), with translucent stain finishes available should you wish to let the natural wood grain shine through.
Tips for painting timber windows
Consider the design of the room
When choosing the final paint colour for your interior windows, consider the interior design of your home. If you live in a modern space with angular furniture and a minimalistic look, then warm, dark hues may not suit the room. On this occasion, for example, a bright neutral timber window paint colour would work well. If your interior decor is more traditional, with plenty of plush furnishings and deep hues, then a darker colour or traditional wood grain finish may suit your timber windows. Generally speaking, however, for internal window frame colour, lighter colours work well as they maximise the natural light, as opposed to creating a dark frame that can reduce the natural light of a room considerably.
Consider existing colour schemes
Always consider the existing colour scheme throughout your home when you are deciding which colour to paint your timber windows. Your existing colour scheme will point you in the right direction and can ensure the timber window paint colour doesn't clash with the existing colours in your home.
Think about how you use the space
If you are choosing a paint finish for a timber window that you use regularly and is a focal point, be careful with the colour you choose. You need to consider the style of a timber window, too, to ensure the paint and style complement one another.
All in all, choosing the right colour for your timber windows and doors is a personal choice. Try to consider the factors mentioned above, so you make a choice that you're confident with, that suits the property, as well as your style and preferences! You'll be happy with your choice and be a proud owner of beautifully finished timber windows and doors that complement your home for years to come.
Book a design consultation today with the team or head to our blog for more advice.