Back to news
Restoration Nation: Restoring and Preserving Listed Buildings
February 3, 2022 | Blog
What is a listed building?
There are few things more beautiful than a characterful building with a rich history and an interesting story. Whether it's the grand Chatsworth House in Derbyshire or the more modern Judge Business School in Cambridge, the UK has a wonderfully varied portfolio of over 500,000 listed buildings. But what does the term 'listed building' actually mean?
Despite what some may believe, a listed building is not always an old building; however, many older buildings are protected due to their historical relevance. According to Historic England: "Listing marks and celebrates a building's special architectural and historic interest, and also brings it under the consideration of the planning system, so that it can be protected for future generations."
When a building is listed, it doesn't mean that it can't be altered or renovated; it simply means that consent must be applied for in order to make any changes that might affect the building's 'special interest'. Levels of consent required will depend on the grade of listing, of which there are three:
Grade I buildings are of exceptional interest, only 2.5% of listed buildings are Grade I
Grade II* buildings are particularly important buildings of more than special interest; 5.8% of listed buildings are Grade II*
Grade II buildings are of special interest; 91.7% of all listed buildings are in this class and it is the most likely grade of listing for a homeowner.
Why should we restore and protect listed buildings?
With thousands of new buildings constructed every year, it is vital that historically relevant buildings are protected for future generations to enjoy. Many listed buildings offer immersive insights into historic ways of living and reflect key events central to British society, which is why the majority of people think it's important to protect them. Despite the UK having many laws in place to help protect listed buildings, almost 50% of the nation believe that even more laws should be introduced to ensure their future, and 40% are concerned about current preservation efforts.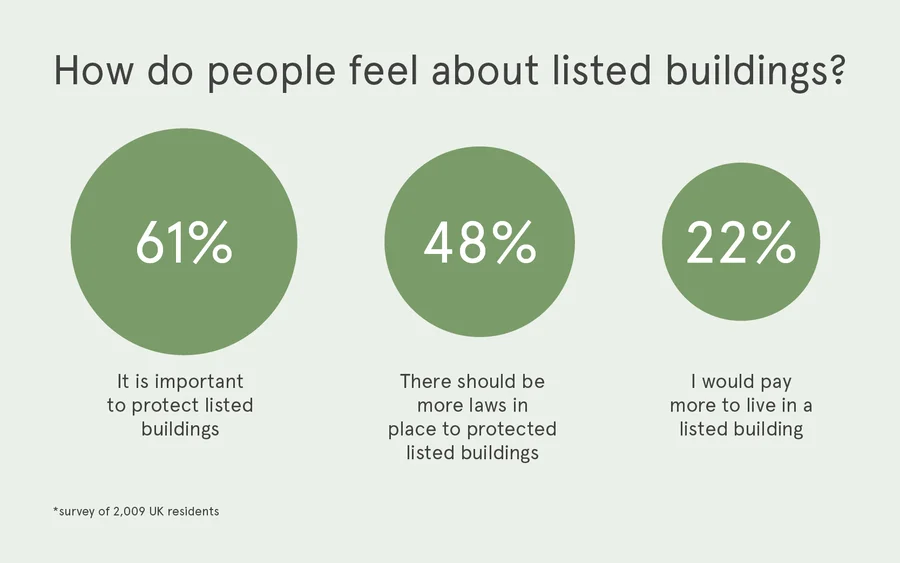 Where are listed buildings being renovated the most?
Many of the nation's listed buildings are hundreds of years old, so restoration is a key part of their protection. If we want these buildings to stand the test of time, ensuring they are structurally sound, weather-proof, and, in many cases, habitable is vital. Restoration can involve improving energy efficiency, replacing old windows and doors, or updating layouts to better suit modern ways of living. To help understand restoration efforts for the nation's listed buildings, we have analysed government data on listed building consents to see which locations are planning the most alterations and/or extensions.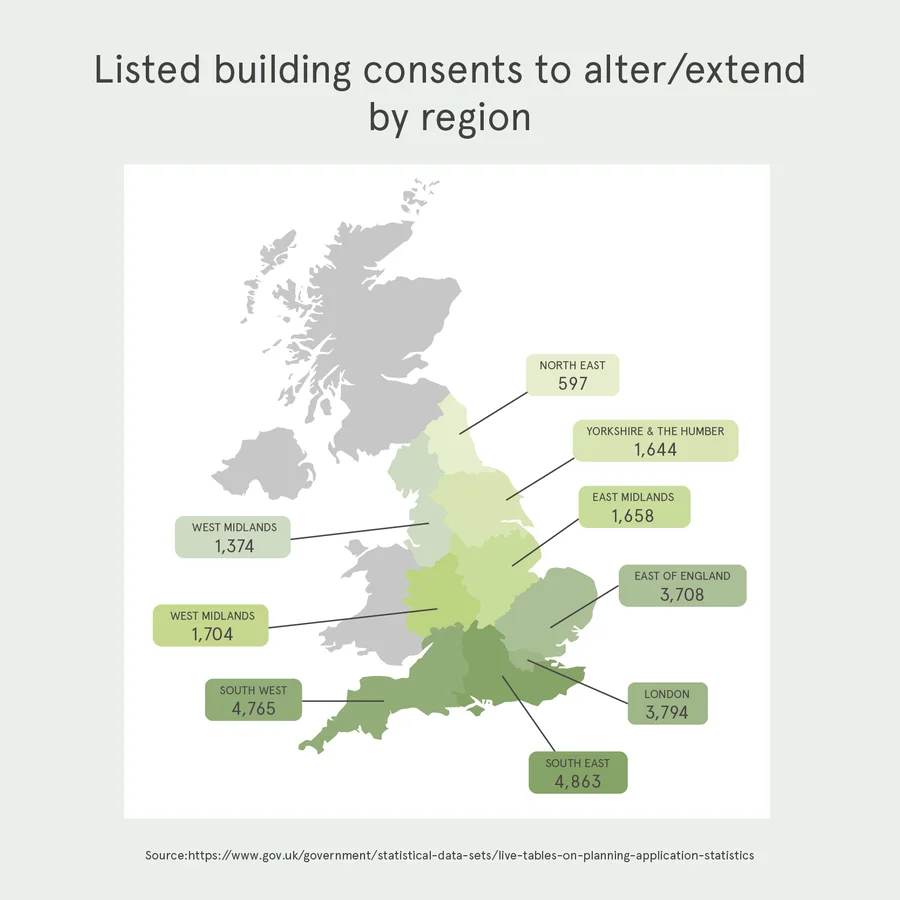 Do people know what regulations they need to follow?
It is important to have the appropriate laws in place to protect the nation's historically relevant buildings, but with many listed properties under private ownership, it's also vital that owners understand the rules they must follow when restoring or renovating their homes. According to our survey, 39% of people are unaware of building regulations, and 19% claim to have done notifiable work (such as removing walls) without getting approval, but how does this compare when looking at home types?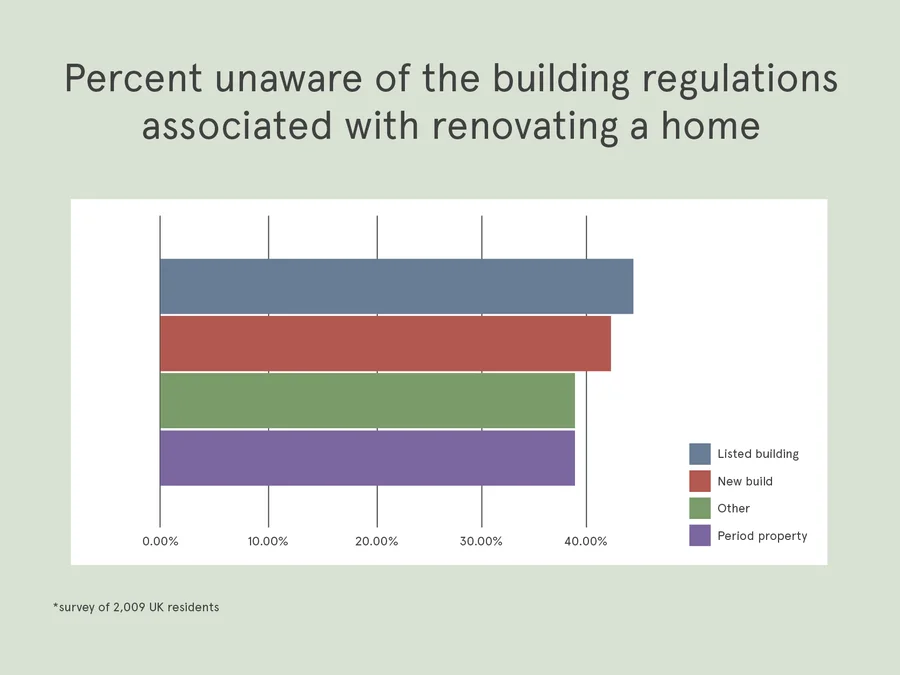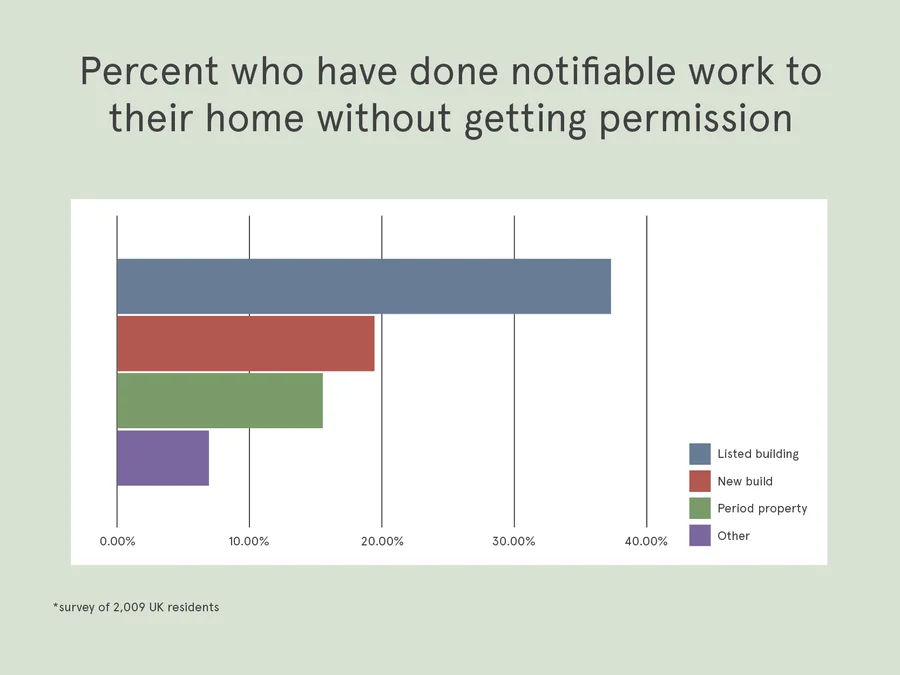 Top tips on renovating and restoring a listed or period property
Make sure you're aware of regulations
When it comes to restoring a listed building, every project will be bespoke and subject to different rules, restrictions and regulations. Make sure you're as prepared as possible by doing lots of research on your building and its surrounding area, ideally before committing financially! The last thing you want to do is buy a listed building, only to discover later that you can't make the alterations you want to. Reach out to your local Conservation Officer to find out everything you need to know about your listed property. Be sure to keep all permissions and plans after work is completed, too, as you will need these if you plan to sell your home in the future.
Overestimate costs & timeframes
Most people will know that restoring a protected building is not usually a cheap or quick task! Having a decent budget and timeframe is essential and allowing for additional, unexpected costs is vital. You can plan and research as much as possible, but some issues just can't be foreseen. In addition to a healthy contingency fund, try to overestimate costs and timings, so you're always financially prepared. It's also recommended that you map out key stages of your project so you can plan for potentially expensive delays. If budgets do start to spiral, remember that restoration projects are a labour of love! Work out if there are tasks you can safely do yourself to claw back some budget.
Find the right professionals
Listed buildings are beautifully unique, that's why we love them! So finding the right professionals to help you complete your project is important. Whether it's architects, structural engineers, craftsmen or suppliers, make sure your team has experience with historic, listed buildings. You can also visit previous projects or ask to see case studies to make sure their past experience aligns with what you need. Here at Bereco, our team of experts have provided bespoke timber windows and doors for some of the nation's most beautiful period buildings. You can see some of our case studies here.
Be invested
Renovating a listed building can be a long, daunting process, so it's vital that you love the building and are completely invested in the project! If you are willing to put the work in, you'll be rewarded with a unique, breathtaking home for years to come. When the going gets tough, it's also important to remember that your hard work and investment is helping to protect and prolong a beautiful property and its heritage for future generations.