Back to news
Timber Sash Windows for Period Properties: Design and Style Guide
October 24, 2023 | Blog
If you are considering replacing period sash windows in your home, it's essential to take the time to find the right design of timber sash window to match the existing style. Period sash windows, in particular, will need to be designed sympathetically in keeping with the correct time period.
At Bereco, we have years of experience in creating bespoke timber sliding sash windows to install in period properties. If you are unsure about the best type of sash window for your home, this design and style guide is for you!
Explore our timber sliding sash windows
Replacing sash windows in a period property
Replacing period windows, particularly in properties in conservation areas, will need sensitive design; in many cases, it is paramount for the renovations to be approved by a conservation officer. Get in touch if you are unsure of the best way forward with replacing period windows in your home, and our team will be able to help.
Period sash windows
Sash window styles have evolved over the decades as technology, architecture, and legislation have changed the way homes are designed and built. Timber sash windows were introduced in Britain in the 17th century. They were a key architectural feature on homes across three distinct architectural periods, namely the Georgian, Victorian and Edwardian eras. These windows were a show of wealth, adding a touch of grandeur to the exterior facade – yes, they cared about kerb appeal in the 17th century too! The windows were very functional too, as they let in large amounts of natural light, which was a necessity in the days when electricity supply in homes wasn't as readily available. Period sash windows were a symbol of status and more a show of wealth than a window to improve the standards of energy efficiency and weather performance in a property like they are today.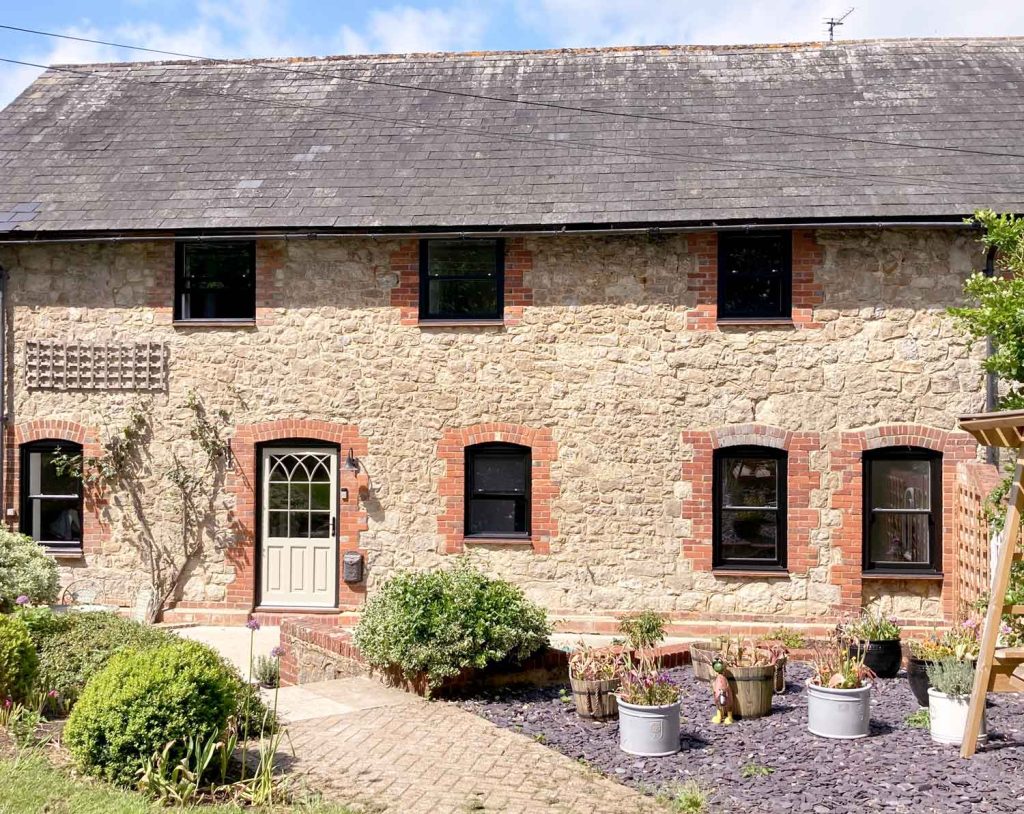 What sash window style is right for my period property?
If you are renovating or looking to replace your period sash windows, you will first need to identify in which era they were built. There are some distinctive style differences between Georgian, Victorian and Edwardian architecture. Understanding these architectural differences will help you determine which period style of sash window you currently have installed. You can then quickly narrow down which timber sash window styles to choose from for your replacements.
Period sash window designs
Below we look at the key differences between the most popular styles of period sash windows.
Georgian sash windows
Georgian style sash windows commonly feature the following designs: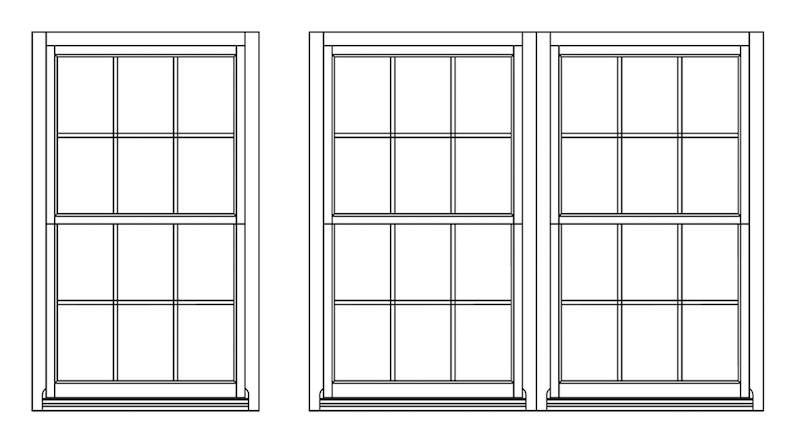 Georgian sash windows always featured more complex grid patterns, often referred to as six over six windows and eight over eight windows. Glazing bars, also referred to as muntin bars or sash bars, historically divided an opening sash into a grid system to fit smaller panes of glass. At the time, this was economically necessary as it was affordable to produce when technology limitations did not allow for larger panes of glass.
The limitations in glassmaking technology didn't stop Georgian architecture from making its mark. Georgian sash windows are often seen as charming and distinctive. They are painstakingly recreated today in renovation projects to replicate the authentic designs of the time. Georgian architecture can be characterised by elegant, simple, ordered and balanced proportions, symmetry and vertically arranged windows. The 'golden ratio' was often a leading factor in architects' designs, and sash windows dominated larger homes in regency towns. The window tax in place until the 1850s meant that windows demonstrated opulence and wealth, so were common in Georgian mansions and townhouses. Many Georgian properties still feature the wooden Georgian windows we recognise and love today.
Victorian style windows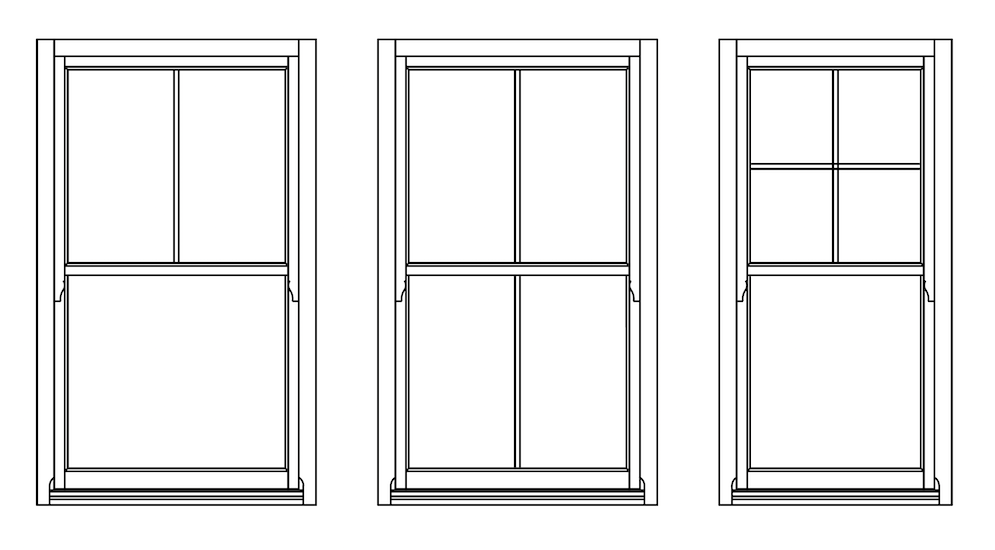 Victorian homes typically feature larger panes of glass, with fewer glazing bars separating the panes. Another typical feature of Victorian sash windows would be fewer panes on the bottom sash, either one or two, with more panes in the top sash.
The Victorian era saw a period of significant change, as housing became more accessible to the middle classes, and smaller, terraced houses became incredibly popular. This meant that smaller window sizes were necessary to make the homes affordable for the growing population of middle-classes in cities, in particular. Larger windows were less prominent until the elimination of the window tax in 1951, which radically altered the approach to sash window design. It allowed architects and homeowners to incorporate more windows into their homes without an additional cost. The further advancements in glass technology, particularly the float glass process invented in 1959 by Sir Alistair Pilkington, was seen as an architectural revolution and allowed very large panes of perfect glass to be manufactured.
This is why smaller, terraced homes still benefitted from larger panes of glass. However, the window sizes, in general, were smaller. For more affluent homeowners, the elimination of the window tax saw a rise in properties with a greater number of windows, the larger glass panes allowing in much more natural light.
Edwardian sash windows

Edwardian style windows typically feature one or two panes of glass in the bottom sash and more intricate, smaller panes in the upper sash. More complex, detailed patterns and designs were available thanks to the resurgence of larger properties built in the Edwardian era.
Although a very short period, spanning from 1901-1910, Edwardian houses saw popular architectural developments that featured larger hallways and taller rooms. As populations moved out of the cities, architecture demanded a re-think that was sympathetic to the larger buildings. Larger homes in the country became more accessible, with brighter and lighter homes made possible by wider window panes. Designers creating Edwardian sash windows sought to emulate Georgian architecture while still enabling plenty of natural light to enter the property. It was not uncommon for architects to borrow elements from Georgian architecture, including romantic features and, occasionally, stained glass panels.
You can explore some of Bereco's most popular sash window styles here. Book a design consultation with our team today if you'd like to know more about the best type of sash windows to choose from.
Cottage bar design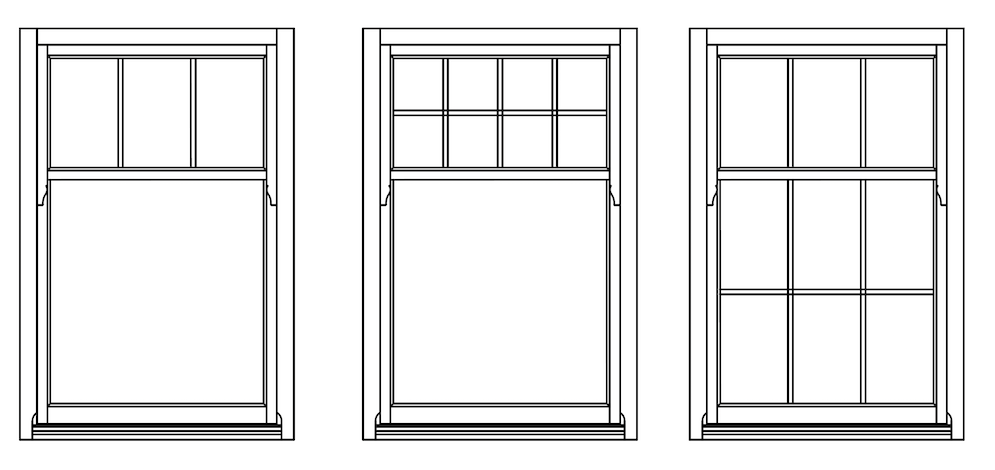 Another traditional and charming design seen today on many renovated period properties is sash windows featuring a cottage bar design. This sash window design was popular in countryside cottages. The upper sash would usually be smaller than the lower sash. It would often comprise intricate grid pattern design, which brought country-cottage-charm to many homes we love today.
Sash horns for sash windows
In period properties, a distinctive feature of timber sliding sash windows is sash horns. Sash horns are an integral design feature and are essential to think about if you are renovating a period property to reflect the architecture of the time.
What are sash horns?
Sash horns are decorative protrusions that were initially introduced to help strengthen the sash on period sash windows. They were necessary as larger panes of glass became more popular in the mid-Victorian era. These reduced the necessity of glazing bars. However, with the increased weight of the glazing and the lack of glazing bars, the sash frames of the window would become relatively weak, causing the mid-rails to drop. Sash horns were introduced to the design to prevent the mid-rails from dropping and twisting and soon became a charming decorative feature.
Sash horns are no longer a design necessity in well made high-quality timber sash windows; however, they are a wonderful design feature that brings an authentic charm to replacement timber sash windows. Sash horns were typically intricately designed and are a must on the renovation of a period property to emulate the architecture of the time. Usually created in an ornate decorative curve or an S shape, sash horns were often hand-carved in heritage sash windows. You will find that designs vary widely throughout cities, towns and villages. At Bereco, we have carefully and considerately replicated the most popular regional designs of sash horns exclusively for our traditional and heritage style sash windows.
Explore Bereco's sash horn styles here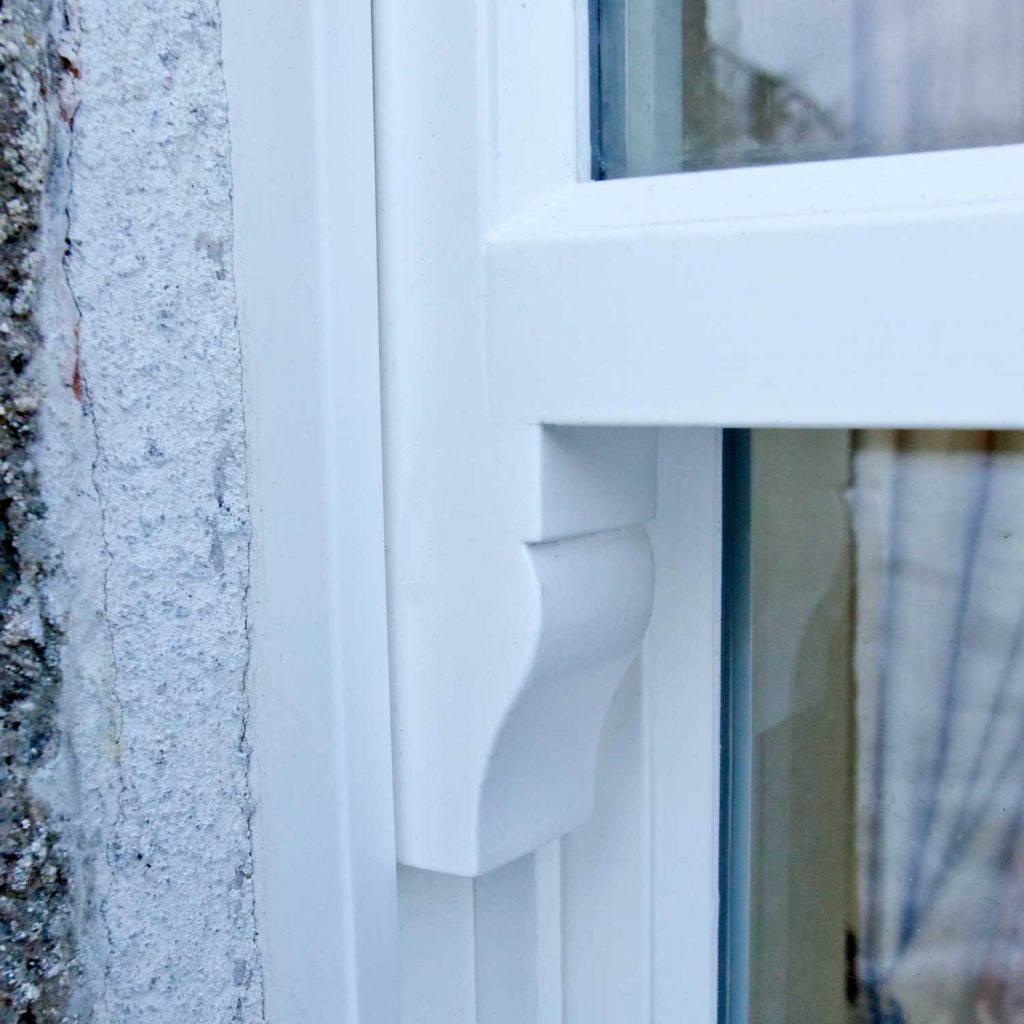 Plant on glazing bars
In modern sash window design, to emulate the traditional styles of period properties and complex glazing bar designs, plant on glazing bars are used to give the appearance of smaller panes of glass. To look at the windows, you wouldn't know the difference as the glass features integral spacer bars that emulate the traditional individual pane design in period sash windows. This is purely an aesthetic feature, but it is prevalent today. It allows the glass in the windows to be fitted from the inside, which is more secure than externally glazed sash windows. It also means that the windows are more watertight as there is only one seal between the frame and the glass.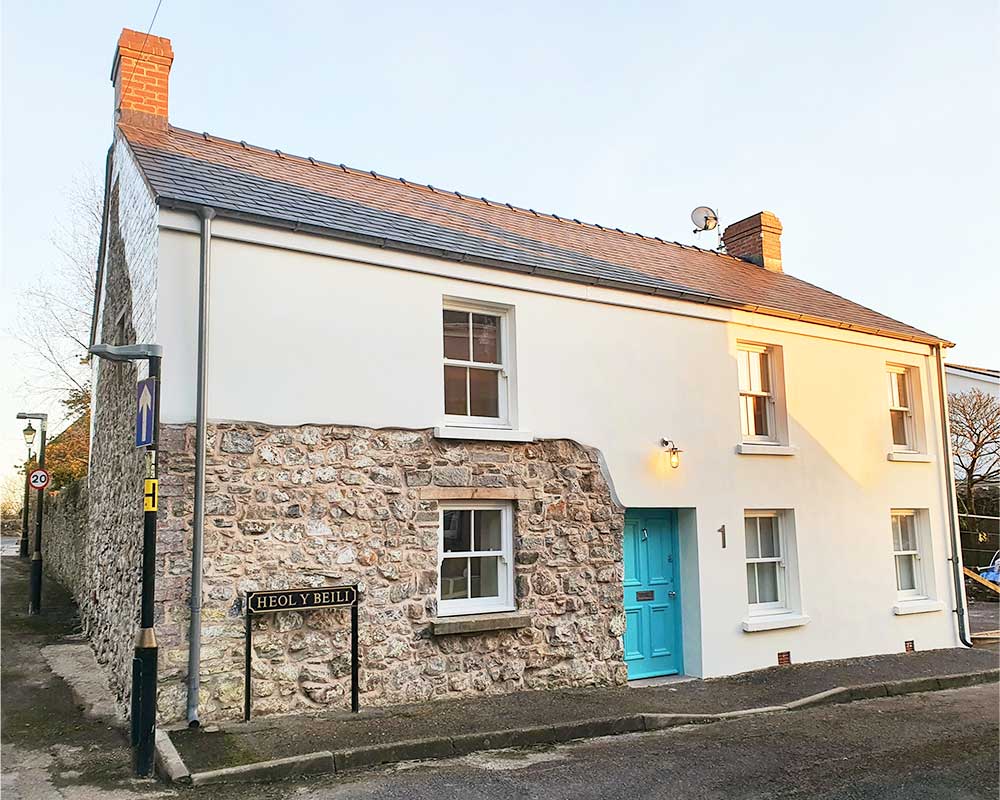 Weights and pulleys
Traditional timber sash windows opened on a system of pulleys with counterbalancing weights attached to the end of the ropes or cords. These were attached to both opening sashes, allowed full movement of the window, and kept the sashes in the position they were opened to; closed, semi-open or fully open. This traditional mechanism remains available for the most architecturally sensitive properties. It is often called cords and weights, sash and case or weights and pulleys. There is also now a more modern, low-maintenance, cost-effective mechanism available on sash windows called spiral balances or spiral springs. With this mechanism, a spiral tensioned spring is used to hold the window in its position, which counterbalances the weight of the opening sash. This mechanism is concealed neatly in the frame where the ropes would be. The tensioned springs allow for thinner frames and smaller windows to be accommodated. It also allows for double and even triple glazing to be used, helping to increase the energy efficiency of the windows without the need for large lengths of lead counterbalance weights inside the frame. Both the cords and weights and spiral balance operating mechanisms are available on Bereco wooden sash windows. Explore our timber sash windows here to learn more about the different types available.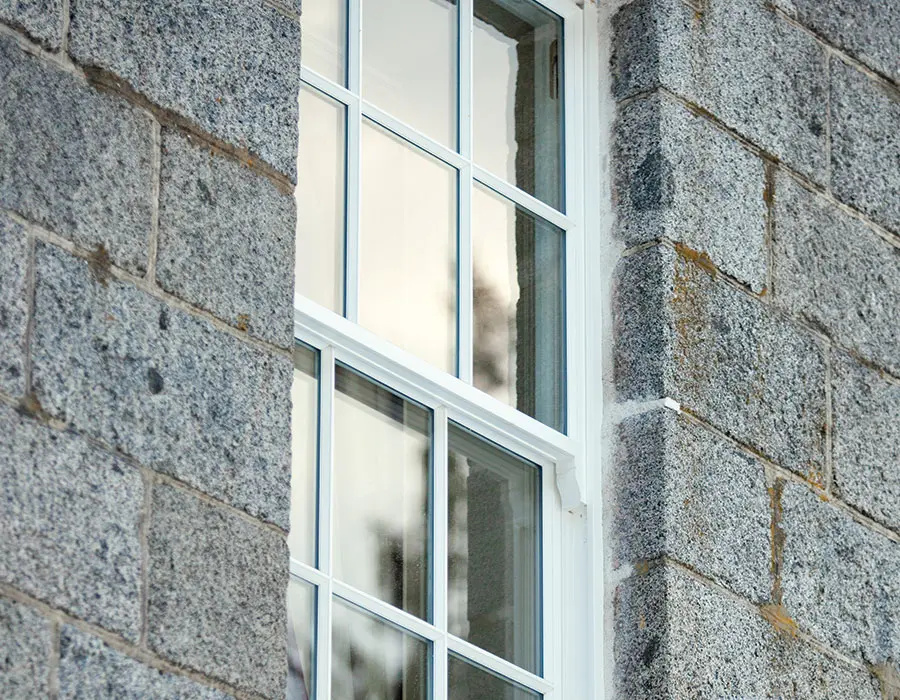 Replacing timber sash windows in conservation areas
If you are replacing conservation style sash windows, you will need to think about the legislation and design restrictions that may be in place on your home. You should always speak to your local planning department to check you have permission before replacing any windows in period properties. Any aesthetic and functional changes to a building recognised by heritage bodies will need to meet requirements. For example, some homeowners in conservation areas may be limited with glazing design.
Bereco heritage range
Our heritage range features narrower timber frames and single or narrow cavity double glazing that may be more suitable for conservation areas.
You can read more about our Bereco's Heritage range by reading our case study on heritage buildings here.
Preserving traditional characteristics in period properties, particularly those that are listed or in conservation areas, is of paramount importance to our country's heritage governing bodies, which means that you may not be able to install more modern, double glazing in your home if you fall into one of these categories. Timber sash windows are usually the only type of sash window permitted; these would traditionally have been installed with single glazing. Depending on your local conservation officer, you may need to check the options available to you regarding double glazed timber sliding sash windows. 
For more information about the best timber sliding sash window for your period property, speak to our team today and book a design consultation to see your home with new sash windows installed.