Back to news
How Much Do Timber Windows Cost?
October 24, 2023 | Blog
If you are considering installing timber windows or replacing your timber windows, you'll likely have lots of questions about the cost of timber windows and the typical prices of installing them. Our guide will take you through the typical costs of timber windows, including installation prices and things to consider if you are considering investing in timber windows.
How much does a timber window cost?
Timber window prices will vary depending on the type of product that you are purchasing.. A timber casement window will start at around £330, with sliding sash windows starting at around £700 for supply only, excluding delivery and VAT. The cost of wood windows also varies depending on, the size of the window frame, the number of panes, the type of glazing installed, the type of timber used, your ironmongery choices and any additional bespoke design options, among other factors. You also need to consider installation costs which will depend on your supplier. At Bereco, we offer a window and door replacement service, which you can learn more about our here. 
Timber casement windows tend to cost less than timber sliding sash windows due to their simpler design and the number of materials required to manufacture the product. Timber sash windows reflect more traditional designs, are popular with home renovations and listed buildings.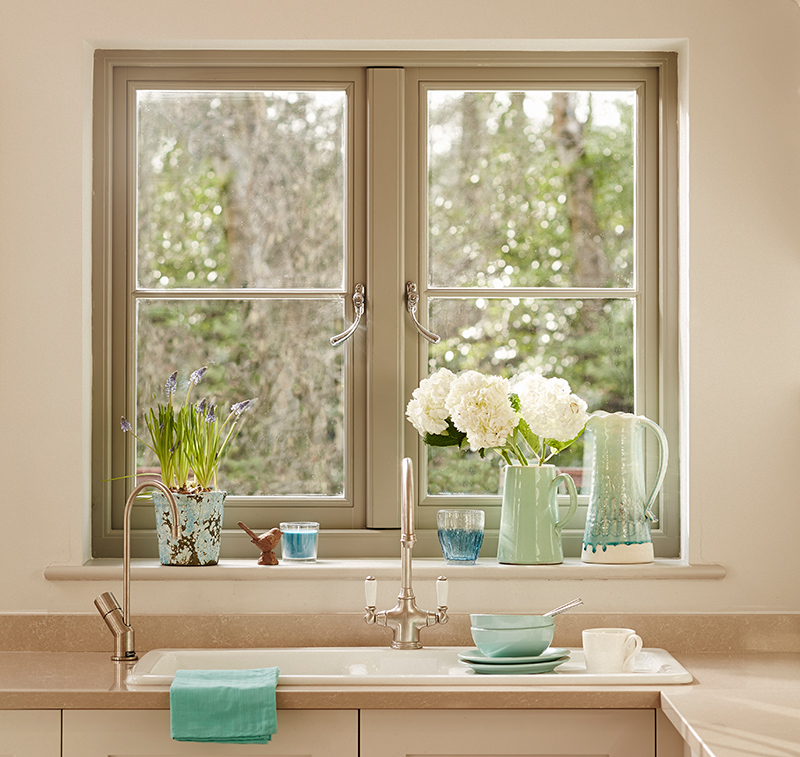 How much should I spend on a timber window?
The cost of timber windows is reflected in the quality of the materials, particularly the timber, as well as the style and design, the quality of the finish, and the durability and lifespan of the product. Good quality wooden windows will last a lifetime with basic care and maintenance, so although you may pay a higher upfront cost compared to other window materials, it is a worthwhile investment.
The amount of money you should budget for windows should also consider installation costs. Not all timber window companies offer installation services, so ensure that you check whether or not it is included within your quoted price. At Bereco, we offer a full installation service, meaning that we can provide a full quotation price that includes supply, delivery and installation. 
Do I need planning permission to change my timber windows?
If you are simply replacing existing windows with new windows of a similar style then you do not need planning permission. If, however, you live in a conservation area, a listed building or a building recognised by a Heritage body, you may need to check what you are permitted to change as there may be local conservation limitations to the construction, style and colour. There are also strict building regulations that apply to windows and glazing that need to be adhered to, so your windows must be installed by a professional certified by a body such as FENSA or CERTASS, who will ensure that all regulations are complied with. Bereco's installation team are FENSA certified, and our design team are fully versed in all building regulations and will ensure that you get the right products for you and your home.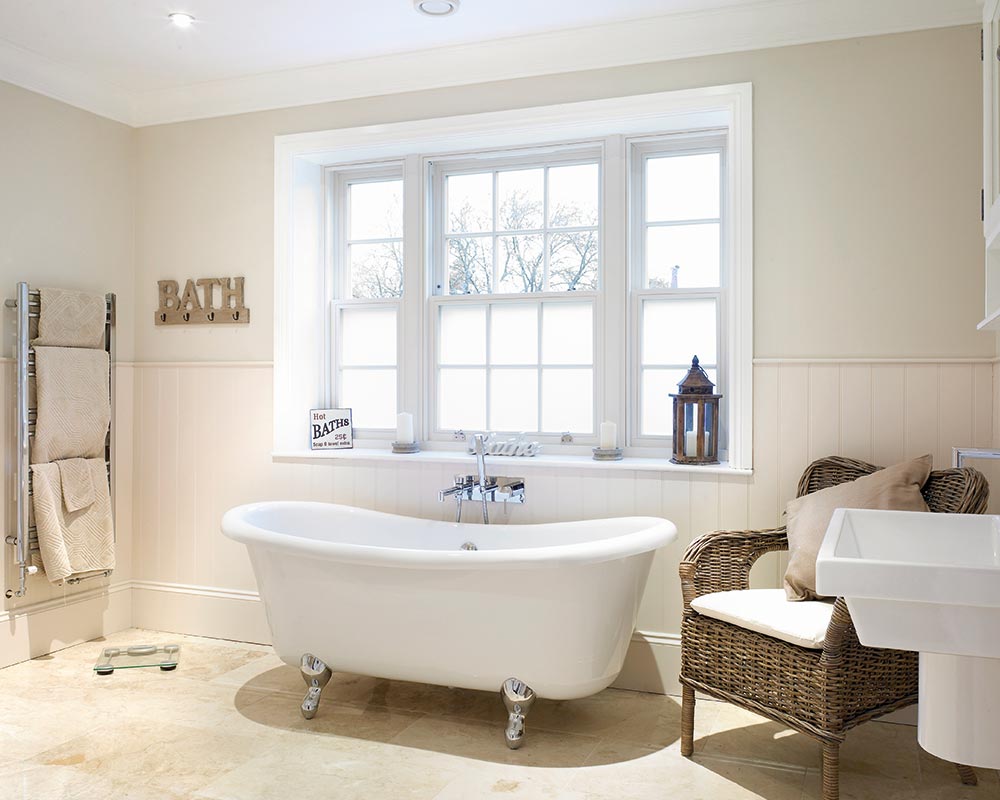 How long do timber windows last?
Good quality windows, manufactured from defect-free, engineered laminated timber, with a good quality finish, can have a lifespan of up to 60 years. This is one of the main advantages of timber windows; they can last a lifetime. With a small amount of regular maintenance, homeowners will not need to worry about replacing their windows for years to come. Timber window suppliers will also offer competitive warranties, offering peace of mind should you need to treat or replace your timber windows for whatever reason. Bereco's timber windows come with a 10-year manufacturer warranty. 
Do timber windows add value?
Timber windows can add a significant amount of value to your home. Timber windows that are sympathetically styled and reflect the look and feel of a building can transform its exterior, adding kerb appeal for the all-important first impression. This is especially true for period properties; investing in good quality timber windows is worth it in the long run. A premium price can be placed on higher-value period properties with high quality, fully functional and beautifully finished timber windows that match the original period style. It is always worth replacing timber windows that need replacing in properties before you come to sell; it is one less job for the new homeowners, which will be reflected in the price.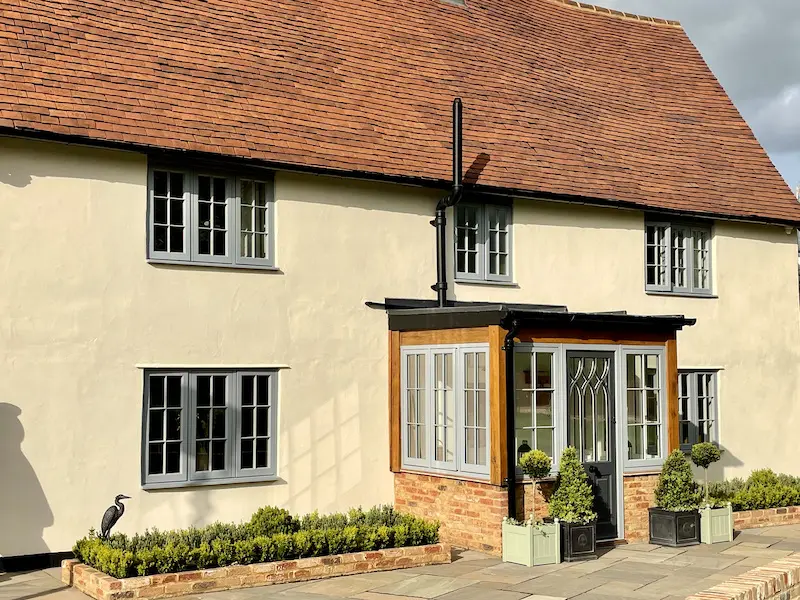 How much value do new windows add to a house?
New double glazed windows can, on average, increase the cost of a UK home by 10%. Double or triple glazed windows will help rescue energy bills, and good quality windows will add a great amount of kerb appeal to a property which also increases the price of a UK home. Buyers are far more likely to buy a home that requires less maintenance, and homes with newer, high-quality windows that include extensive warranties will appeal far more than a home that needs a lot of repair and renovation. 
How much does it cost to install timber windows?
Timber window installation can cost from £2,000 – £3,000 per day. The price will vary depending on your installer, and costs and the number of days required will also depend on: 
The number of timber windows being installed
The size and type of timber windows being installed 
Ease of access to the windows 
Speak to a member of Bereco's team today to get an idea of the typical costs you should expect to pay for your timber window installation.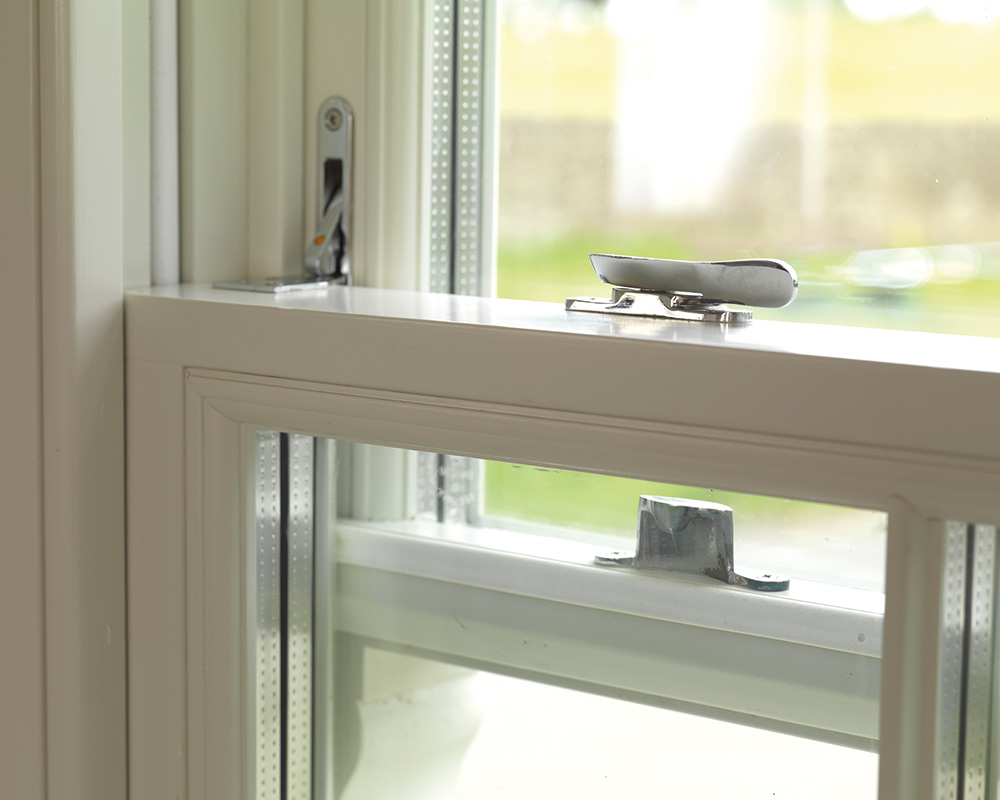 Timber window installation – building regulations
All buildings in the  UK must comply with building regulations,. Thermal aspects of your windows need to be considered, as well as:
Fire safety
Acoustic performance
Ventilation 
Energy efficiency 
Safety of the glazing
Security of the windows 
The easiest way to ensure that you comply is to have your windows installed by a professional who is certified by FENSA or another similar certification body.
If you wish to know more you can read more about building regulations for timber windows in our guides:
UK building regulations for timber windows for new builds 
UK building regulations for replacement timber windows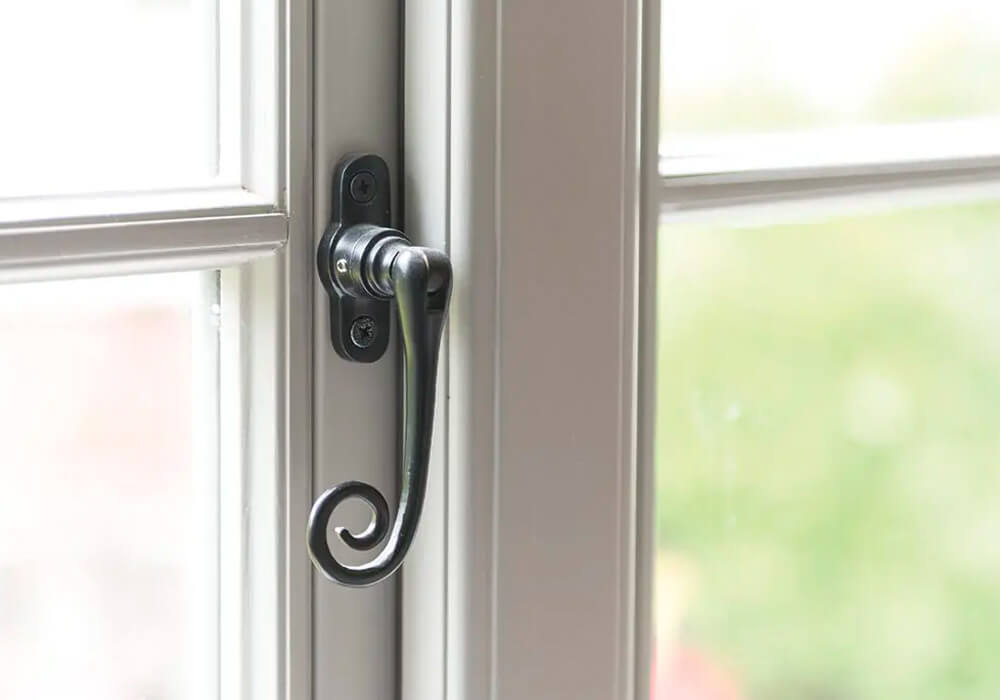 Pros of timber windows
Ecological  (H3) 
Timber windows are an eco-friendly investment, as well-sourced timber is one of the most sustainable material options for windows. Timber windows from Bereco are naturally renewable, carbon-neutral and are made from FSC(R)100% certified timber. The FSC are a non-profit organisation dedicated to responsible forestry, ensuring the highest environmental standards are achieved from wood being harvested. Bereco also aims to reduce its non-recyclable waste by 50% by 2022. 
You can read more about our sustainability pledge here. 
Energy efficiency
Timber windows are energy efficient, as our energy-saving window and door designs offer U values that are 82% improved from building regulation requirements.. Energy-efficient timber windows can save an average three-bedroom home the equivalent of £212 on heating bills every year. 
Bespoke
Bereco timber windows are made-to-order and can be designed to match the exact style requirements of your needs.  We can match individual features such as specific glazing bar patterns, and offer thousands of different paint and stain finishes across multiple colour palettes.
Beautiful design
Bereco timber windows are beautifully designed and made to last. They can be painted to match your home aesthetic, or you can make a feature of the timber using one of our translucent stain finishes. With preservative treatments, perfectly applied factory finishes and quality checks at multiple stages of production, our highly trained production team will ensure your bespoke timber windows are finished to the highest quality standard possible. Timber is a diverse and robust material and offers more freedom aesthetically as opposed to other options such as uPVC or aluminium. 
Durable and long-lasting
Well finished engineered laminated timber is a durable and long-lasting material, which is why, with some basic maintenance, our timber windows can offer an incredible lifespan of 60 years before they will need to be replaced or restored. The timber treatment process and high-quality finishes that we use at Bereco ensure your timber windows are protected against the elements.
Do energy-efficient timber windows save you money?
Energy-efficient timber windows can help keep heat in in the colder months and can save you money by reducing heating bills. The overall amount you save will be dependent on their overall energy performance and how well the material stops heat from passing through. The frame type and the type of glazing will affect this. Timber window frames have a lower environmental impact than other windows, and are energy efficient, with many of Bereco's products part of a BlueSky high-performance window scheme for exceptional draught performance and weather performance.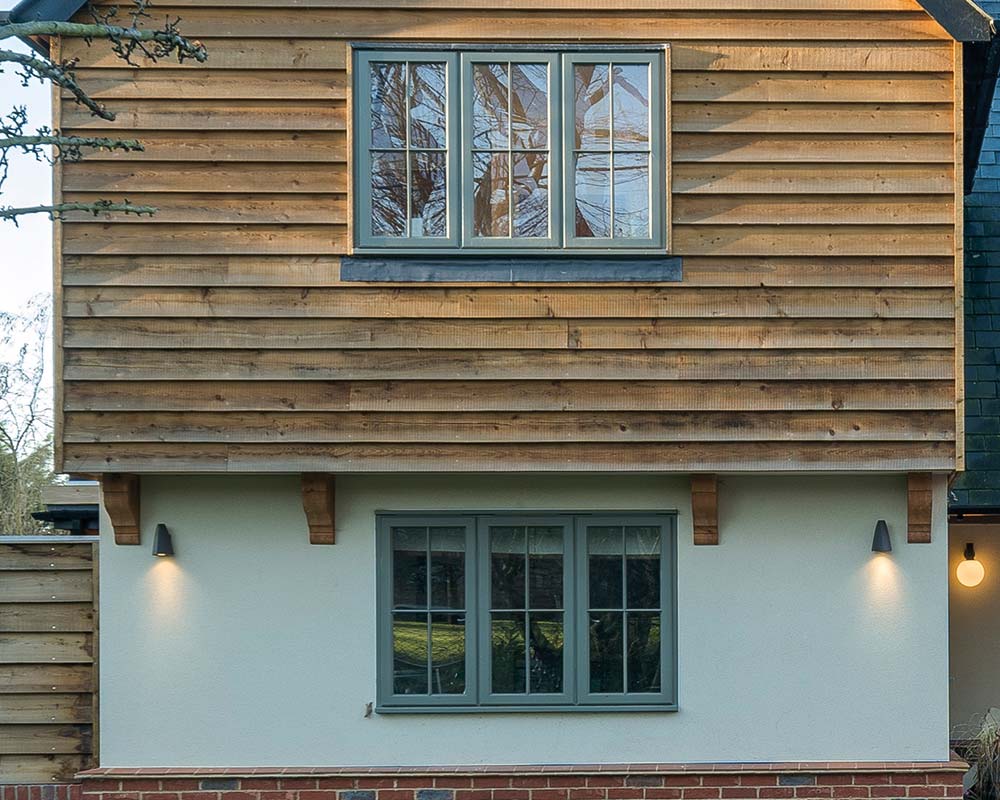 Cons of timber windows
Initial Costs
Timber windows are a naturally more expensive choice than other window materials such as uPVC. This is because of the material and manufacturing costs of timber, as well as the high-quality 3-stage finishing process. However, timber windows can have up to 3 times the lifespan of the equivalent uPVC window. Timber windows can also significantly increase kerb appeal, adding instant value to your home, and they offer energy-saving qualities, meaning that, although you pay an additional upfront cost, the benefits of timber windows far outweigh the initial cost. 
Occasional maintenance
As timber is a natural material, it needs a good quality finish to protect it from the elements and preserve its longevity. Moisture penetration and decomposition of timber can occur if the timber is exposed without being treated, so it's important that the finish is maintained. For Bereco windows, this simply means wiping over the frames with a clean and care solution once or twice a year, the first redecoration of the windows should not be required for up to 10 years. You can read more about the maintenance process here.
The quality and type of finish will vary between timber window manufacturers, which is why you should find a supplier who is honest about their factory process. At Bereco, all timber windows and doors are treated with both a top coat and a weather-resistant coating. Manual checking ensures the paint is the right thickness so it is guaranteed to last. Bereco is an engaged member of the Blue Sky Q Mark Scheme, which closely controls the paint application process for optimum performance. 
All of Bereco's products come with a warranty of 10-30 years against Rot & Fungal decay, factory coatings, ironmongery, glazing units and manufacturing defects, subject to basic maintenance. 

You can find out more about Bereco's timber window range here, including timber flush casement windows, timber lipped casement windows, and timber sliding sash windows. For more insight into timber window installation and maintenance, inspiration and ideas, explore our blog.