Back to news
Why Buy a Bespoke Front Door?
October 24, 2023 | Blog
Bespoke entrance doors are a popular choice for homeowners looking to replace their front door, as well as those building their own homes. No two homes are identical, and just as we are unique and have our own personalities, so do our homes! We want our homes to have character, charm and kerb appeal, and investing in a bespoke front door is a simple and cost-effective way of making your home stand out from the crowd.
If you are looking for a door to fit your existing home, then a bespoke front door will certainly be for you. The style of your home will dictate the size of the door you need, and in many cases, a standard-sized door just won't work in your home. The good news is that buying bespoke size doors gives you more freedom to have it your way, as you won't be limited by standard designs or colours particularly if you opt for a timber front door.
If you are building your own home, then you are certainly going to want something special for your new door design. When buying a front door for a self-build, a bespoke front door can be a great opportunity for a real expression of your style. Home entrance door design is where first impressions are made, so it is worth investing in a bespoke design that ties into your vision and tastes, that will last for years to come.
What is a bespoke front door?
Bespoke entrance doors, sometimes referred to as made to measure or custom doors, are made to order based on your design preferences for your home. Custom front door sizes and entry door design tend to offer more scope than standard doors that you can find at your local builder's merchants or DIY centre. Standard sized doors tend to measure up at 2.6 metres. Bespoke front door design means you can install doors that are shorter, taller, and wider than the standard, 'off-the-shelf' measurements. Additional design features such as side windows, panels, and top lights can also be incorporated into a custom front door. There is far more creativity and freedom with a front door you have designed yourself, and bespoke front doors offer homeowners the choice to design their front door to their own exact requirements.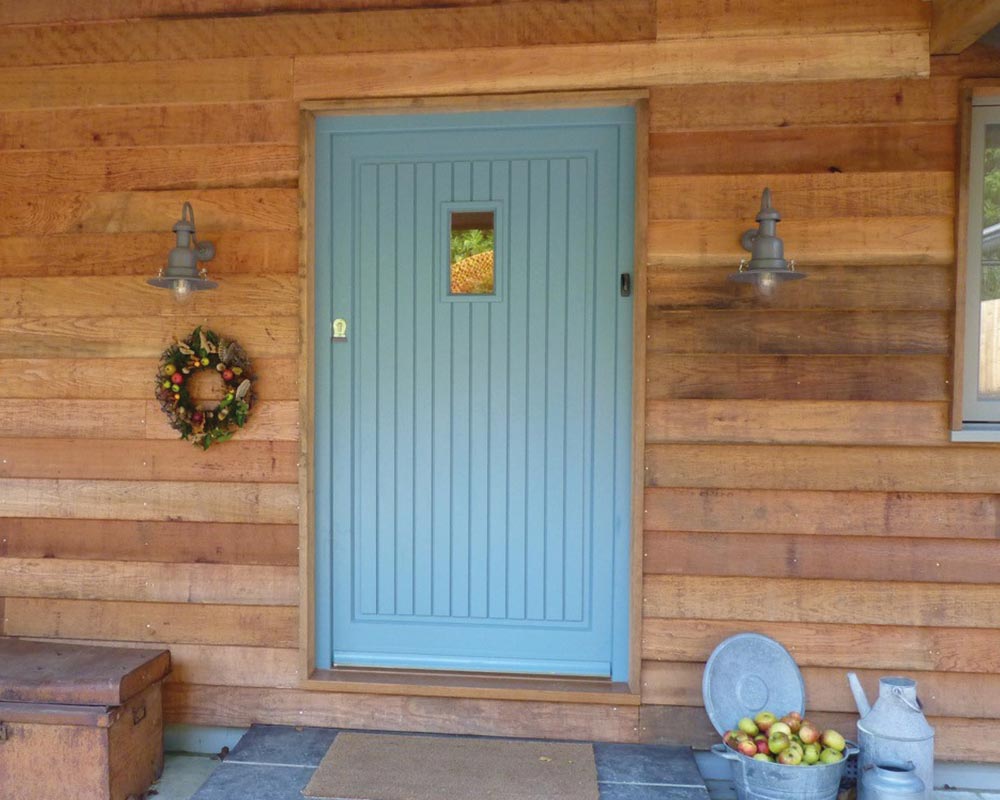 Do bespoke entrance doors help with kerb appeal?
Kerb appeal is simply the visual qualities and features of a property that make it attractive to onlookers. The front door or entrance is often the focal point of the front of the house, drawing the eye and leaving a lasting impression of your home. Passerby, visitors, and most importantly – you as the homeowner will be welcomed home by a pleasant, welcoming front door design that emulates your sense of style, while offering a smart, finished look to the front of your property. Kerb appeal can make a great first impression, and can add value to your home should you decide to sell in the future. If you would like to know how to create the perfect entrance to your home you can get some great advice in our recent blog.
What is the best colour for a new front door?
First impressions really do count, and the style, colour and size of entrance doors say a lot about a person and their home. One of this year's most popular colour palettes is pastels made up of creams, minky blues and sage greens. If you are going for a traditional timber front door then these colours are well and truly on-trend. If you are looking for a more contemporary vibe then strong bold colours including blacks and greys are the way to go. Get some insights into this year's popular entrance door colours and what they reveal about you and your home in our latest blog; it's a must-read if you are thinking about buying a new front door.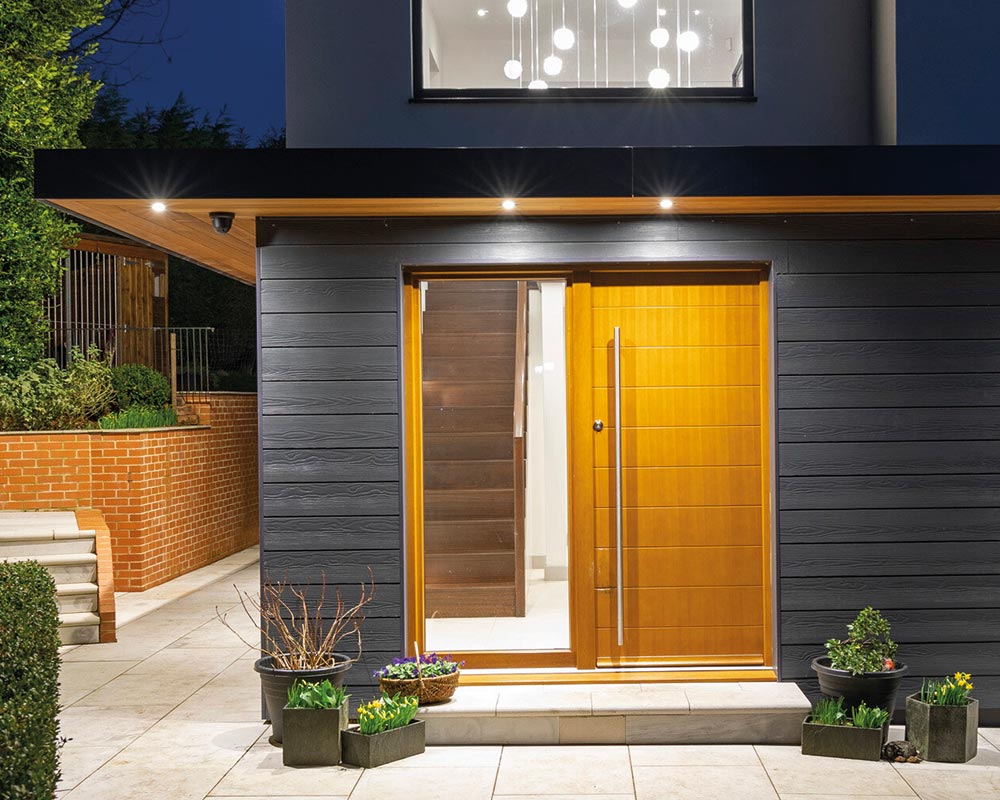 Do bespoke front doors add value to your home?
Recent research suggests that having the right front door colour could be a key factor in winning over potential buyers when it comes to selling your home. A study by sellhousefast.uk found that a blue front door can add up to £3,000 to the market value of your home. Our advice would be to keep it neutral and for those planning to stay in the property for years to come, opt for a type of timber where altering the door is simpler, using sandpaper, a tin of water-based paint and with a little time. Speak to a timber door supplier like Bereco if you are considering upgrading to an external wooden door, to discuss your options and potential styles and designs.
A damaged front door or a front door that isn't fitted well with no double glazing can cause problems when you come to sell, as it can actually devalue your home. Entranceways to your home need to protect and prevent your home from ongoing problems relating to damp and mould, which could knock almost £10,000 from its overall market value according to a report by Rated People. If you are planning on selling your home at some point in the future we would certainly recommend the investment in a new front door as you will get back much more than you spend.
What's the best material for a bespoke front door
Bespoke front doors are available in a range of different materials. Timber, uPVC, Aluminium, Steel and Composite are the choices with which you will be faced when buying a new front door. Wood or timber is the traditional material for a bespoke front door and is one of the most popular choices due to its durability, quality, and energy efficiency.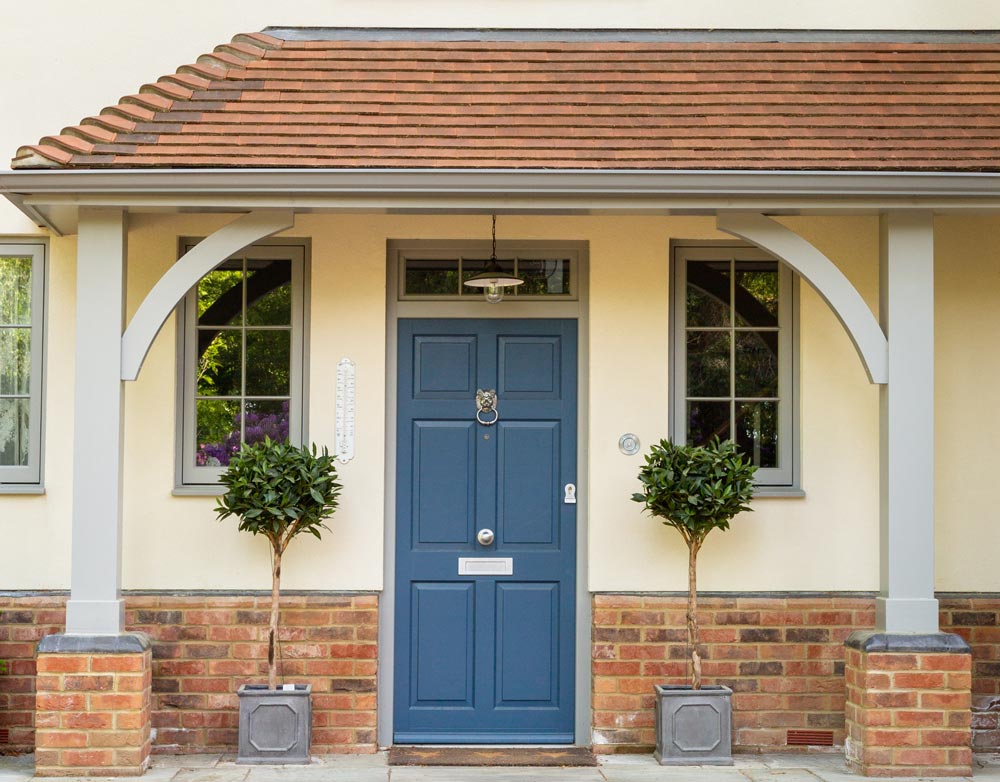 Popular designs for made to measure timber entrance doors
House door designs vary widely from country to county and town to village. One of the most traditional styles of timber front door is the classic 6-panel design. Most popularly painted in black with a white frame similar. This style of door can be seen countrywide, perfect for period properties. In recent years, the industrial look has emerged and brought with it a more contemporary warehouse-style door. The most popular finish for contemporary doors of this style is a steely grey, featuring horizontal grooves that imitate a landscape panel design. The door also features a tall, slim vertical glass panel set in one half of the door with a full-length handle to pull the door open.
How much do custom timber front doors cost?
Timber custom front doors can start from as little as £1,600 but can range up to £4,000. A key feature to your property, investing in your home entrance door design is a worthwhile investment for homeowners and is a popular choice for this reason. Timber entrance doors have the best lifetime value for money, too. When looked after and maintained, a new timber front door should last 60 years, whereas in uPVC that lifespan will only be around 20 years. A new uPVC front door may only set you back around £800, but in the long run, you will end up spending more as the front door will need to be replaced after 20 years. This is something to think about when choosing the material for your new front door.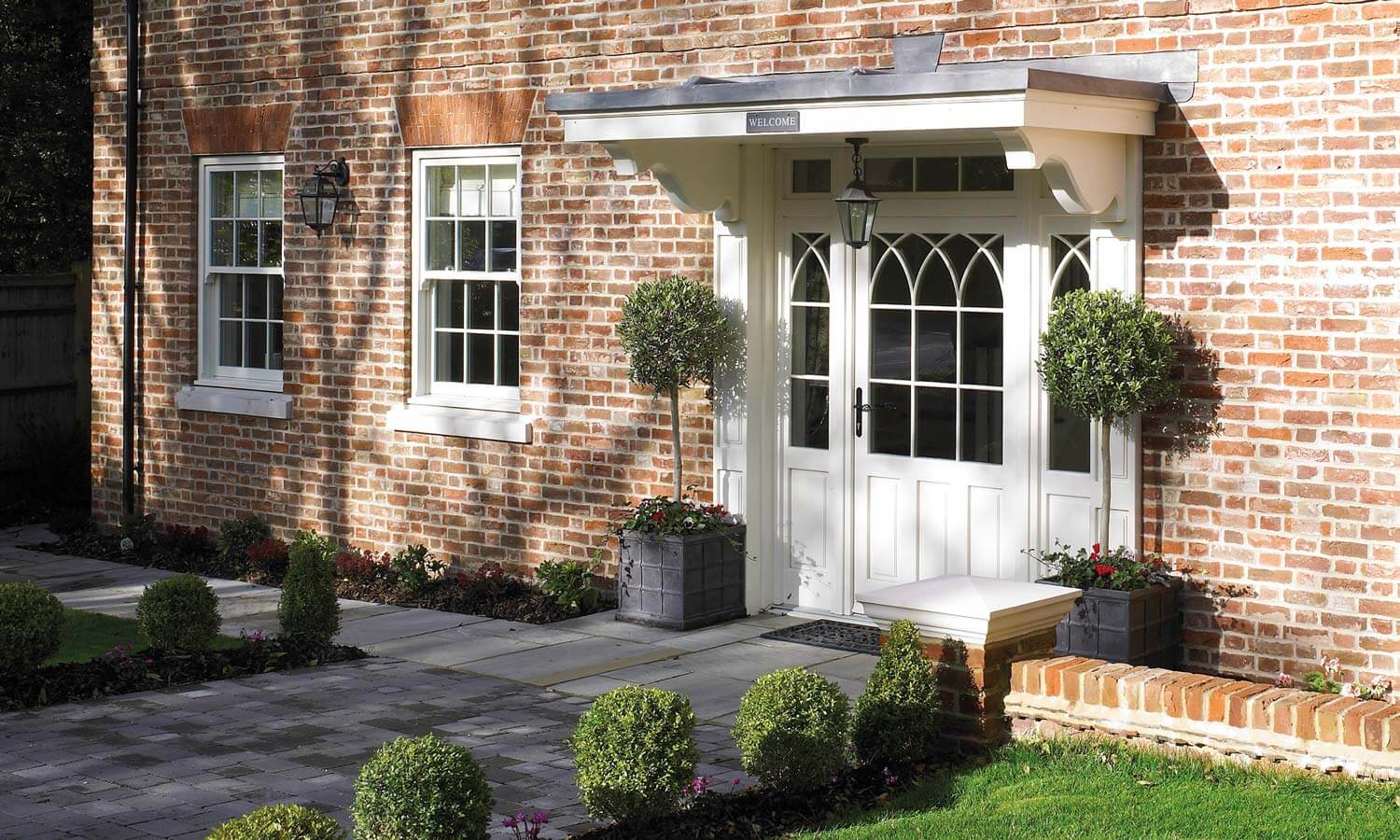 How long do bespoke front doors take to make?
Generally, you can get a new bespoke front door delivered in anything from 4-12 weeks. This lead time still considers design and production, as well as creation by traditional joinery.
What are the benefits of a custom made entrance door?
Custom made entrance doors are completely unique, original and just for you; they are unique in not only size but in style and design as well as in colour and features, such as handles, door knockers and letter plates. Due to the fact custom made doors are made to order to your exact design and style, they are often better quality than machine-made or mass-produced designs, with hands-on manufacturing and quality control at every point of the process. You can read more about how we make our bespoke front doors at the factory here.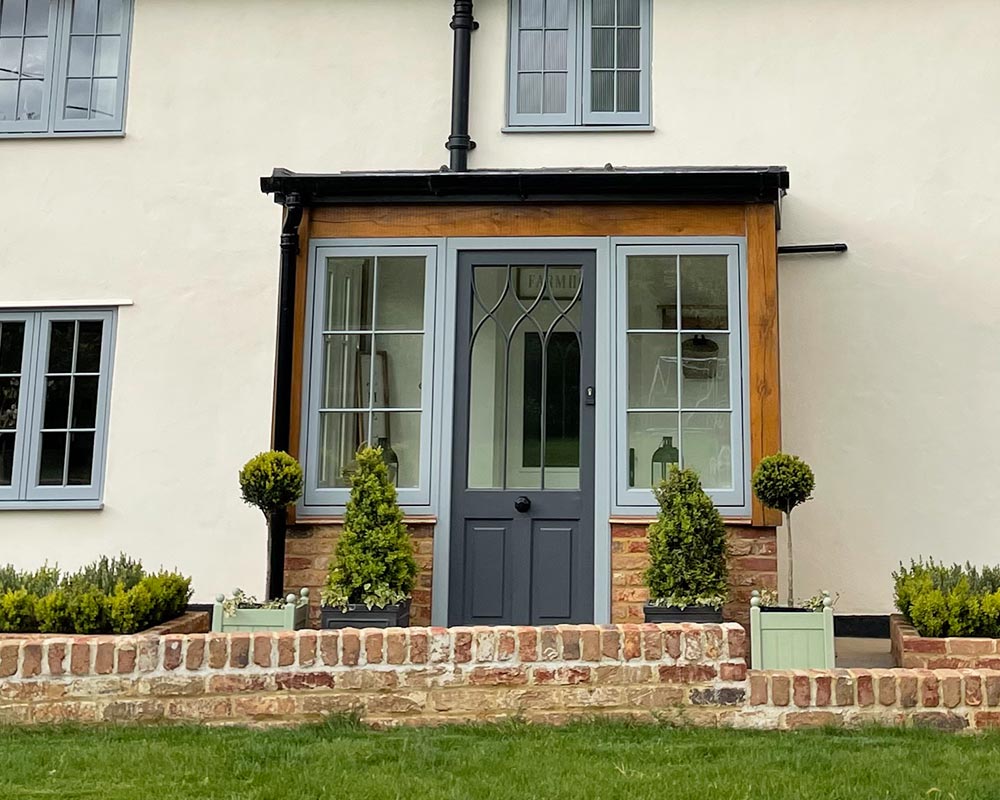 How secure are bespoke timber entrance doors?
Off the-shelf designs don't often come with the same security features as bespoke timber entrance doors to keep their costs low. When you buy a bespoke timber entrance door you will in most cases find that they come with all the bells and whistles including insurance approved multipoint locking systems that bolt the door into the frame at multiple points, anti-theft door locks and certificates to prove it from recognised security initiatives such as Secured by Design and Neighbourhood Watch.
How to find a supplier of custom made front doors
There's no better testament to the quality and service of a supplier than getting it from past customers. If you are ready to start your renovation, ask family and friends who they can recommend and check out reviews online to help you choose the right supplier. If you see a company you like the look of you should always check that they are approved to install your new custom made front door and are registered with an industry recognised body such as FENSA and that they not only give you the essentials such as a FENSA certificate, Insurance Backed Guarantee but also a manufacturers product and installation warranty.
Explore our website to discover more about our bespoke entrance doors and book a design consultation with us today.