Back to news
A Buyer's Guide to Wooden Sash Windows – Everything You Need to Know
October 24, 2023 | Blog
Often associated with 18th and 19th-century properties, wooden sash windows are a popular style of timber window. With plenty of period charm, offering a distinctive style that emulates traditional sash design, wooden sash windows are often found in the traditional architecture of period properties, buildings. Modern sash windows are also popular for homeowners looking to emulate traditional styles in their own homes. Reminiscent of the Georgian era, in particular, wooden sash windows are likely to be a necessity to match the period and charm of the building.
With a distinctive design, decorative details and a heritage feel, wooden sash windows come in a number of different styles. In this guide, we will explore timber sash window styles, timber sash window sizes and what to look for in replacement window sashes.
What are timber sash windows?
Timber sash windows often called sliding sash windows, hung sash windows, or box sash windows are a style of window that uses the traditional vertical sliding design. The wooden sash design usually features two vertical sliding panels that move within the window frame. There are many different designs and types of sash windows, some being single hung (one moving panel) and some being double-hung (two moving panels, both top, and bottom). You can also get triple or quadruple hung sash windows, but these are not used as often.
How do timber sash windows work?
One of the benefits of wooden sash windows is that they do not interfere with the external space around a window, and operate using a vertical sliding movement. Sash window frames are designed in order to carry the weight of the wooden sashes, traditionally by balancing the sash with a counterweight hung on a cord that is covered by a frame. Modern sash windows use spiral balances (coiled tensioned springs in place of the cords that need little or no maintenance and will last for many years), allowing for much narrower frames. When closed, the top and bottom sash locks together to prevent them from sliding.
Types of timber sash windows
Sliding sash windows are also easily customisable and come with several style options to choose from. Sliding sash window design traditionally seeks to emulate period styles including Georgian sash windows, Victorian style sash windows and Edwardian sash windows. You can read our guide to timber sash windows for period homes for more ideas and inspiration.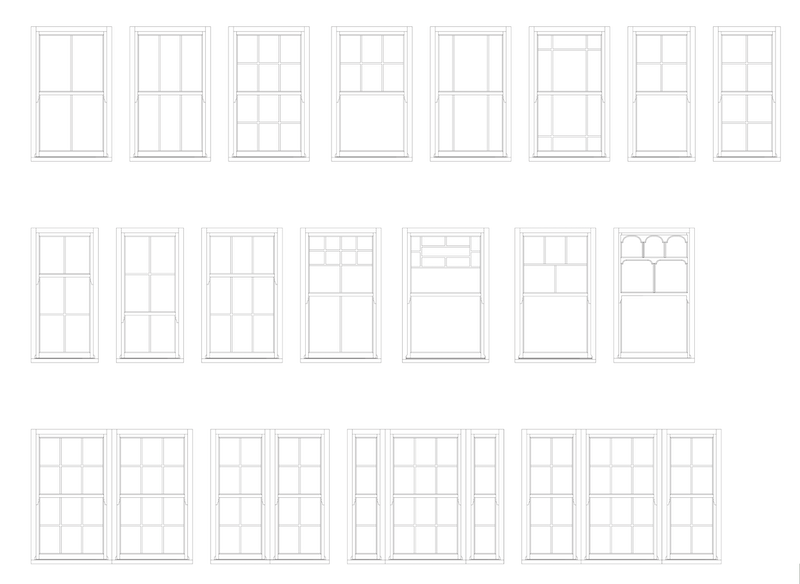 Traditional sash windows for period properties
Homeowners in period properties looking to replace their sash windows will need to consider the style and finish of the sash window, as many period properties are listed or in conservation areas and are therefore protected by conservation legislation. When renovating a listed building or replacing sash windows in a Conservation Area, you will often find you will have no choice but to install timber sash windows. Period homes in conservation areas are protected due to their historical and cultural significance, which makes it difficult to replace the windows unless the traditional design is emulated exactly. Conservation officers will need to be consulted before any work begins. Bereco has a range of heritage timber sash windows that are designed to meet conservation standards while offering the latest in thermal technology and glazing options.
Modern sash windows
Wooden sash windows are also a popular choice in modern homes, thanks to the period charm and style they can add to a property. Bespoke timber sash windows for modern homes have more flexibility in their design as homeowners living in modern properties are not as restricted as those in listed buildings or Conservation buildings. Bespoke wooden sash windows will often be more expensive than cheaper options such as UPVC but are a popular choice despite this thanks to the attractive high-quality finish and long life of the timber, and myriad of bespoke design options. Timber sliding sash windows will instantly become a focal feature of your home, and an investment that not only adds charm and character but adds kerb appeal, too.
Wooden double glazed sash windows
Modern window sashes can feature all types of glazing including doubled glazing, triple glazing, acoustic double glazing, single glazing and other specialist options such as anti-sun glazing. These are all available today thanks to the advancements in technology compared to the first sash windows, which were only single glazing.
How much do wooden sash windows cost?
The cost of timber sash windows starts from around £750 at Bereco for supply only (excl. delivery). Wooden sash window costs depend on a few factors. The cost of timber sash windows will increase dependent on the size of the sash frame and the number of opening sashes, and glazing options will also impact how much they cost. The cost of triple glazed sash windows, for example, will be higher than double glazed sash windows. Timber sash window installation will also impact the final price tag, as this is a separate service that will include labour costs and costs of any installation material and hardware. The type of timber and the finish you choose will also impact the price of the window.
Do sash windows need a lot of maintenance?
The level of maintenance your sash windows will need will depend on construction of the window and environmental factors such as where you live and where the windows are situated. Homes in areas exposed to the elements, such as coastal properties, will need to maintain their wooden windows more often than homes that aren't as exposed. Regardless of where you live, though, it's important to understand how to care for timber windows to ensure they are kept in good condition and hold up over time.
For more insight into maintaining your timber sash windows, read our guide: How to clean and maintain your timber windows and doors
Any type of timber window will need a certain level of maintenance, but this can mostly be done yourself and there is a range of products (cleaning kits, stains, paints, varnishes, etc.) that will keep the level of maintenance needed to a minimum. The type of products needed will depend on the finish applied to your windows.
There may be more complex repairs that are needed, in which you would benefit from using professional services, but your timber window supplier will be able to help with this.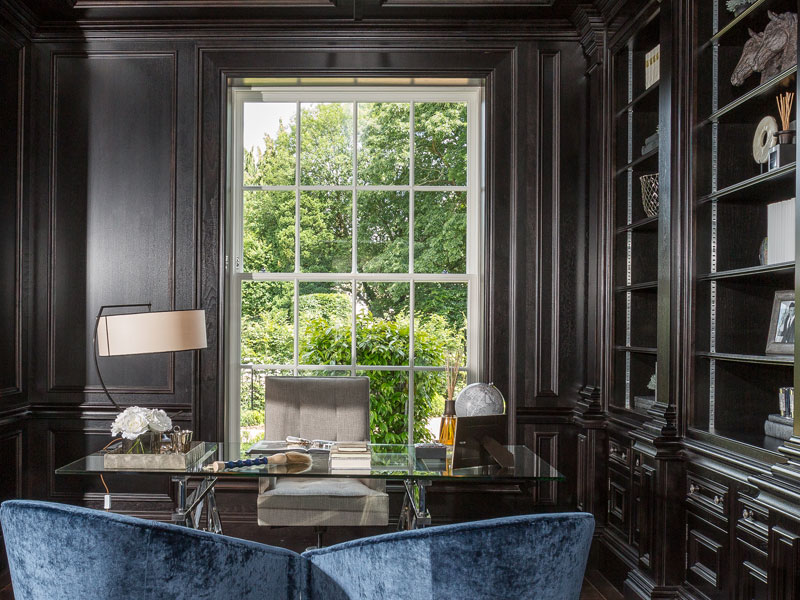 How do you install wooden sash windows?
If you are installing into a new build property or an extension or renovation that will be signed off by building control, then your builder/developer can carry out the installation in accordance with our Timber Window Installation Guidelines and building control will check and sign these off as part of the inspections prior to completion.
If you are replacing existing windows then we recommend that you hire a professional who knows the building regulations and requirements to carry this out for you, ideally they should be certified by FENSA or CERTASS, otherwise you will need building control to sign off the installation.
What is the best wood for sash windows?
Generally speaking, timber sash windows will either be made from softwood or hardwood. Both have certain qualities that are suitable for certain finishes. Our timber sash windows are made from two types of timber that are both high quality and sustainably sourced:
Redwood – Scandinavian Pine
This is a popular choice and features a smooth surface, and achieves excellent durability. This option is perfect for painted finishes.
Hardwood – Dark Red Meranti
Our hardwood comes with a full chain of custody, meaning it has been sourced responsibly from forests. Each stage of sourcing has been tracked to ensure maximum quality of delivery in the final product. This particular timber features a pitted effect surface and a natural red hue. This is perfect for stain finishes.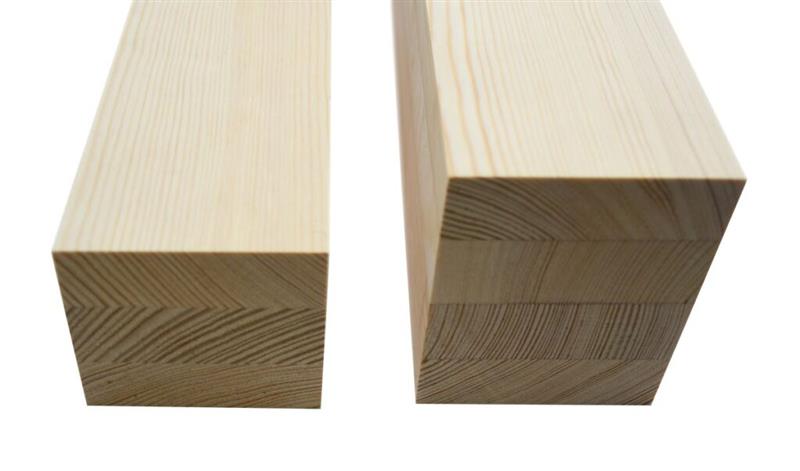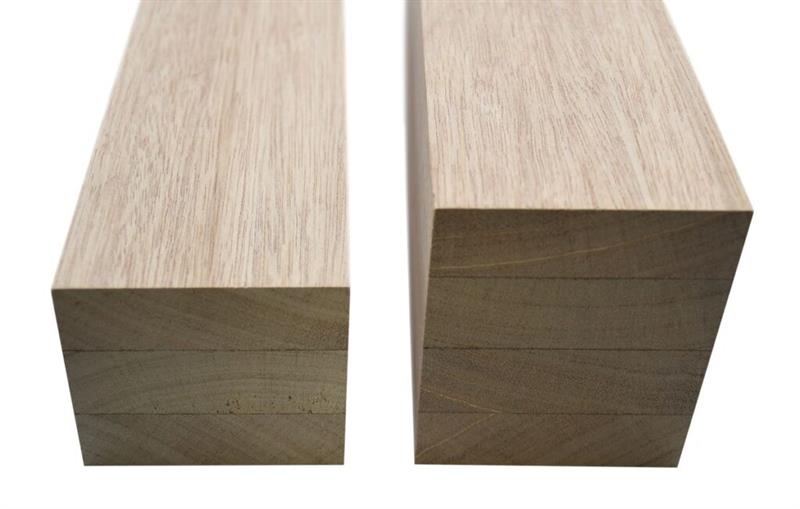 Good to know: All the timber we use to make our bespoke timber sash windows is sustainably sourced and FSC® 100% certified. This ensures that we can trace our timber, which is sourced from trees grown in a responsibly managed forest. Read more about the eco-friendly timber we use or discover more about the forests we use here.
Sash window glazing guide
There are several glazing options for timber sash windows, depending on your requirements. The specification of the glass you choose can have a dramatic effect on the performance of windows and doors, home comfort and heating costs.
Our windows and doors incorporate double glazed units utilising a Softcoat Low-E coating as standard which provides excellent insulation.
You can explore our sash window glazing options in more depth below.
Double glazed sash windows
24mm Double Glazing
Our Contemporary and Traditional wooden sash windows have 24mm double glazed units as standard, proven to be the optimal thickness for thermal efficiency. Our 24mm double glazed timber sash windows are appropriate for both contemporary and traditional homes, with an argon-filled centre pane for maximum heat retention in winter and cooler temperatures in summer.
Available in our Contemporary and Traditional range
Argon-filled as standard offering a centre pane Ug value as low as 1.0 W/m²K and overall Uw values as low as 1.2 W/m²K
24mm & 35mm Acoustic Double Glazing
Our acoustic double glazed wooden sash windows go one step further in performance by helping to reduce noise throughout the home. For those living in busy areas who are looking for peace, calm and quiet at home, our acoustic double glazing considerably reduces unwanted noise, with additional internal layers to help absorb sound.
Available in our Contemporary and Traditional range
Reduce noise levels in the home without compromising on style. 24mm acoustic glazing with overall window ratings up to 38dB and 35mm up to 42dB.
14mm Slimline Double Glazing
Our slimline double glazing is a popular choice for homeowners looking to install heritage style sash windows with the energy efficiency of modern sash windows. The slimline design gives the appearance of single glazed windows in keeping with more traditional style but offers the performance modern-day homeowners should expect from their timber sash windows.
Part of our Heritage range
This unrivalled krypton filled glazing unit mimics the appearance of single glazing whilst offering improved thermal performance with 8mm warm edge spacers as standard and centre pane Ug values of 1.2 W/m²K and overall Uw value of 1.3 W/m²K.
Solar Control Glazing
Bereco also offers specialist solar control with a low solar gain. This sash window glazing option is available on request.
Spacer Bars
Spacer bars can be seen around the perimeter of the glazing. The standard option is an aluminium spacer. Warm edge spacers available in white, black, brown and grey can reduce ug values to as low as 1.0 W/m²K which will significantly reduce home heating costs.
Single Glazed Sash Windows
4mm Single Glazing
Our Heritage sliding sash windows can be supplied with single glazing in cases where Conservation restrictions may limit double glazing. Our single glazed sash windows offer the best chance to be approved by Conservation officers, with minimal aesthetic interference to the more traditional sash window styles.
Part of our Heritage range
We offer 4mm single glazed units, perfect for homes under strict conservation requirements.
Triple glazed sash windows
35mm Triple Glazing
Bereco timber sash windows are also available with 35mm triple glazing, while still offering a smart and stylish aesthetic finish.
For increased thermal efficiency, triple glazing offers excellent centre-pane U Values as low as 0.5W/m²K with an overall U value as low as 0.8W/m²K. This is suited to homes where additional thermal efficiency or security may be required or preferred.
Available in our Contemporary and Traditional range
Argon-filled as standard, with Krypton filled units available offering centre pane Ug values as low as 0.5 W/m²K and overall Uw values of 0.8 W/m²K (Krypton).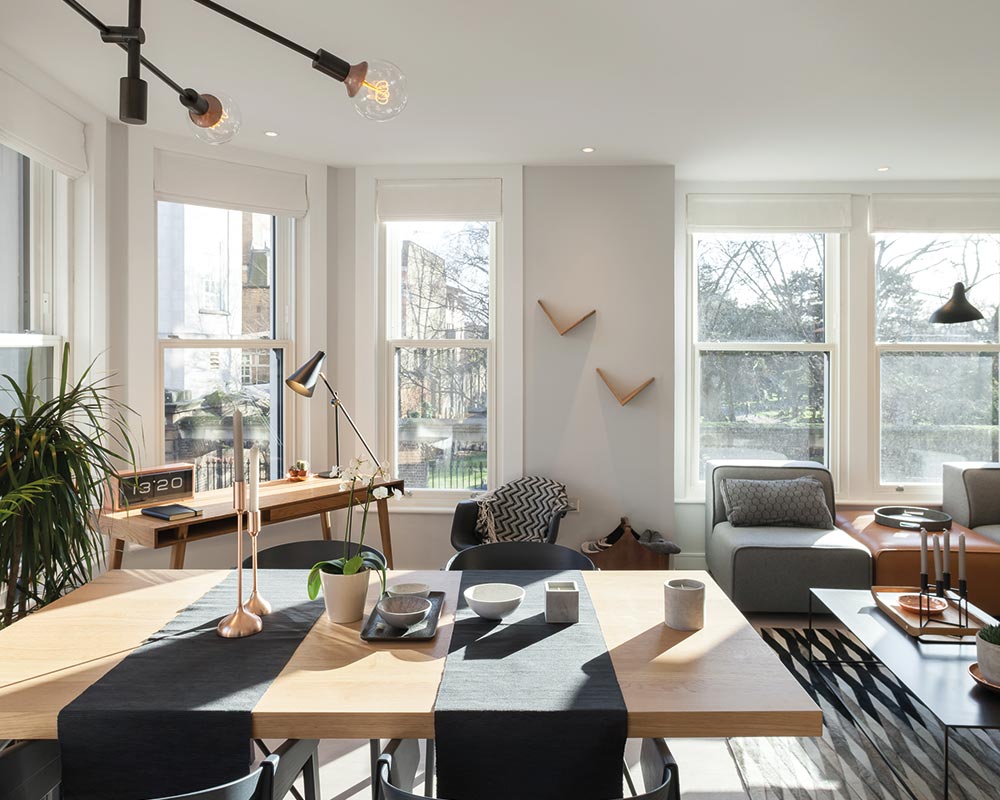 Timber sash window glazing properties
Draught Proofing
Bereco wooden sash windows are fully weather-sealed, even at the parting bead and meeting rails for complete protection from the elements. Our cords and weights that are built into our timber sash windows also feature a pulley wheel draught-proof casing for the prevention of draughts through the weight pocket
Weather Testing
As part of the BlueSky High-Performance Timber Window Scheme, our wooden sash windows are certified to BS6375 Part 1 achieving outstanding results for air tightness, water tightness and wind resistance.
Explore Our Timber Sash Windows
Types of timber window sash design
Contemporary
Our Contemporary Range features simple lines and shapes including internal pencil round mouldings.
This clean and modern look is ideal for new builds and more modern properties where an overly decorative design would look out of place or clash with other features. Great for minimalists, the simplicity of this design is its main feature, adding a sleek and fresh look to any property and ensuring that your eye is drawn to the view through the window rather than the window itself.
Pencil Round Bars 16mm, 25mm, 35mm | 60mm (Solid)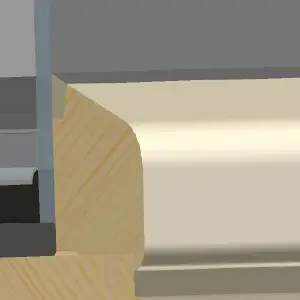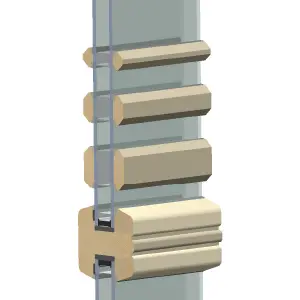 Traditional
Our Traditional Range features internal ovolo beading and external putty line sash mouldings to enhance the character of your home.
This classic detailing is designed to hit all of the design cues of traditional British architecture. The chamfered "putty line" detail around the glass externally replicates the appearance of period windows where the glass was secured into the frame with putty and then painted over. The ovolo beading on the inner side is a classic detail seen throughout woodwork design, adding a touch of flair to the windows without being overly ostentatious.
Ovolo Bars 16mm (Lambs Tongue), 25mm, 35mm (Ovolo) | 48mm (Solid)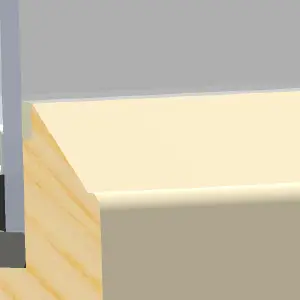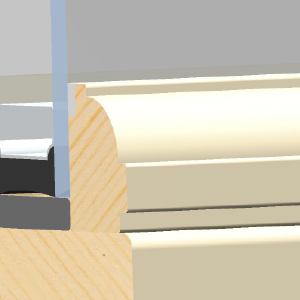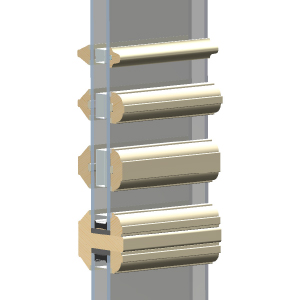 Heritage
Our Heritage Range incorporates period aesthetics such as internal lambs tongue profile glazing beads and external putty line style.
This range is designed specifically for conservation areas and listed buildings and is available with either our 14mm slimline double glazing or single glazing. It features the same external putty line detail as our traditional range to replicate the original timber windows, but internally we use a lambs tongue profile which is more detailed than the ovolo moulding and allows the windows to fit right in to those highly decorative period properties that it is designed for.
Lambs Tongue Bars 16mm, 25mm, 35mm | 48mm (Solid)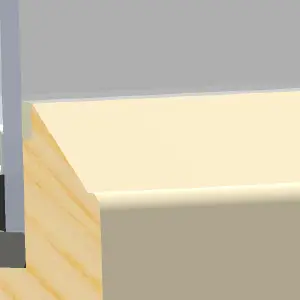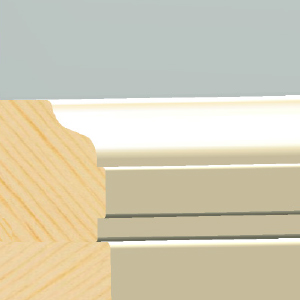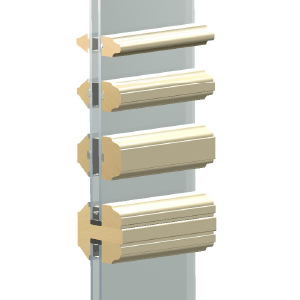 Stay traditional or make it modern?
Now that you know the what, where, why, and how on all things timber sash windows, it's time to think about the style of sash window you'll want. Here's an overview of the different elements you could choose from.
Cords & Weights
Early sash windows made from timber utilised either chain or cotton cord and lead weights for the method of operation; both unsightly and prone to breakages. The Bereco wooden sash window overcomes this by incorporating a pulley and weights lifting system featuring a heavy-duty nylon cord and self-lubricating pulley wheels.
Inline Spiral Balance
Modernise your window by choosing the latest semi-concealed inline design with a pre-tensioned spring. This allows you to retain the features of an original sash window whilst benefiting from innovative operation.
Design it or match it?
Profiles
Our sleek Contemporary profile is specifically designed for modern or new build homes, Traditional profiles complement the style of period style properties whilst Heritage profiles have been exclusively designed with slim frame sections and specialist glazing for architecturally sensitive projects, listed buildings and areas where conservation approval is required.
Bar designs
An extensive range of bar designs including the ever popular Georgian 6 over 6 pane design and regency marginal bar design can be coupled with bespoke frame designs. Curved heads, curved sashes and even curved on plan frames and glazing make your home as individual as you are.
Sash Horns
There have been many designs of sash horns over the years. They can be applied to the top (external) sash only, to both the top (external) and bottom (internal) sashes, or left off altogether. Conservation areas around the UK all have different designs and styles that they require, as such at Bereco we offer 7 different style of sash horn to suit any property.
Finish
Historically, sash windows had to be painted after installation and re-painted every couple of years, which eventually resulted in the window being painted shut and unable to open. Bereco Sash windows are supplied fully factory finished to eliminate this problem, with an extensive 10-year warranty on paint finish for peace of mind.
Introduce a splash of colour with our extensive range of paint and stain finishes. Pick any RAL, BS or NCS paint finish to create a truly individual design statement. You can also choose from our exclusive Heritage Range colour scheme, as well as Farrow & Ball, Fired Earth and Earthborn colour matching where a traditional finish is desired.
Timber sash windows security features
With any property, security is a concern. Bereco wooden sliding sash windows are designed to incorporate the latest high-security features. Sash windows are supplied with Angel Ventlock or key-operated Vent lock combined with high-performance fitch fasteners to keep windows secure.
If you'd like to learn more about your options for timber sash windows, book a design consultation today with the team at Bereco or head to our blog for more advice.