Back to news
Timber Window Installation Guidelines – How to Install Timber Windows
October 24, 2023 | Blog
What do I need to consider before installing new windows?
All windows, whether in a brand new or an existing opening, come within the scope of the Building Regulations. If you install timber windows in a new build, extension, a newly formed opening, or a property renovation that counts as a change of use (e.g., converting a barn into a dwelling), building control will need to sign off on the works and check the windows as part of their remit. If you are simply replacing existing windows, then there is an alternative option, which we will go into below.
Explore our range of timber windows here
What are the building regulations for windows?
Anyone who installs replacement windows, doors, roof lights and roof windows will have to comply with specific performance standards, including:
Fire safety 
Ventilation 
Protection for falling, impact, and collision
Conservation of fuel and power
Security 
Accessibility 
Read more about complying with UK building regulations here. 
Do you need a FENSA certificate for wooden windows?
FENSA stands for the 'Fenestration self-assessment scheme'. Set up by the Glass and Glazing Federation in 2002 and is a way to measure compliance with building regulations. There is also another newer certification body named CERTASS, which performs the same function. A FENSA or CERTASS certified installer will ensure that all building regulations are complied with when installing your replacement windows and will provide you with a certificate to prove this.
If you do not have your windows installed by a FENSA or CERTASS certified installer, then you will need to pay for a Building Control Body to come out to inspect, and if they are satisfied, sign off your windows. For an extension, new build, or newly formed window or door opening, FENSA does not apply and you will require approval from Building Control. 
How do you install timber windows?
There are set steps involved which are important to follow to ensure that the window installation process goes smoothly. This is so that your windows provide the right level of protection, insulation and longevity that is expected from high-quality timber windows and timber entrance doors.
For more industry guidance on installing timber windows and doors, explore our helpful guides here. 
What materials do you need to install a timber window?
The materials required to install timber windows will depend on the exact fitting situation and the type of building/ opening into which you are installing the window.
At a minimum, you will require:
Measuring tape
Spirit level
Power drill
Safety glasses
Ruler
Staple gun
Trimming knife
Waterproof plastic flashing
Dust sheets
Appropriate fixings
Gap Foam
Appropriate Sealants
How long does it take to install timber windows?
The length of time that it takes to install timber windows can vary widely, depending on several factors such as ease of access, whether you are replacing an existing window, the size and weight of the replacement windows, any site coupling or frames, drips or cills that may be required, whether you're applying any decorative trims, and potential repair times if any damage occurs to internal or external finishes during the process.
Generally, if you are replacing windows in an older period property, you can expect the process to take longer than working with a more modern property.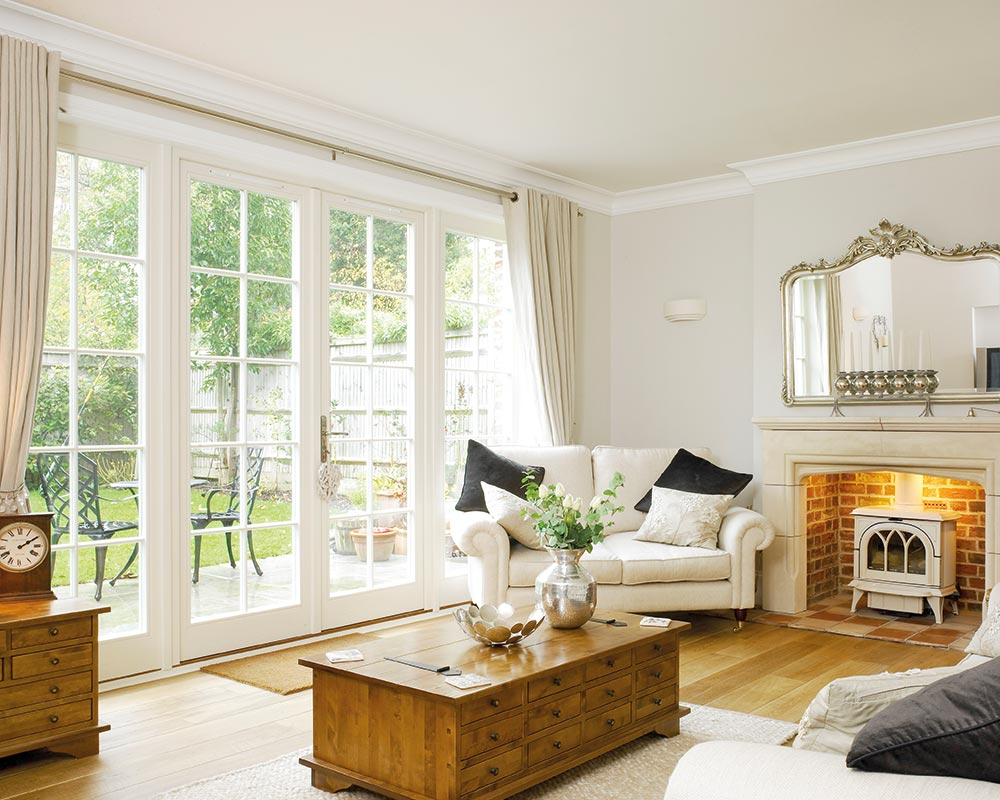 What stages are involved in installing timber windows?
Forming openings / removing existing windows
Fitting
Fixing 
Sealing
Openings for timber windows
Timber window measurements should always allow for around a minimum 10mm tolerance from the opening size in both width and height. Timber is a natural material and will expand and contract slightly with the seasons, and tighter fittings can cause the frame to distort and potentially affect its operation.
Do you have to use cavity closers?
If you are fitting windows into a cavity wall, you must ensure that cavity closers are used. They help prevent heat loss and issues with mould, damp and even water ingress.
If you are constructing a new opening, then you have the option to use a cavity former; preformed frames of cavity closer that can be built into your brickwork to form the opening precisely to size. Bereco cavity formers are certified by the BBA, ensuring compliance with Part C and Part L of the building regulations.
Benefits of Bereco's cavity formers:
Act as a former for the brickwork opening and cavity to be created
Ensure windows and door sizes are calculated to fit the opening with allowed tolerances for installation
Are delivered fully welded, complete with timber bracing to the structural opening size eliminating the need for measuring openings of windows and doors
Close and seal off the cavity to prevent cold bridging
Act as a vertical DPC at reveals to prevent water ingress
Offer a simple fixing system for frame installation
Cavity Former Options:
2, 3 or 4 sided formers
Cavity widths from 50mm to 300mm
T & P shaped formers for door and window combination frames
Arched, circular and oval-shaped formers
Structural fix door/large frame formers
Fully welded bay formers made to any angle
Do you need DPC with a cavity closer?
We would always recommend that DPC is fitted to the underside of your timber window, no matter the fitting situation.
Spacing your timber window
Before any fixings are used, it's vital to use spacers on all four sides to ensure that the frames are level, square and plumb, with an equal tolerance spacing all around the perimeter. You should also place packers above and below any mullions in the window to ensure that they are supported. Windows should be installed within a minimum of 30mm setback into the wall cavity. Once the spacers are in place, and the window is level, open and close the window to ensure it operates correctly.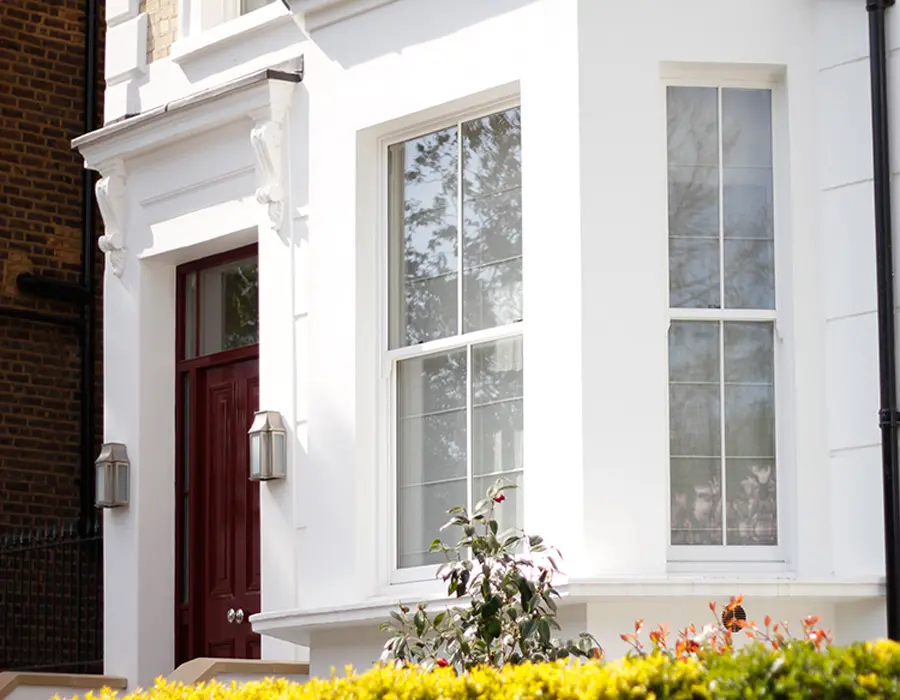 Fixing the timber window
Where possible, we would always recommend the use of fixing straps. Where strap fixing is not suitable, it is possible to use direct fixings through the frame that anchor into the window reveals. When using this method, ensure that all fixings are countersunk, and ideally, you should use two-part timber filler to fill the fixing holes and redecorate over them to conceal their use. In either method of fixing, you should use only premium quality corrosion resistant fixings and always drill pilot holes to ensure their precise location and to minimise the likelihood of damage to the timber.
You should apply fixings at 150mm in from each corner of the frame and then at 450mm centres up the height of the frame. You should also apply fixings at the head and the cill if the frame exceeds 1250mm in width (900mm for sash windows).
Fixing Packs
A common cause of issues with the operation of windows and doors after installation is a lack of fixings or inadequate fixings. To overcome this, Bereco recommends our windows and door sets be installed using our fixing packs that contain all the parts you need for solid frame installation.
Benefits of Bereco's fixing packs
Offer a simple strap and screw fixing system for timber window frame installation into; concrete; brick, and block
Ensure the stability of the frame in the opening, preventing flex and operational issues with windows and doors once installed
Pack quantities ensure the correct number of straps, fixings and size of fixings are used in line with BS8213-4:2016 (one pack=1800mm high frame)
Leave the factory finish of the windows and doors intact, eliminating the need for filling and touching up post-installation
Fixing Pack Contents:
8 x metal fixing straps/plates (300mm)
16 x 10 gauge 1 ¼" wood screws for fixing the strap to the timber window frame or door frame
16 x 3/16" x 2 ¼" masonry (Tapcon) screws for fixing the strap into the brickwork/blockwork
10 x wedge packers and 10nr flat packers for packing and levelling of the windows/doors.
Take care not to damage the window and if in any doubt hire a professional installer.
Sealing your timber windows
To secure your window and prevent any leakages, you'll need to seal your timber windows. 
Exact Gap Foam
Sealing between the window/door frame and the wall is paramount to prevent air and water ingress for compliance with Part C and L of the UK Building Regulations. Another common cause of operational issues in windows and doors post-completion is the overuse of expanding foam. Expanding foams fill the gaps, but they can expand too much in this situation, putting pressure on the window or door frames and potentially causing them to bow. 
Benefits of Everbuild Exact Gap Foam:
Has a precision gap-filling nozzle; so you fill only the gaps avoiding marking the factory paint finish and having to cut back and dispose of excessive overspill of foam
Minimally expands 5-10% only on application putting minimal stress on the timber window or door frame.
Can be cut, sawn, plastered and silicone over within two hours, allowing exterior completion of the watertight seal of the building envelope
Our gap-filling foam comes in 750ml canisters of Everbuild Exact Gap Foam; one canister = 2-3 frames
Sealant
Well-appointed perimeter sealing of window and door frames per BS 8213-4:2016 is fundamental in creating the final watertight seal of the building envelope and ensuring compliance with Part C of the UK Building Regulations.
Benefits of Soudal Silirub LMN Sealant:
Provides excellent flexibility +/- 25% allowing movement of the timber frame
Is low modulus approved to ISO 11600-F-25LM
Gives excellent adhesion to all common building materials, porous and non-porous without the use of primers
Is waterproof; weather and mould resistant ensuring water runoff and will stay looking clean long after occupancy
Our perimeter sealant comes in 300ml tubes of Sika Plastix 22a silicone; one tube = 2-3 frames.
Our silicone sealant is available in; Anthracite Grey, Black, Chartwell Green, Teak, Caramel, Translucent, Brilliant White
Preparing to install your timber windows:
Ensure that you thoroughly check our guide to site care and storage before delivery of your new windows
Try to ensure your windows are delivered at a similar time to the installation.
Always treat your windows with utmost care after they are delivered and before they are installed.
Provide plenty of clearance around the window, both externally and internally, for the installation.
Always use the right tools, and if you are unsure at any stage, hire a professional.
Check the maintenance requirements of your windows and ensure that they are followed after installation.
Book a design consultation today with the team at Bereco or head to our blog for more advice. Explore our entire range of timber windows and doors today and start your journey with us to transform your home.