Back to news
Retaining Traditional Design – Solid vs Stick on Bars
October 24, 2023 | Blog
What is a glazing bar?
Glazing bars were traditionally used to hold smaller panes of glass in place within a windowpane. They are often showcased in period buildings and homes, placed vertically and horizontally between two panes of glass. However, there is now a wide range of options when it comes to bespoke timber windows and glazing bars. They come in many styles and can function very differently. As technology has progressed, our thinner and more narrow bars can be paired with our thickest glazing, making it increasingly easier to find the perfect style for your home.
See our guide to choosing the right timber window for your home for helpful tips and ideas.
Glazing bars have been an integral part of home design and architecture since Georgian and Victorian times. Nowadays, they can be added for specific aesthetic purposes. Read on for a history of glazing bars, modern solutions, and how to retain traditional design in conservation areas.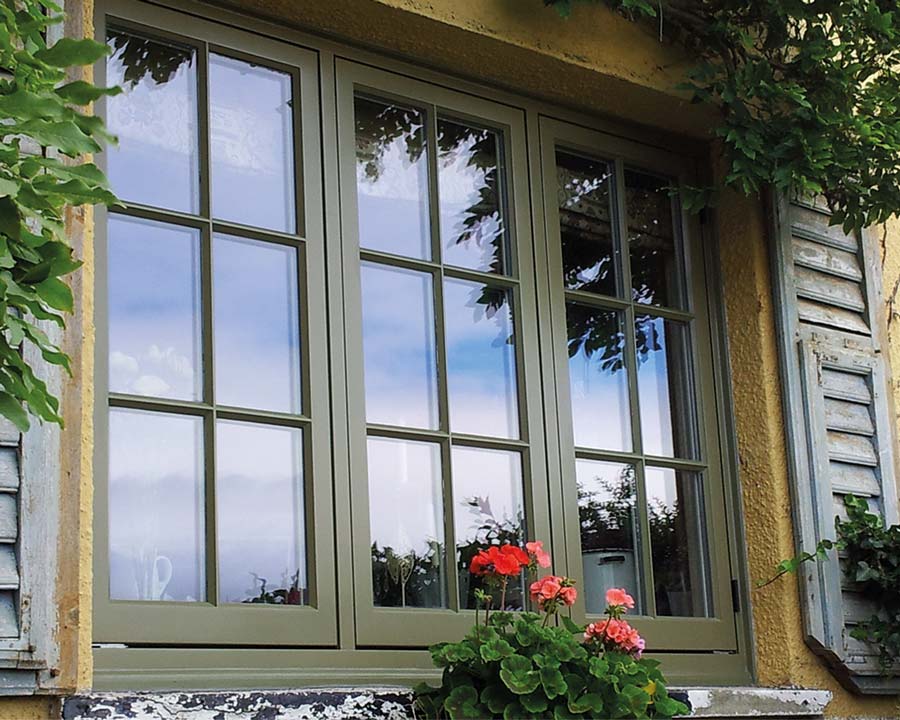 The history of the glazing bar
From the 16th century onwards, glazing was most commonly divided by lead in the form of diamond-shaped leaded lights. From the 17th century onwards, rebated timber glazing bars began to be used with the developments in the manufacture of glazing and as larger and clearer sheet glass became available. Glass was fitted into a bed of putty and pinned into place using glazing 'sprigs', more putty was applied to weatherproof the joint between the glass and the bars before it was painted.
Glazing bars reached their greatest elegance and refinement between 1785 and 1825 when glazing patterns in sash windows began to take the design of six over six but always in proportion with the building façade.
Early glazing bars were often around 40mm thick to support the fragile glazing of the time and were ovolo-moulded in shape. As glazing improved and became lighter, thinner glazing bars, some as thin as 12mm, were introduced, and lambs' tongue and gothic designs were founded.

Modern day glazing bars
In the late 20th century, double glazed units were introduced to improve the thermal performance of windows. These units can now range in thickness anywhere from 14mm (narrow cavity) up to 40mm (acoustic & triple glazed units). As a result, glazing rebates within windows have had to be increased to accommodate such thicknesses and weights of glass.
Poor glazing practices led to the condensation of sealed units, water ingress around individual panes of glass and early deterioration of timber sections.
To avoid these issues, a more robust method of glazing was required, and the drained and vented method was introduced. In use for the past 34 years, the glazing rebate incorporates weep holes which allow water to drain away and keep a flow of air circulating around the glazing rebate.
Following the drained and vented method of glazing providing individual panes of glass within a window, glazing bars must now be a minimum of 45mm to 50mm in thickness to accommodate double glazed units.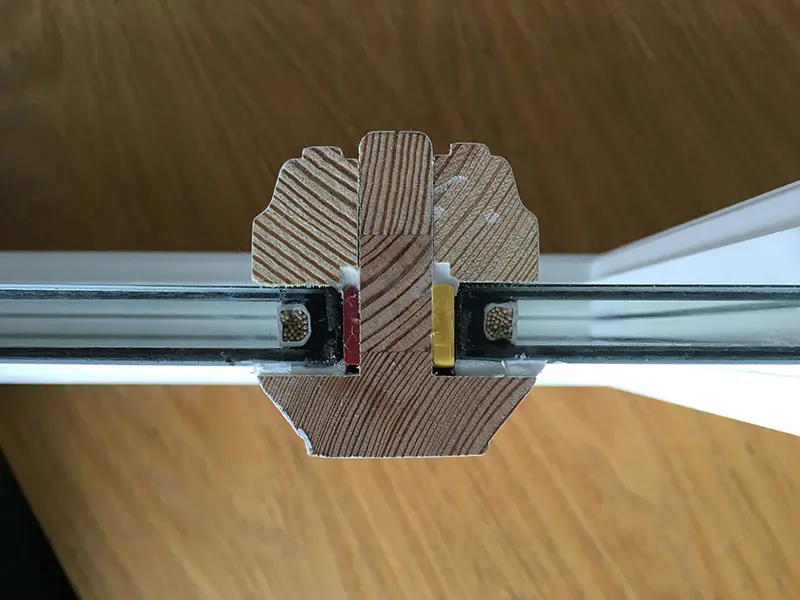 The 21st century bars
In order to overcome these challenges and offer a glazing bar more sympathetic to the ovolo and lambs tongue slim designs of the 18th and 19th centuries, a plant on or stick on bar (also known as an Astragal bar) was introduced.
This plant on or stick on method of glazing allows slim glazing bars to be used as thin as 16mm and allows water runoff without the need for a drained and vented glazing system.
Manufacturers of windows and doors with traditional aesthetics high on their priority list will also incorporate dummy spacer bars within the sealed unit to further imitate the appearance of a traditional solid through glass bar.
For a more in-depth look into how timber windows can be designed to fit traditional styles, explore our design guides for heritage properties below:
Timber flush casement windows for period properties: Design and style guide
Timber sliding sash windows for period properties: Design and style guide
Stick-on bars vs integral bars
As well as stick-on or Astragal bars, there is another commonly seen modern option known as an integral bar or Georgian bar. They are both styled off of the Georgian era – a period when windows were typically made up of many small panes of glass.
In these historical windows, each pane was surrounded by its own glazing bars and frame. Plant-on and Integral glazing bars allow for windows to reflect this look while using only one pane of glass. However, there are a couple of distinct differences between these two styles as well.
What's the difference?
The main difference between stick-on and integral glazing bars is found in how they are installed into windows. Integral glazing bars are set inside the window, typically sealed between two layers of glass. Stick on bars are applied to the outer faces of a glazing unit, with dummy spacer bars on between the panes. This gives the stick-on bars a much more authentic and premium look and feel.
Solid vs stick on bars within traditional window design
In 2009, the Heritage at Risk campaign on conservation areas raised the loss of traditional windows as a cause for concern, stating that unsympathetic replacement of windows and doors represented the number one threat to our heritage and affected no less than 83% of conservation areas.
Careful consideration should be given to the replacement of any windows in a conservation area. One such consideration and area of debate amongst conservation departments is the glazing bars, or astragals as they are sometimes known, and if a 'stick on' replica glazing bar should be accepted.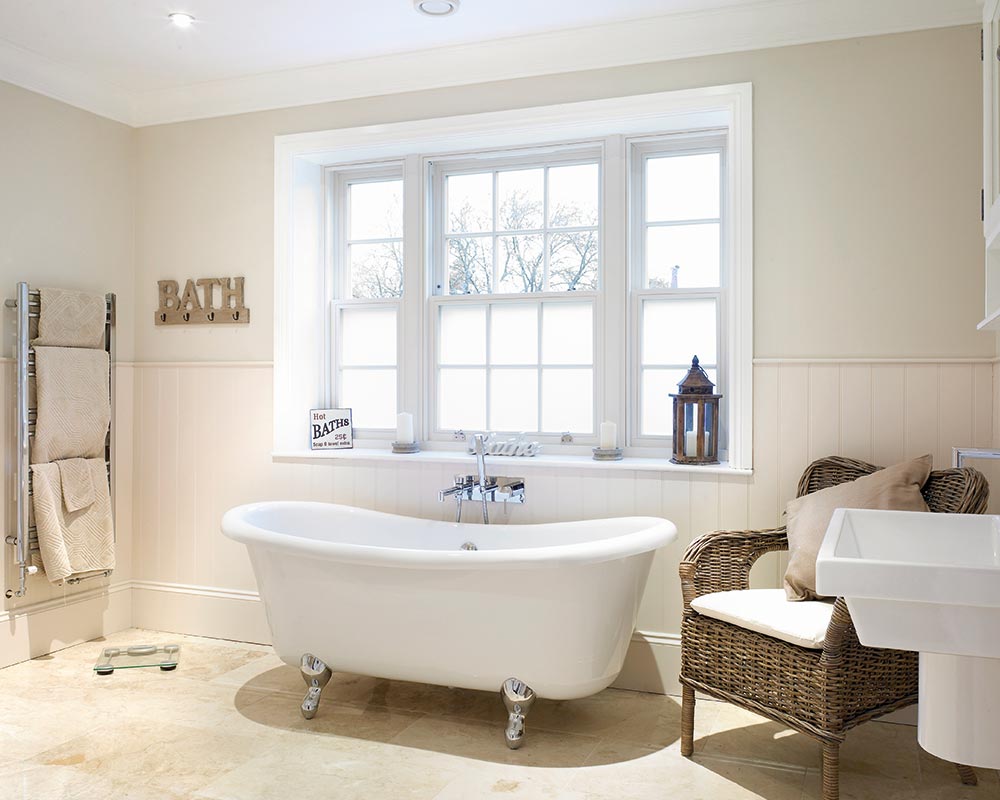 So what's the answer? Should stick-on bars be accepted in conversation areas?
In order to achieve such high-performance standards, a compromise must be reached when replacement windows are needed in a property of historical importance if the windows are to last. Stick on, or imitation bars offer that compromise between the traditional aesthetics of glazing bars and today's high-performance requirements.
Wood Window Alliance (WWA) members working in conjunction with Historic England strongly endorse sensitive design to retain the traditional features and heritage of our older buildings whilst offering high performance and building regulation compliance and many offer a range of windows and doors with these values at their core.
Timber window glazing bars in conservation areas
If you live in a conservation area, please be sure to check with your local regulations and planning authorities before making any final decisions about stick-on glazing bars. There is often a lot of variation, and it can be difficult to say for sure what is best for your specific location.
Bereco's custom timber windows and doors can offer a range of services to help achieve the approval of planning authorities. Some of these services include:
Window samples for planning consent
Section drawings
A package of scale design
Expert advice on appropriate glazing that may be required
See our guide on replacing timber windows and doors in conservation areas for more information.
The Bereco solution
Bereco have used the 'plant on' or replica glazing bar system since we first began manufacturing our windows and doors over 13 years ago, and it has been proven to perform on durability, weather tightness and aesthetics.
The Bereco Heritage Range of products, including Flush Casement Windows, Vertical Sliding Sash Windows, and Flush French Doors, all available both Single glazed and with SlimLine (Narrow Cavity Double Glazing).
Our sympathetic slim featured ovolo and lambs tongue glazing bar designs have been used on numerous projects, including the Grade II listed Thrum Mill as featured on Channel 4's Restoration Man and in the renovation and restoration of the Grade B listed Glentrium Castle in the Cairngorms.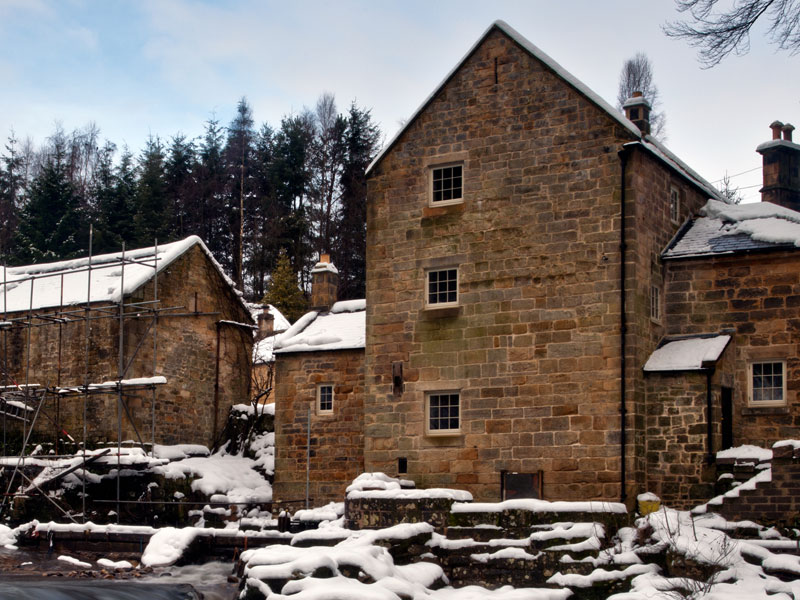 Bereco continue to champion the restoration and preservation of our country's heritage, currently being involved in the redevelopment of the landmark Birmingham address, 55 Colmore Row. Where the Grade II Listed 19th Century banking hall is being transformed into highly sought after retail, leisure and office space.
What types of glazing bars do Bereco offer?
There are a few different types of glazing bars that can allow for complete customisation when it comes to bespoke timber doors and timber windows. We offer glazing bars in contemporary, traditional, and heritage styles. Most can be either stick-on or solid with a number of different sizes to best suit any design requirements.
Contemporary Bars – Our contemporary range of glazing bars are designed with new builds in mind and features pencil-round style. Stick on bar sizes are available in 16mm, 25mm, and 35mm. Solid contemporary bars are 60mm. This style is a perfect match for our popular and modern lipped timber casement windows.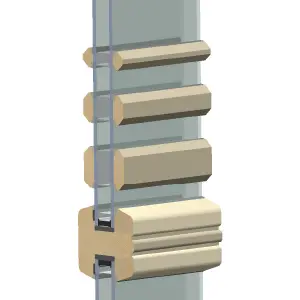 Traditional Bars – Our traditional bars feature both lambs tongue and ovolo profile glazing bars. If paired with flush timber casement windows, they can mesh perfectly with the aesthetic of any country cottage or family home. Traditional bars are available in 16mm lambs tongue, 25mm and 35mm for stick-on, and 48mm for a solid bar.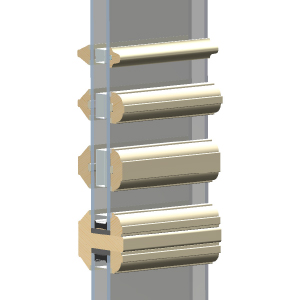 Heritage Bars – Heritage bars will best complement historic homes, from Victorian townhouses to Georgian terraces. We feature lambs tongue profile glazing bars with stick-on bar sizes available in 16mm, 25mm, and 35mm. Solid contemporary bars are 48mm. See our timber sliding sash windows for inspiration.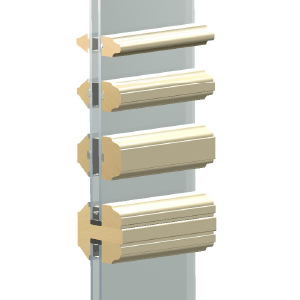 Click here for more information on our moulding and bar designs.