Back to news
Timber Flush Casement Windows for Period Properties: Design and Style Guide
October 24, 2023 | Blog
For centuries, timber flush casement windows have been one of the most popular window styles used in British architecture. Today, flush casement windows are popular with homeowners needing to replace windows in a listed building or period property, and they are the perfect choice if your home is in a conservation area, as any replacement windows must be approved for use by your local planning authority.
In this article, we take a closer look at the history of timber flush casement windows and any particular notable styles for period homes that homeowners need to be aware of when renovating a listed or conservation governed property. 
When well maintained and cared for, traditional timber casement windows can be an attractive, historic feature of any home, and in conservation areas, in particular, are recognised for their historical, cultural and architectural significance. Heritage or listed buildings sometimes feature historic casement windows that reflect traditional timber craftsmanship and will be protected by the conservation department of your local planning authority to preserve the cultural significance of an area. 
Want to learn more about casement window design? Explore your options in our guide to timber casement windows.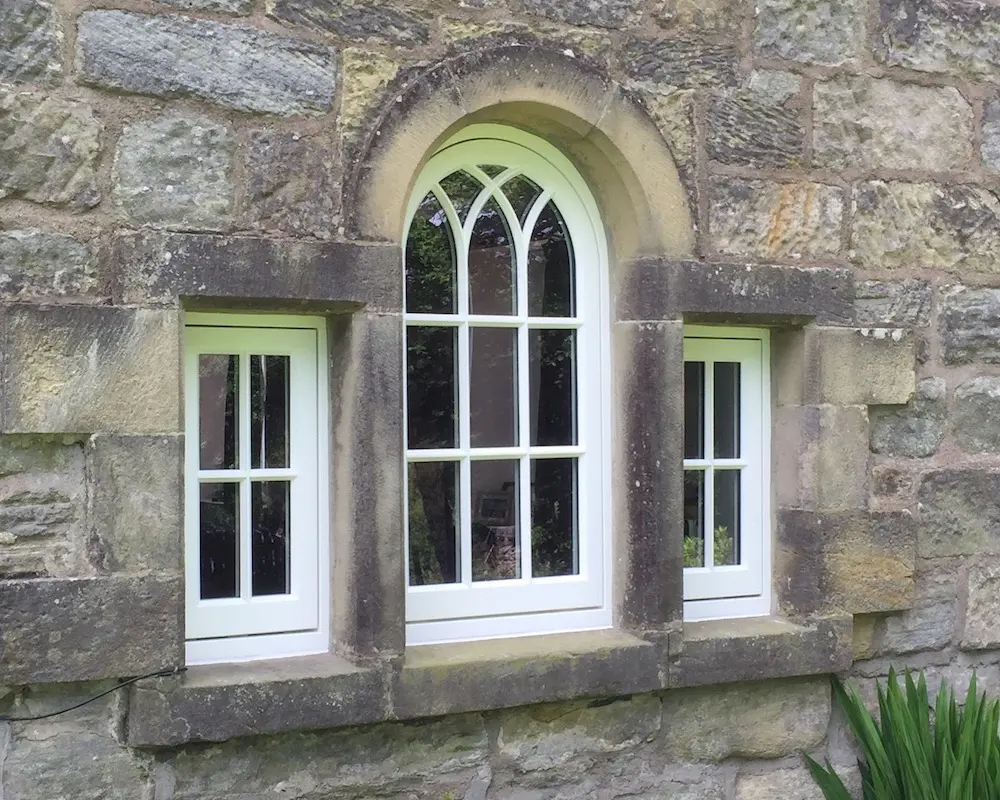 History of window design
Window design progressed over the centuries as glass-making technologies improved, allowing homeowners to bring far more light into their property, with casement window styles changing over time to emulate the period. 
Predating timber casement windows, stone mullioned windows were popular, featuring wrought iron glazing bars referred to as 'leaded lights' mounted onto the window frame, creating a lattice design with 'quarries' of glass in between. This window style was usually hung on wrought iron casements, and the casements were either held together with wrought iron or soft strips of metal, often lead.
Window glass style over time
The early glass used in windows was made by glassmakers who would use a glass blowing technique to blow the glass into a 'crown' or hollow globe. This globe was flattened by reheating it, turning it into a flat disc, and cutting into the shape required. They used this technique to make diamond-shaped panes mounted with lead latticework. This technique was used in many earlier windows before glass making technology progressed to allow larger panes. 
Timber casement windows succeeded stone mullioned windows and were the most common window type by the second half of the 18th Century. 
History of flush casement design
Traditionally, all casement windows were a flush casement design, where the casement would sit flush in the window frame. They were popular in cottages and smaller homes where sash windows were impractical. Early problems with draughts and water leakage saw a change in design, where lipped casement windows first appeared. Timber flush casement windows designed today are draught proof and waterproof while still reflecting the traditional designs of the earliest flush casement windows, making them a popular choice for period homes and listed buildings.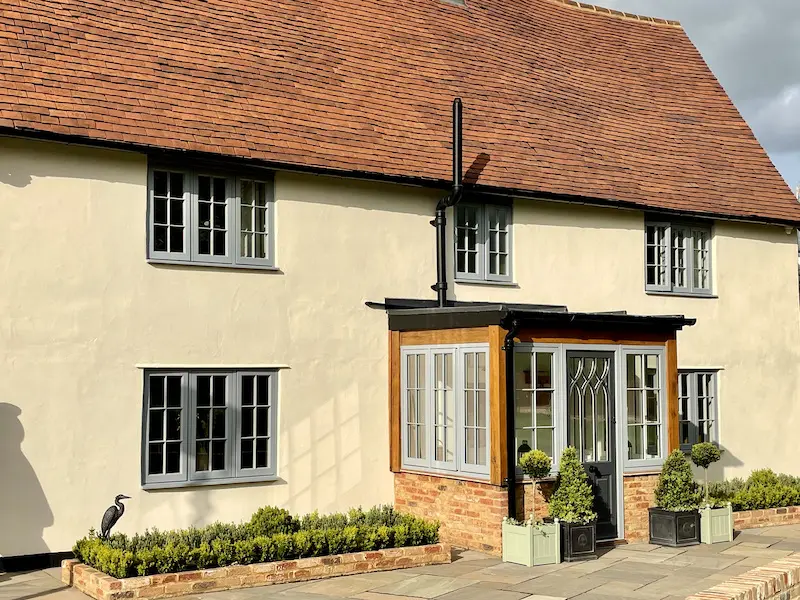 History of glazing bars
Early glazing bars were thick and robust and were usually made of native oak or a similar hardwood. In the early 18th Century, thinner, more delicate glazing bars with lambs tongue moulding became popular. 
By 1840, the beginning of the Victorian period saw frames made entirely of timber, with opening casements popular. A traditional design was six panes per casement, divided with glazing bars. Occasionally smaller panes for a more gothic style design was popular. 
As glass technology improved, the number of panes reduced. This was particularly the case after the window tax was abolished in 1851, which saw larger windows such as timber sash windows become far more popular. Some glazing bars were only 12mm wide, and when the window tax was repealed, it gave space for larger panes of glass which let more glass flood a room. Larger casements and side hinges allowed homeowners to open up their properties for more ventilation and light. 
Crittal style windows
After the first world war, there were ongoing improvements in steel production that led to the development of the first crittal steel casement window. This window was, at the time, cost-effective to produce and had a slim frame profile. As steel production began to leave our shores and the price of steel increased, there was again a shift in design and material towards flush casement windows made from timber.
Ironmongery on casement windows
Casement windows typically featured hinges, a casement latch and a stay bar, with even some of the earliest designs featuring lockable latches. Fittings were often very distinctive of the period, which is why homeowners, particularly when replacing conservation windows, will need to consider the design of their ironmongery to ensure it emulates the architecture of the time. 
Design considerations for replacement windows
Other design considerations for replacement conservation windows include: 
Glazing bar mouldings
Emulating the sprig and putty glazing style will be necessary for the mouldings of traditional casement windows if you are replacing windows in a period property. Ovolo and lambs tongue mouldings are typical of early casement windows, both of which are available widely today on new high-performance timber flush casement windows.
Depth of the window reveal
The 'reveal' refers to how far back from the front of the wall the window sits. The depth of the window reveal will vary depending on the local styles and the age of the building. Knowing what depth of reveal you have on your property is a key consideration, particularly if you want to change the style of window you have in your property.
Arch design
Arched window openings are a common design feature on period properties. When replacing windows where you have an arched window opening, having the openings surveyed and the windows fitted by a professional is essential before spending your money on brand new windows. You can learn more about our professional survey and installation service for period properties here.
Colours
19th Century softwood casement windows were often painted in strong colours, such as blue, green or even deep red. Try to research the best colours to paint your timber flush casement windows based on popular designs at the time or by speaking to your conservation officer or architect. You can explore our range of paint colours, stains and finishes here to explore some of the colours available at Bereco for your timber casement windows.  
Want to get inspired? Please read our guide: How to choose the best colour for your timber windows and doors.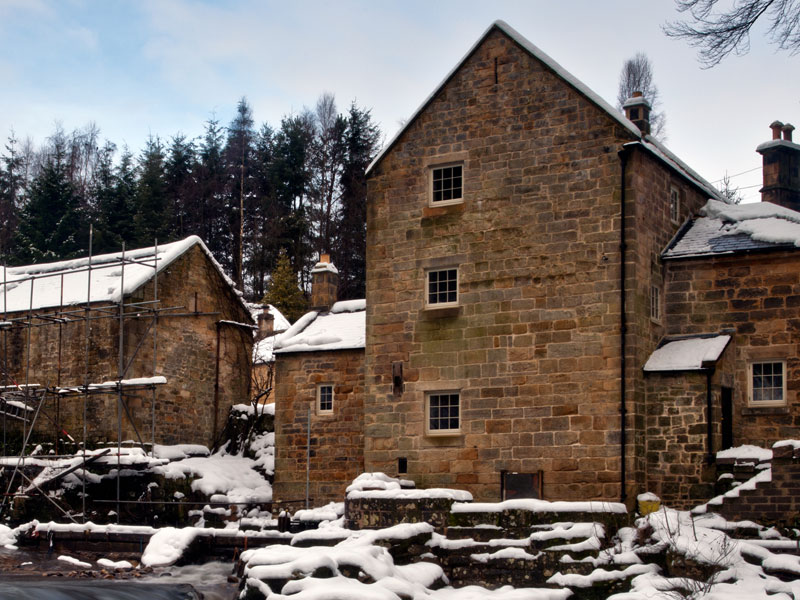 Victorian style casement windows
Victorian-era saw a seismic shift in the approach to window design for the middle and lower classes. This was thanks to the groundbreaking developments in glass-making technology, which saw sheets of glass become a far more affordable commodity.
After 1890, glass development and manufacturing increased rapidly, with more precise, cost-effective methods changing the landscape of window design. Larger panes of glass allowed much more light into the property, particularly compared to previous casement window design, which relied heavily on lead glazing bars to support much smaller windows comprised of individual glass panes. As a result of this new technology in glazing, Victorian glass casement styles typically consisted of 2 panes over a single pane of glass. 
Georgian casement windows
Georgian casement window design is synonymous with the opulence and grandeur of the architecture of the time, with glazing patterns and large windows reflecting the wealth of those who could afford them. Georgian casement windows generally feature a casement divided by glazing bars into a 2×3 or 2×4 pattern but differ from sash window design in that the casement is opened via side hinges, as opposed to a sliding sash where the openers move up and down in the frame. 
Edwardian casement windows
Edwardian architecture saw a transition as society began to build out of the city, making higher ceilings, larger rooms and therefore larger windows possible. With more space and scope, design began to focus on the window casements themselves, with colour and intricate patterns interlaced within the window design themselves. Casement designs with intricate stained glass patterns in the upper pane, with a single glass pane at the bottom, were popular for the first time.  
Maintaining the period style of timber casement windows in listed buildings is incredibly important. It is rare for conservation officers to allow any changes to window design unless it meets specific standards set by listed building regulators and passes listed building consent. 
Be sure to follow architectural guidance and discuss options with a conservation specialist if you are considering replacing your timber casement windows in your period home. 
For more information about our timber casement window styles, get in touch with us today, or explore our timber flush casement windows for more details.