Back to news
How to Choose the Right Timber Window for Your Home 
October 24, 2023 | Blog
Which type of timber window is best for my home?
If you're considering installing a timber window, you'll likely be installing a timber casement window or a sliding sash window. Depending on your existing property, your budget, style, inspiration, and project scope, you will likely have an idea in mind. However, for some renovations or new builds, you may need to consider all your options before making a final decision. From bespoke timber window frames to specialist acoustic glazing, in this guide, we'll share insights into the most popular timber window styles and share the considerations you will need to make when choosing the right timber window for your home.
What timber is used for window frames?
The type of timber used for your timber window frame will depend on the window supplier you choose. At Bereco, we use engineered laminated sections of European Redwood, a softwood timber known for its durability and natural strength. The natural tannins in the timber help reduce the chances of rot over time, and the use of engineered laminated sections prevents warping.
Other popular timber choices include oak and pine. Oak is a costly timber with a high density of 700-800kg per square metre. European Redwood offers strength and resilience with a lower density of 520kg per square metre.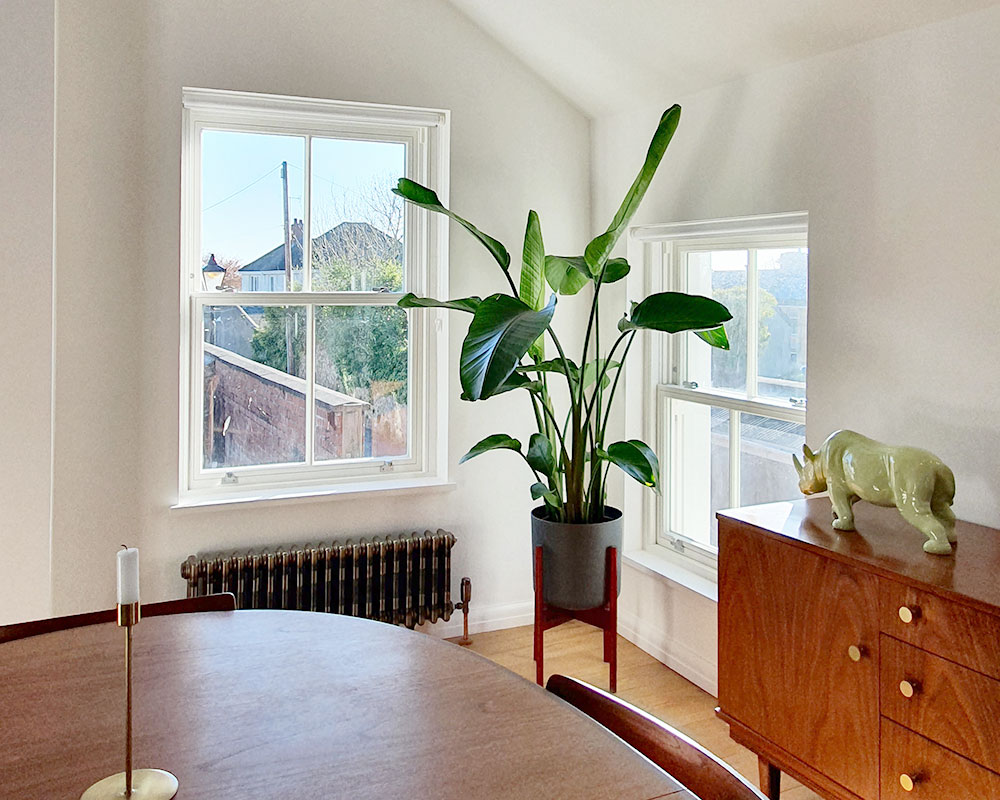 Factors to consider when choosing timber windows
Style
The style of your window will be a crucial consideration early on, as you may be restricted to a particular style of timber window if you live in a conservation area. Similarly, you may wish to remain in keeping with the existing windows in your home if you are not replacing them all.
As well as the type of window, which we will go into more detail on below, a bespoke timber window supplier will allow you to incorporate a variety of different design features, including ironmongery, unique glazing bar designs, and other features including traditional and heritage mouldings and bay windows. 
Colour and finish
There are a wide variety of finishes available, whether you want to show the natural grain with a stain finish or bring a pop of colour to your windows with our RAL paint colours. Remember that the finish on a timber window or door is the key to protecting the wood from the elements and ensuring a long lifespan. We would always advise choosing a factory finished product to ensure that the timber will maintain its quality over time. At Bereco, all our timber windows and doors are treated with preservative treatment before being sanded down, followed by a base coating and two factory finish topcoats to ensure maximum performance and durability.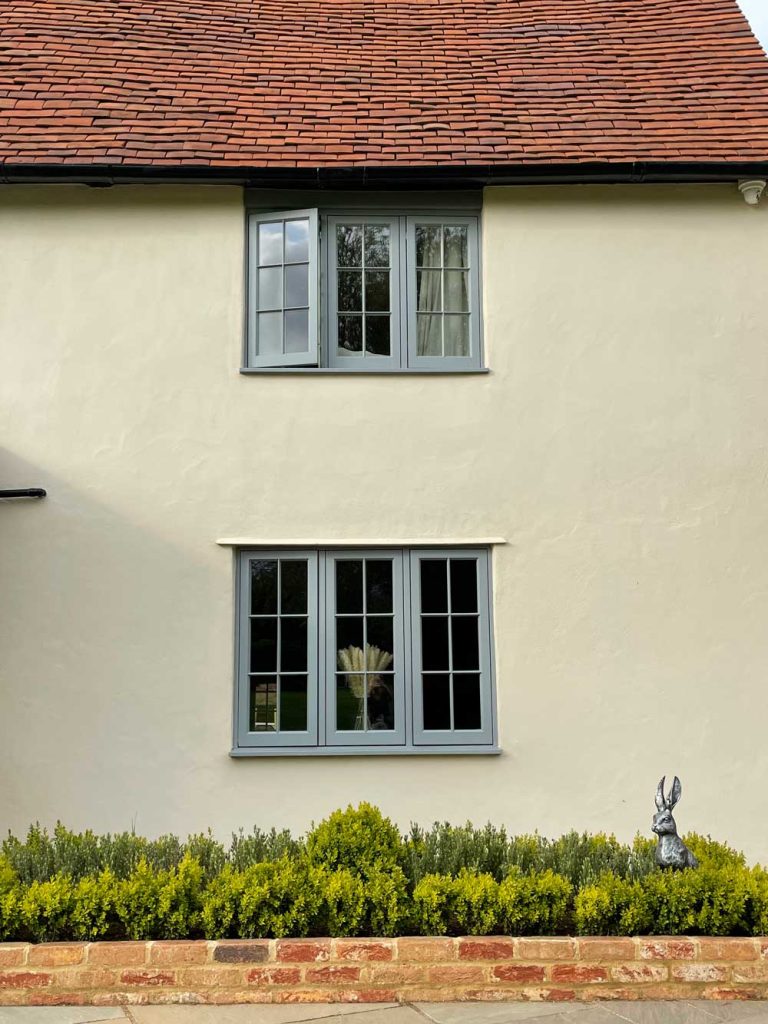 Size
The size of your timber window will impact the overall cost, as larger timber window frames will cost more. Some suppliers sell standard sizes; however, there are no real standards in window sizes throughout properties in the UK.
Bespoke timber windows can be made according to the exact measurements required, allowing larger properties to install larger windows to maximise natural light and allowing homeowners to bring their vision to life with made-to-measure timber windows.
Placement
Planning window placement will largely depend on the scope of the property design in general. With restoration projects, you will usually need to keep within existing measurements and locations; however, you will have more freedom and scope with window placement when adding an extension or designing your own property.
How you use the room will determine the best placement and positioning for your timber window. For example, higher windows may be appropriate in a kitchen area, where you need to account for kitchen surfaces. Living rooms and communal spaces will benefit from larger windows, and depending on your property position, you will need to allow for wider or taller windows to maximise the amount of natural light the windows let in. 
Always check if planning permission is required if you intend to add a new window or door or move an existing one.
Acoustic range timber windows
Acoustic glazing is ideal for properties in areas where noise may be an issue. From troublesome neighbours to busy roads or inner-city properties, our acoustic range allows for peace of mind and tranquillity in your home, with sound reductions up to 42 decibels.
You can read more about our acoustic range on our website.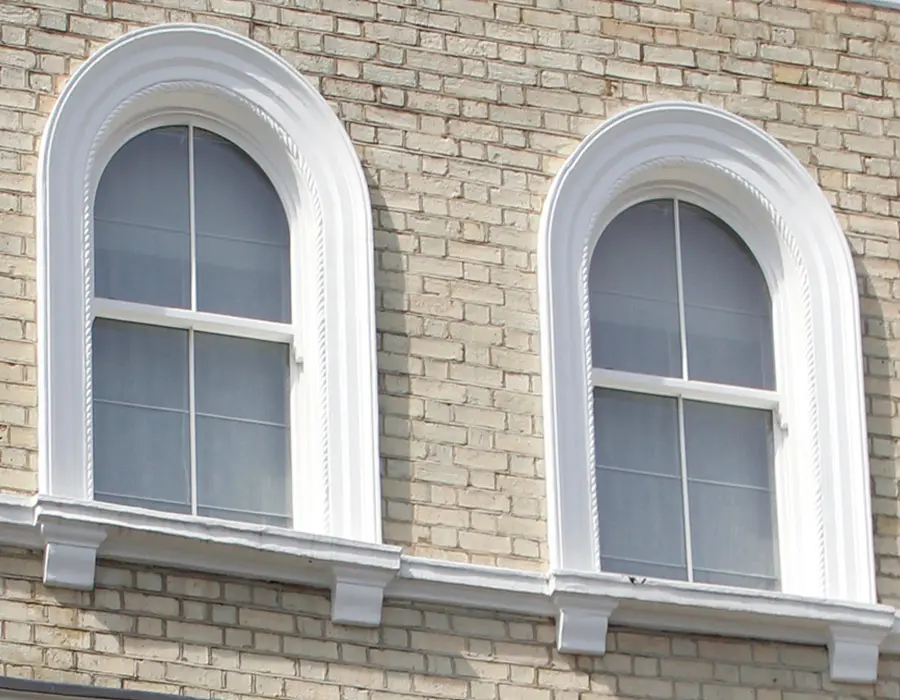 What types of timber windows are there?
Timber flush casement windows
Flush casement window design features sashes (the opening part of the window) that are flush with the frame externally. This was the original style of casement window and has seen a resurgence in popularity in recent years due to its clean lines and classic design. Unlike flush windows of the past, modern timber flush casement windows can provide the same draft and weatherproofing as a lipped or "stormproof" casement.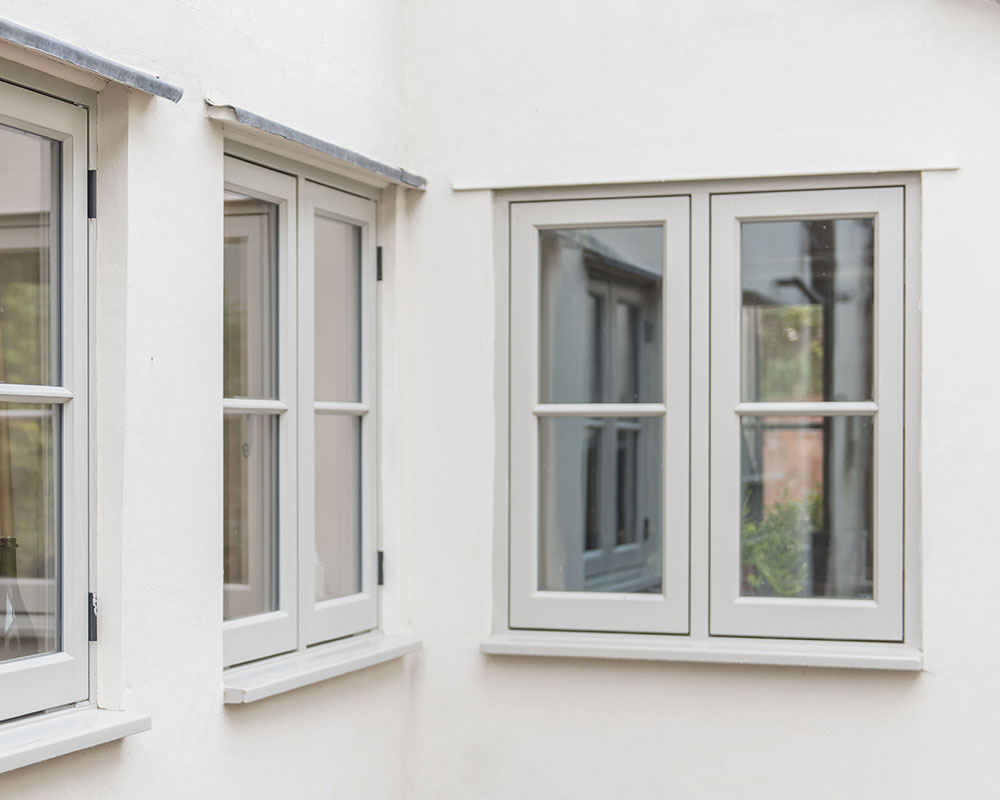 Timber lipped casement windows
Lipped casement windows are the most common style of window seen throughout the UK. They feature sashes that protrude and lip over the window's exterior frame. They were initially developed in the 1950s to overcome the draft and leakage issues seen with older flush casement designs.
It's worth remembering that both flush casement windows and lipped casement windows will require a clear external space in front of the window as the casements will open outwards on hinges.
Our helpful guide Everything you need to know about timber casement windows can help you decide which casement window style is best suited to your property.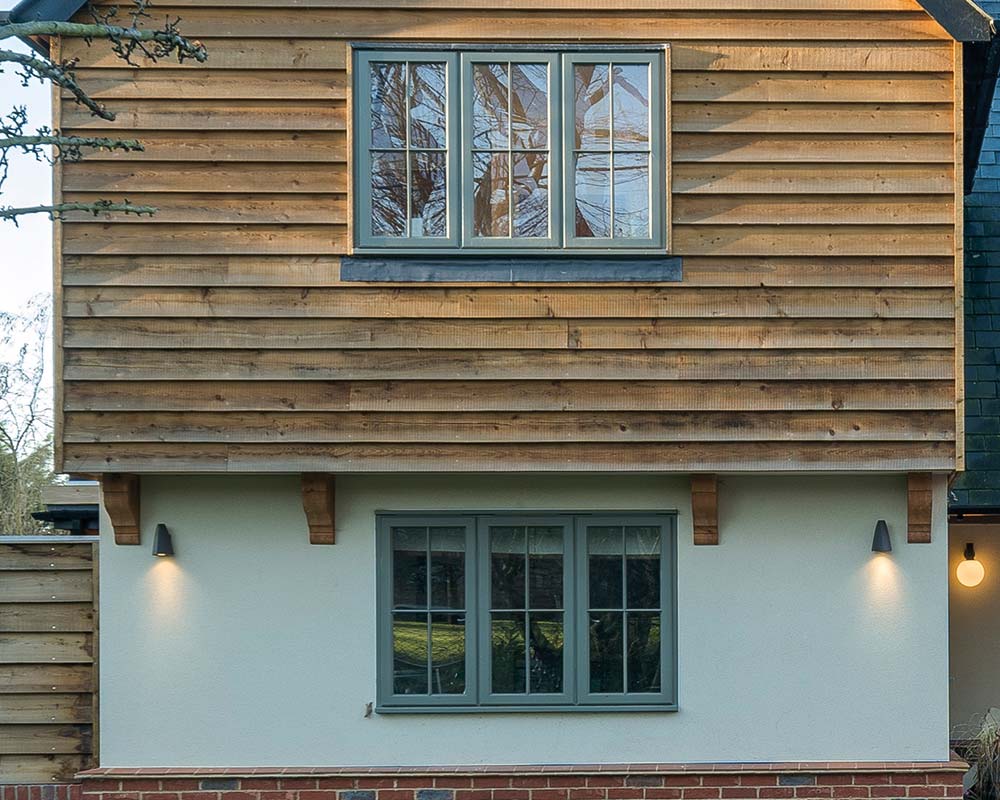 Sliding sash windows
Our timber sliding sash windows are an ideal choice for period properties or homes in conservation areas. Sliding sash window design incorporates the popular aesthetics of the Georgian and Edwardian eras and were synonymous with both time periods for different reasons, evoking the grandeur and opulence in the Georgian era, as well as modernity in the Edwardian era, where spacious rooms allowed for more intricate designs. At Bereco, our sliding sash windows have been designed to bring together heritage features with the latest optimal window design and quality materials. You can learn more about Bereco's timber sliding sash windows here.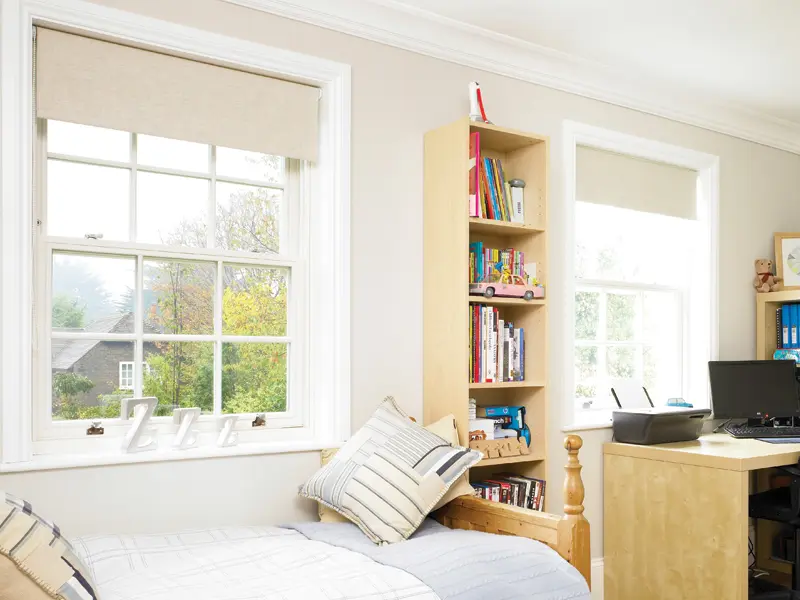 Explore our range of timber windows at Bereco or get inspired with our blog. Book a design consultation with a member of our team to find out more about how we can help you bring your vision to life.