Back to news
The Nation's Favourite Period Features
October 24, 2023 | Blog
Whether it's thatched roofs, sash windows or cosy wooden beams, older homes and the beautiful period features they have to offer are undeniably charming. But when it comes to period properties, what features do we love the most?
We surveyed over 2,000 people across the country to find out how they feel about period homes and what features they find most desirable.
According to our findings, almost a third of people (32%) prefer homes with period features, with 29% also believing that being in a period property actually improves their mood!
Here are the nation's top 10 most desirable period features: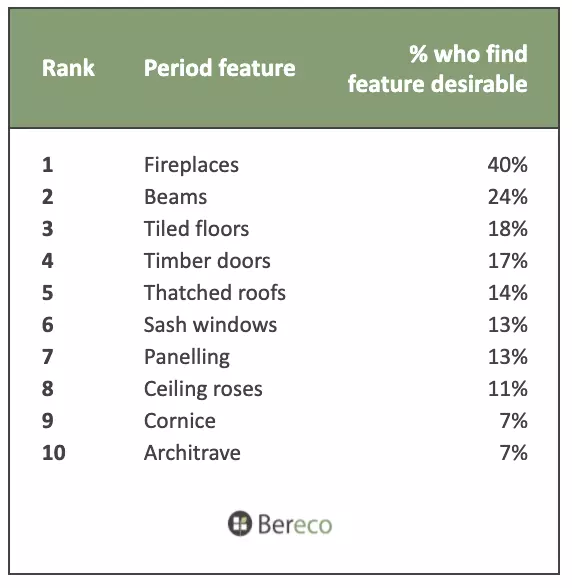 Fireplaces
There's nothing better than sitting in front of a homely, period fireplace with a hot drink and a good book, so it's no surprise that this feature takes the top spot. Overall, 40% of people chose fireplaces as one of their most desirable features. Of those actively house hunting, 36% said they found the feature desirable, with a further 35% of buyers saying they would pay more for an older, listed property.
Beams
If you're looking for a home steeped in history, then a ceiling adorned with characterful wooden beams will likely be at the top of your wish list. Almost a quarter (24%) of people in our survey selected beams as one of their favourite period features, with those in the 25-34-year-old age group finding them most desirable (29%).
Tiled floors
Whether it's traditional tiles in the hallway or flagstones in the kitchen, authentic period flooring is a beautiful, eye-catching addition to any home. Creating that authentic tiled look from scratch, however, can be expensive, which may explain why 1 in 5 house hunters find the feature desirable in a home. Overall, tiled floors were selected by 18% of our survey respondents.
Timber doors
Here at Bereco, we love a beautifully crafted, solid timber door, so we're pleased to see that the nation agrees! Timber doors ranked 4th in our survey with 17% of people selecting the feature as desirable. When looking just at house hunters, timber doors were even more loved, with over 19% selecting the feature. Luckily, you don't have to own a period home to enjoy a quality timber door. Take a look at our beautiful selection of modern and traditional styles here.
Thatched roofs
No chocolate box cottage is complete without a beautiful thatched roof, and although the period feature requires a bit more maintenance than its tiled counterpart, 14% of people selected it as one of their favourite features. If you're a Pisces, you may find thatched roofs even more desirable, as that star sign was most likely to select the feature with 17%, compared to just 10% of Sagittarius respondents.
We are clearly a nation that loves period properties and the beautiful features they have to offer. Luckily, the UK has millions of historic buildings brimming with authentic fireplaces, intricate ceiling roses and romantic sash windows for us to enjoy!
If you are looking for inspiration for your own period home, take a look at some of our beautiful case studies here and explore our blog here for useful guides on timber windows and doors.