Back to news
The Benefits of Bespoke Timber Windows
October 24, 2023 | Blog
Windows are one of the most important features to consider when carrying out home renovations or working on new builds. Investing in a tailor-made and bespoke timber window can create a statement piece that will last a lifetime. 
The quality of your timber windows can make or break a room's design as well as the outside appearance. Purchasing less costly options may suit some homeowners, and other materials may offer short-term benefits. However, if you're planning on making an investment that lasts a lifetime, offering quality and adding value to your home, then bespoke timber windows may be the right choice for you. Whether you are restoring a period home or working on a self-build project of your own, bespoke timber windows can offer flexibility and bring complete originality to your property. 
Investing in bespoke windows allows you to suit them perfectly to your home, no matter if it's a heritage country cottage or a contemporary extension. A timber window's frame will provide a stunning aesthetic, strong performance, and durability that lasts longer than most other window options.
This article will dive into the world of bespoke timber windows and discuss their unrivalled advantages when it comes to design, value, quality, sustainability, and more.
What are bespoke timber windows?
Bespoke timber windows are made to measure, which means they can be manufactured precisely to the specifications required to fit each unique space. You can customise almost every feature, including glazing bar design and width, glazing options, ironmongery styles, and more. 
Bespoke timber windows allow for absolute autonomy of quality and design, which are considered at every step of the crafting process, from the forest where the timber is sourced to the finishing touches at the factory. This guaranteed quality, flexibility in design and durability from your timber windows can be ideal for homes with particular needs, such as heritage homes, homes with unusual window sizes, or those with specific style requirements.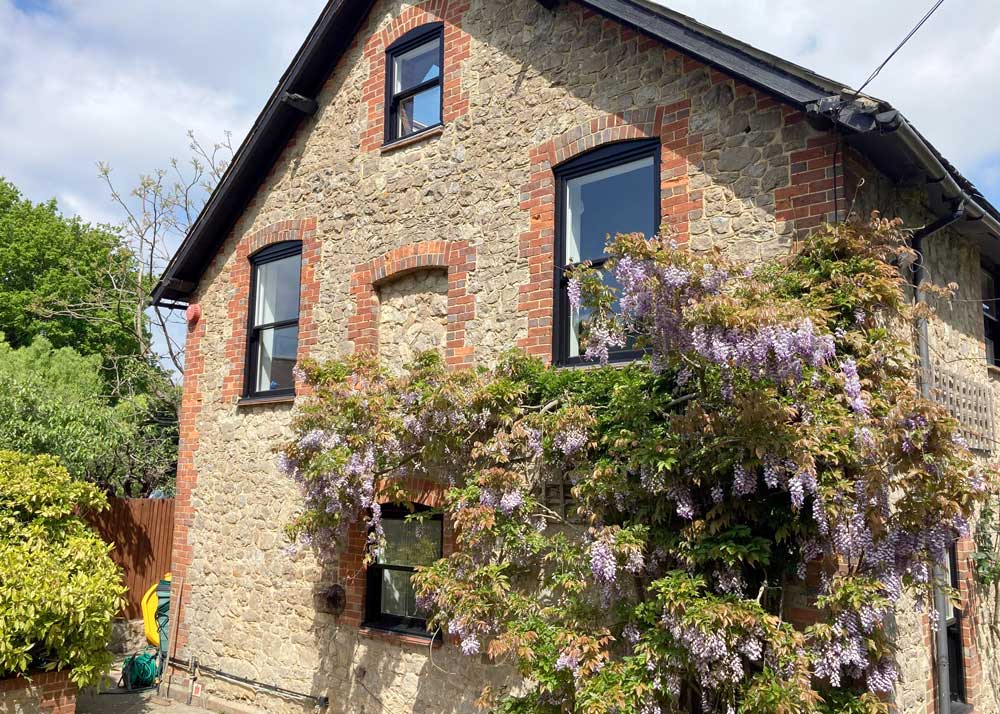 Bereco's bespoke timber windows and doors
Bereco's timber windows and doors are manufactured from engineered laminated sections of timber sourced from FSC certified forests that work hard to promote forest growth and mitigate the carbon impact of harvesting trees. We use our own dedicated sawmill to supply our factory and have complete control over the timber section, sizes, stock, and quality control. The tailor-made windows are built in our own factory, ensuring longevity and pinpoint accuracy. 
The benefits found in the quality and customisation abilities alone set this bespoke timber window process far apart from other options on the market, such as uPVC windows, but what are some other main benefits of installing a bespoke timber window in your home?
What are the benefits of bespoke timber windows?
Enhanced durability and protection
There are two broad categories of timber that wooden windows can be constructed from: softwood and hardwood. In their raw form, hardwoods can be more stable and longer-lasting than softwoods, but they are also much more costly due to their extended growth periods. The use of engineered laminated timber sections negates many of these differences, drastically increasing the timber's strength and resistance to bowing or warping. This allows the use of more economical and ecologically friendly softwoods whilst still offering exceptional stability and lifespans.
Bereco's timber windows are crafted from engineered laminated sections of FSC®100% European Redwood or Dark Red Meranti. These timbers retain a relatively low moisture uptake, preventing dimensional changes such as twisting or warping. The natural tannins within the wood protect it from insects and resist any rotting or decay. Our timber also receives an additional preservation treatment that penetrates deep into the wood and repels any rot or fungal growth. Finally, they are factory finished with a three-coat finish which protects the timber from weather and moisture ingress.
Our modern flush casement windows are crafted from this robust and weather-proof timber, with strong seals to prevent draughts or moisture from entering your home. With proper maintenance over the years, these windows will continue to combat any weathering and last for many years.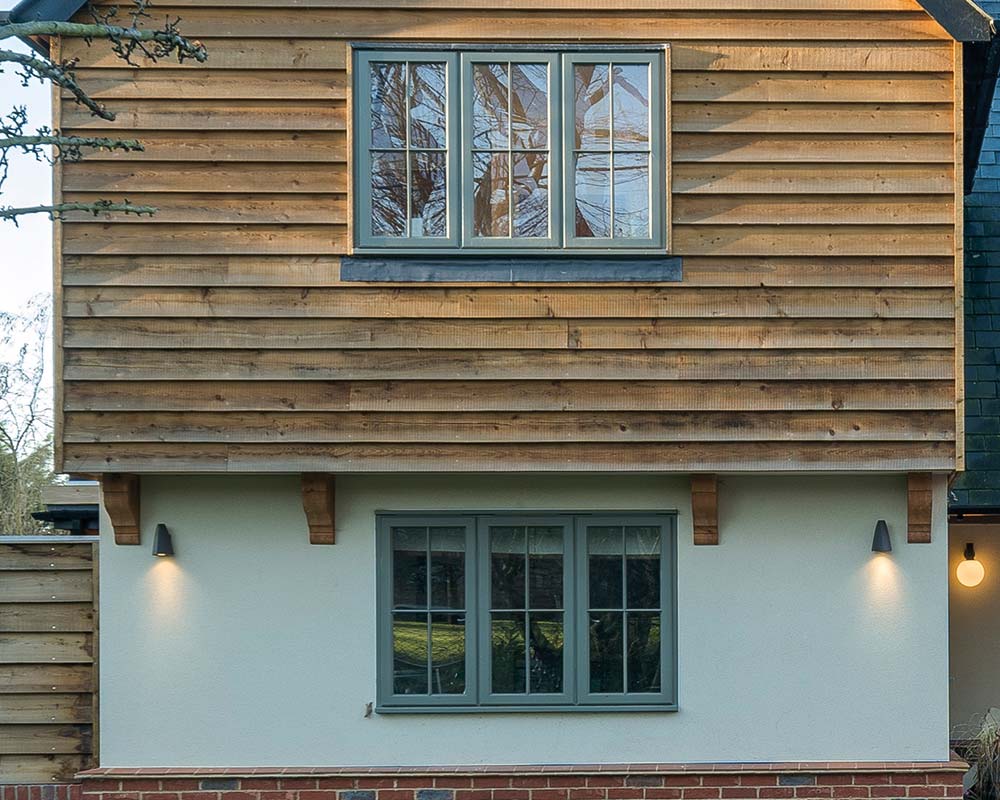 Timber windows last a lifetime
The durability and protective qualities of timber windows make them much more long-lasting than uPVC windows. Typically, once you install high-quality timber windows into your home, you will never need to replace them. This is an investment that will last you up to 60 years with proper maintenance. 
Plastic or aluminium windows will need replacing much more frequently. They last less than half the service life of a window's timber frame, about 15 to 20 years. The frames are also irreparable, meaning that uPVC windows will inevitably and frequently end up in landfills. Most surface damage on timber windows can be repaired with just 2-part timber filler, sandpaper and touch up paint. Although timber windows have a higher initial price, they will save you from future replacement hassles and additional costs in the long run.
Bespoke timber windows are energy efficient
Timber is a naturally insulating material with a low thermal conductivity rating. It prevents heat loss and saves money on bills for the homeowner by offering better thermal performance than uPVC & aluminium windows. 
Glazing and drought-proofing performance is typically elevated in bespoke windows. At Bereco, our standard is argon filled double glazed units with soft low "e" coating. Our windows have up to 82% better u-values than current building regulations, saving the average three-bedroom house about £212 on heating bills each year.
Triple glazing is also an option offering Uw values as low as 0.8W/m²K , perfect for zero-carbon or low energy homes. Bespoke design allows for large sash and glass sizes, making these windows a stunning feature that keep your home low-carbon, good for the environment, and good for your wallet. 
Sustainable and good for the environment
Timber windows reduce the carbon footprint of your home, but they can also help remove it from the atmosphere. Our FSC® certified forest captures carbon dioxide from the air – the leading cause of climate change – and practices sustainable forestry tactics by replacing harvested trees with new CO2-absorbing growth. 
Using timber windows in your home is an environmentally-friendly choice, especially compared to uPVC windows that eventually gather in landfills. Our timber is a 100% renewable and biodegradable natural resource. Choosing timber-made windows over oil-made uPVC windows ensure better building practices for a more sustainable future. You can read more about our eco-friendly timber windows and doors in this guide.
The perfect fit for unusual window sizes and shapes
Made to measure windows will perfectly fit any space and, with the use of coupled sections, have almost no limit to size or shape, unlike off-the-shelf windows. This allows for ultimate personalisation and unique problem solving for any home's requirements. 
Our sliding sash windows are totally bespoke and can span widths of up to 1.2 metres and heights of 2.7 metres. Any unusual window size can be serviced with a stunning custom piece, with any combination and style of fixed and opening sashes as desired.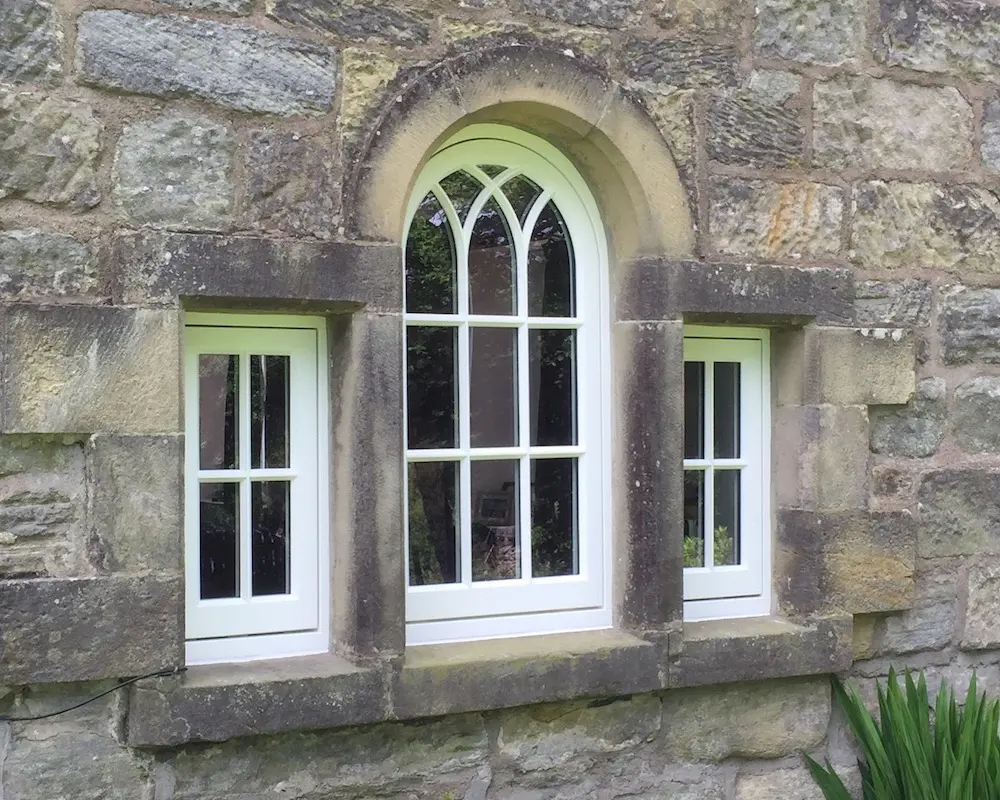 Completely customisable
A bespoke and tailor-made timber window is going to be completely customisable. Any window feature can be handpicked by the homeowner and styled to fit any preference. Some customisable features with Bereco timber windows include: 
Acoustic range – Timber has a natural sound-dampening property. However, if your home is built on a main road, by the railway, or under a busy flight path, you may want to customize your windows to have a higher sound reduction. Bereco offers an ambient range of timber windows that absorb and reflect sound waves, significantly reducing noise and preserving the calm and tranquillity inside your home. 
Paint and stain finishes – Bereco's timber windows go through a four-stage finishing process. This includes preservation, base-coat, and a smooth finish of two top coats from a wide range of colours. We offer a vast selection of popular paint colours as well as exclusive heritage paint colours, giving a timeless finish.
Unique two-colour service – Bereco's bespoke timber windows can be painted in two different colours depending on your preference for the external and internal finish. This means that if you require a certain finish due to living in a conservation area, you can adapt the internal design to suit your interior decor perfectly. This is another example of how bespoke timber windows go above and beyond in offering complete individuality to make a true feature in your home, both inside and out.  
Ironmongery – Handpick your window's handles, stays, hinges, and fasteners. Our bespoke timber window ironmongery can complement any design, from classic to contemporary, or period with 10 different metal accents to choose from.
Unique mouldings and glazing bars – Bereco also offers a wide range of mouldings and glazing bars to perfectly match your home. You can choose from the clean and sleek lines of pencil round mouldings or more traditional ovolo or lambs tongue mouldings. This can be an important feature to control if having to design under heritage regulations. Read more in our article on Bereco's solution to retaining traditional design. 
Perfect solution for properties in conservation areas
The loss of traditional windows has been a cause for concern since 2009, when the Heritage at Risk campaign found that unsympathetic replacement of windows affected 83% of conservation areas. Replacing windows in a period property, especially if replaced without care, can detract from the home's historic character. You may be refused planning permission if you do not install windows approved by local authorities, as homes in conservation areas are protected by conservation legislation. 
Bespoke windows can replicate original features from classical eras with curved headframes, sashes, and even curved glass. Our timber sash windows offer traditional or heritage mouldings and bars that can suit replacements in conservation areas. Glazing bars are can be crafted to replicate historical patterns, and the windows can be customised with slim frames, deeper bottom sash rails, and seven different types of sash horns.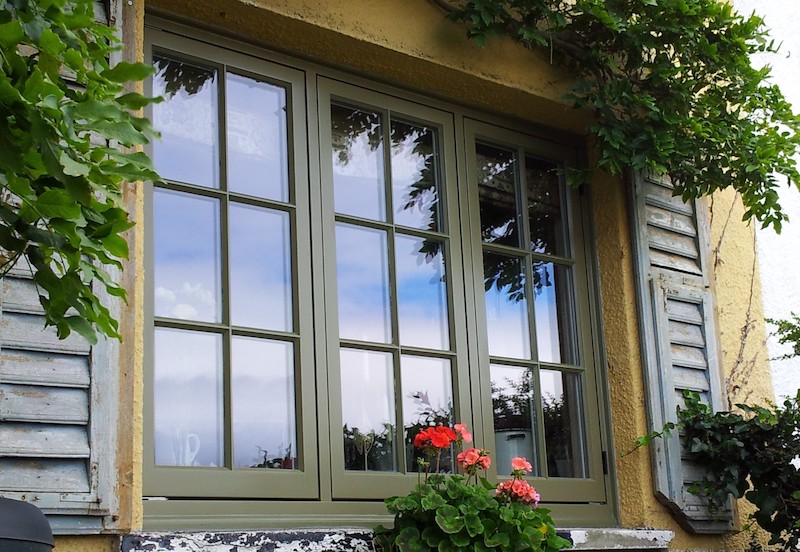 Timber windows add value to your home
Choosing bespoke timber windows can lower your energy costs and save you money in the long run, but they can also add substantial value to your home. Installing high-performance and high-quality timber windows over plastic or aluminium windows will always raise your home's overall worth over time. 
Ensuring the windows keep with the style of the property is ideal when selling your home, especially if it is a period house. Homes with high-quality windows that need little work are far more attractive to buyers than homes with weathered, old windows made of a cheaper material. 
Bespoke windows offer long warranties
The substantial guarantees typically tied to bespoke timber windows are another notable benefit. Bereco offers an industry-leading manufacturer's warranty on every feature included in our timber windows. Our warranties include: 
10 years warranty on factory coatings
10 years warranty on glazing units
10 years warranty on the ironmongery
10 years warranty on manufacturing defects
30 years warranty on rot and fungal decay 
All our products have been crafted with a commitment to the highest standard of excellence, and they all come with the same warranties. We offer protection and peace of mind when investing in a product that will last a lifetime. 
Guaranteed quality
Our beautifully bespoke timber windows come with guaranteed quality that off-the-shelf windows simply cannot beat. Our windows are audited by third-party certification bodies, inspecting our weather performance, security, manufacturing, and much more. 
Bereco's bespoke timber windows are responsibly sourced and expertly crafted to the specifications of each unique home. Explore our full range of ethically sourced and eco-friendly timber windows today!
If you have any questions on how bespoke windows can fit your home, please contact us, we are happy to help.