Back to news
What Should I Look for When Buying a Timber Door?
March 2, 2022 | Blog
Buying a timber external door or timber front door can bring a completely new look to your property. Adding value, kerb appeal, and plenty of longevity, timber doors add a touch of quality and can last a lifetime.
As manufacturers of high quality, bespoke timber doors, Bereco have spent years honing our craft to create a sustainable product that stands the test of time, bringing originality and style to people's homes. With so many types of timber doors to choose from, it can be difficult to know where to start and what to look out for, which is why we've created this helpful guide to help you know exactly what to look for when buying a timber door.
Signs of a quality timber door include:
The quality of the timber
The type of wood used
The thickness of the door
The warranty available
Any additional maintenance that is required
The security features of the door
The exterior finishes available
The lifespan of the timber door
The energy efficiency of the door
In this article, we'll explore the above in detail.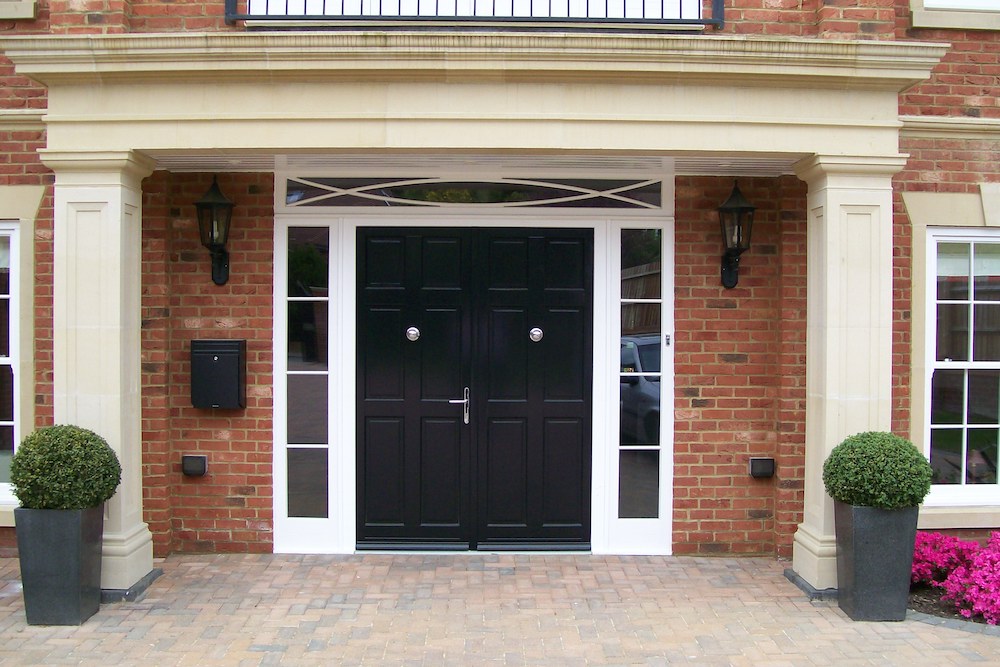 The quality of the timber
Always look for a timber door manufacturer that is transparent about where their timber is sourced from and the quality of the wood. Certain factory finishes can help a product's longevity and versatility to prevent damage over time. Timber doors were traditionally made from pine or oak, and more recently, other cost-effective, high-quality types of wood. This has meant timber doors are more accessible, affordable and long-lasting, with natural strength and sturdiness thanks to the natural qualities in the wood. Highly energy efficient, timber doors can often be the most robust option, with door leaves made from engineered laminated timber sections.
The type of wood used
Timber doors can be manufactured from both softwood and hardwood. Always look for doors that use engineered laminated timber sections, as this dramatically increases the timber's strength and helps prevent any bowing or warping. Hardwood is more dense and hardwearing than softwood in its raw form and is much more expensive; however, using engineered laminated sections negates many of their differences. Both types of wood are generally treated to be resistant to rot and fungus, with a number of finishes available. At Bereco, we predominantly use European Redwood or pinus Sylvestris, a softwood also known as Scots Pine. We source all our timber from FSC certified woodland in Northern Europe.
In particular, this type of wood gives natural resistance to insects and decay, thanks to the natural tannins in the timber. Additionally, we only harvest our timber from trees between 90 and 130 years of age, to ensure a strong material with tight growth rings, preventing cracks and shakes from appearing in the wood.
European Redwood also features a high density of 500 kg/m3, making it a durable, stable solid wood that's perfect for timber windows and doors and not too heavy.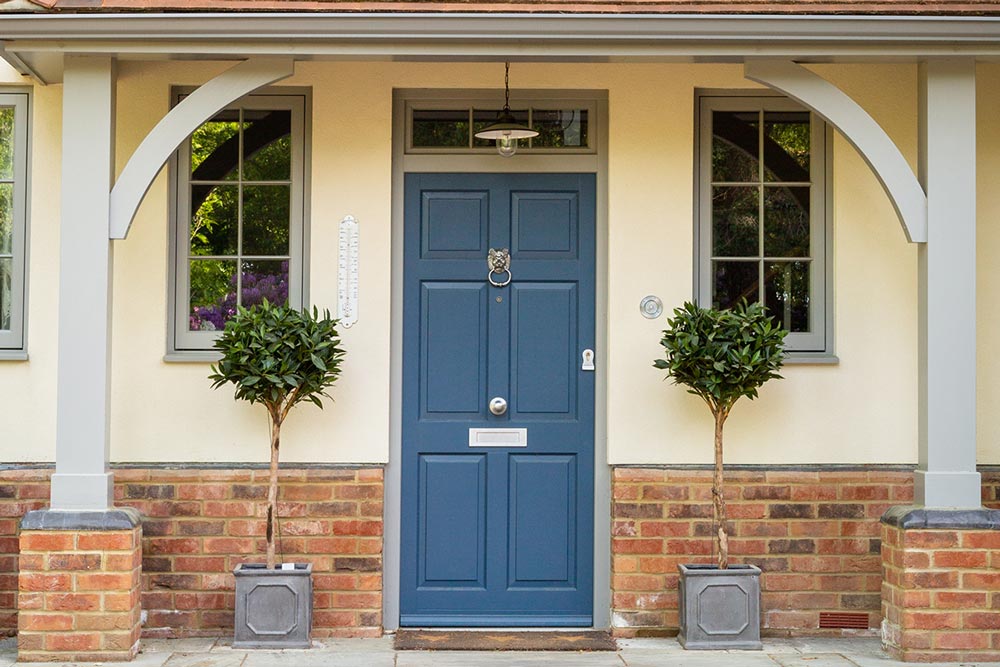 The thickness of the door
Most good quality timber external doors will have a thickness of at least 40 mm. An exterior door leaf should be thicker than an internal door, as it is an entranceway into your home. For both security reasons and heat retention, you should aim for a sturdy, thick timber external door. Bereco's timber entrance doors are an impressive 68mm thick for additional security, peace of mind and statement finishes.
The warranty available
Always look for a good warranty when choosing a timber door. This can not only give you peace of mind but demonstrates that the timber door manufacturer you select is reputable and creates a high-quality product that will be a good investment. At Bereco, our warranties cover factors such as factory coatings, manufacturing defects and rot and fungal decay. With warranties up to and including 30 years, you can rest assured that you've installed a product that has been meticulously designed for a high-quality finish and long-lasting results.
Any additional maintenance that is required
A level of maintenance is required for all external doors to ensure optimum performance to avoid degradation over time. The level of maintenance will depend on the type of door you choose, so when browsing, ask the right questions and do your research to see what care is required. Occasionally, maintenance and upkeep on the paintwork of your timber door may be necessary, particularly if you live in an area exposed to the elements. You can read more about cleaning and maintaining your timber doors on our website.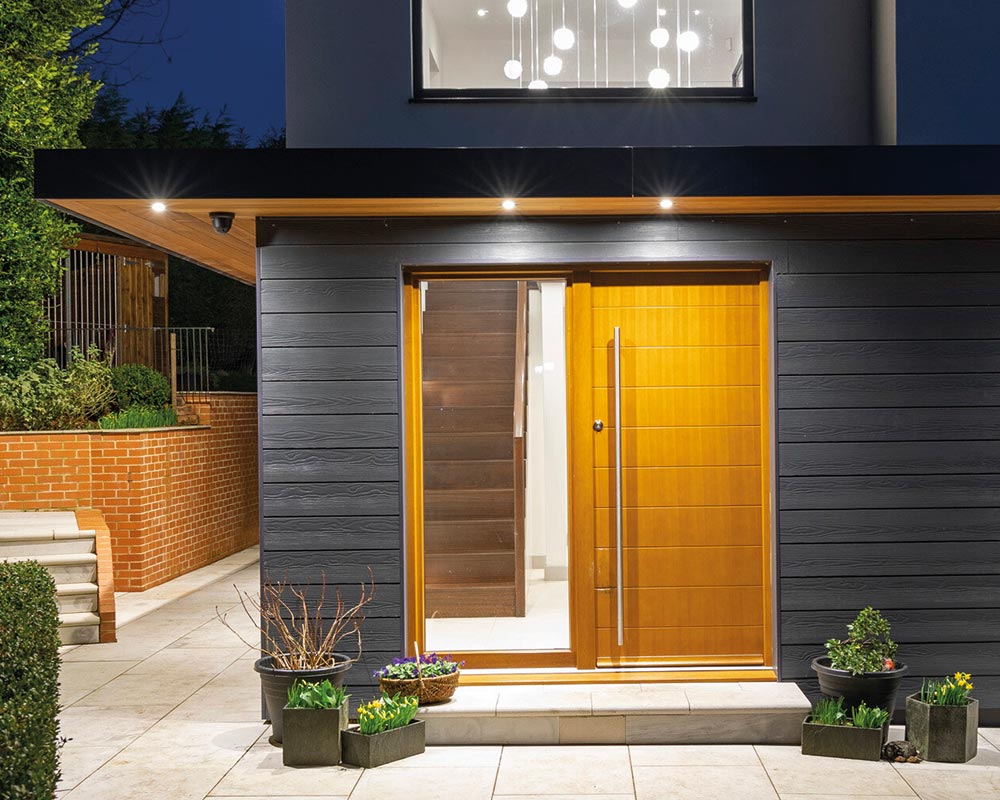 The security features of the door and locking mechanisms
Security is another vital aspect to consider when buying a timber external entrance door. As this is a point of entry to your property, be sure to find a timber door supplier that takes extra care in ensuring that reliable and sturdy locking mechanisms are installed to help prevent break-ins.
Our timber external front doors are made with 68mm thick door leaves and key operated high-security multipoint espagnolette locks, with Neighbourhood Watch approved cylinder locks, all sourced from the leading brands in home security. We're also approved by Secured by Design, and you can read more about the security of timber windows and doors in our blog here.
The exterior finishes available
The exterior finish of your door is particularly important for a timber front door, as it protects the wood from the elements and is one of the main factors affecting longevity. A factory-finished timber door will typically have a longer life span than one supplied unfinished and will often have more extensive warranties. Many front door suppliers will have a number of different factory-applied stains and paint finishes to choose from. Options include bright, attractive paint colours to help the door blend in with your existing decor or property, to transparent stain finishes that let the beauty of the timber grain shine through. Be sure to find a supplier that offers plenty of options so you can invest in a bespoke, original timber front door that's finished exactly as you would like.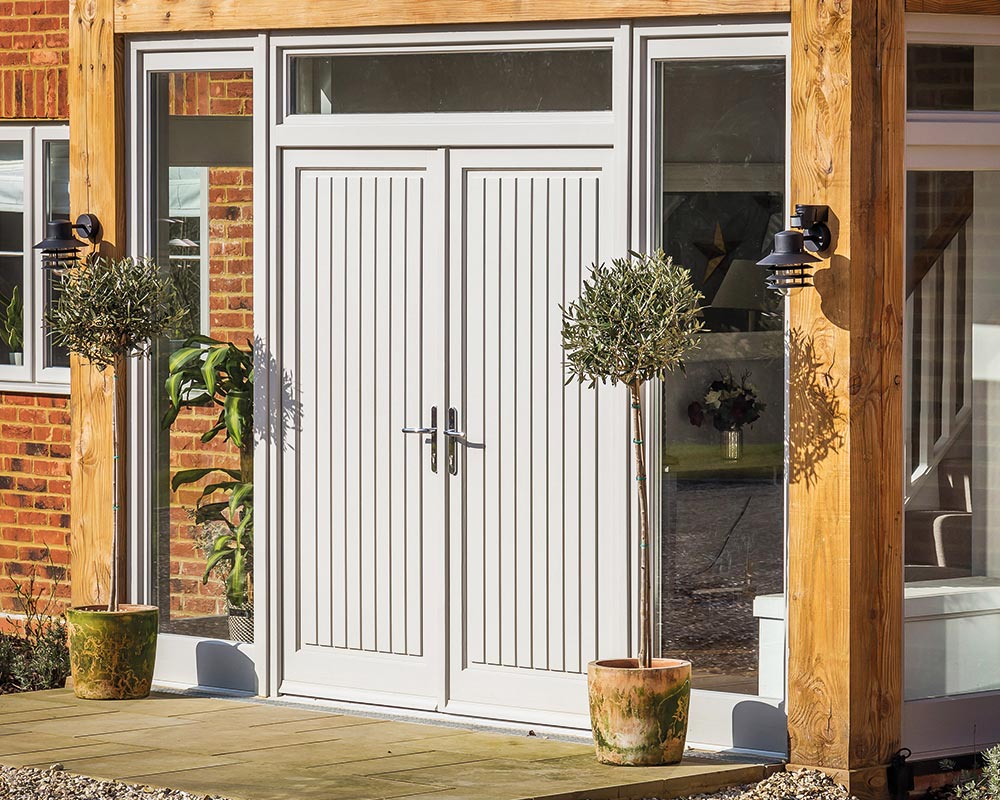 The lifespan of the timber door
The lifespan of a timber door is an essential factor. Timber doors are generally more expensive and therefore a more considerable investment than UPVC or composite doors, but they can offer 2-3 times the lifespan when well manufactured and cared for. Bearing this in mind, find a supplier that offers a reputable lifespan and is transparent about the quality of the timber they use and any warranties they offer. This can offer you additional reassurance that you've found a trustworthy supplier with experience, expertise and know-how, with timber door design and manufacturing that stands the test of time.
The energy efficiency of the door
Another vital consideration when choosing a timber front door is the energy efficiency of the door. Consideration must be made regarding the U-value of the door and how it will retain heat in the winter while avoiding overheating in the summer. Timber door energy efficiency can help to reduce energy bills over time, thanks to the amount of heat retained in the colder months that isn't lost through the doors or windows.
You can explore our entire range of timber entrance doors here or book a consultation with a member of our team today. Otherwise, head to our blog for more industry expertise on timber doors and windows to help you make the right choice for your home.