Back to news
The Value Of A Good Installation
October 24, 2023 | Blog
At Bereco we have been reinforcing the value of a high quality installation for many years and more so in recent months with more and more emphasis now being placed on low carbon targets for homes, air pressure testing for new dwellings in accordance with Part L and even new builds and renovations being completed to Passivehaus standards.
On the market today you will find both double and triple glazed windows with excellent thermal, weather and air pressure performance such as those in the Bereco timber window and door ranges with overall window u values starting from 0.8W/m²K but fit them without consideration of expansion and contraction of the frame material and a weather tight seal between the frame and building then you will find the performance you have paid for is lost or at the very least significantly reduced.
I recently came across an article in the September edition of The Installer that mirrored our sentiments on the virtues of a good practice in fitting windows and doors to retain their energy performance;
Energy Rating Is Not Just The Frame
By Don Waterworth, Technical Write for The Installer Magazine, September 2016
It has now become commonplace that systems companies and trade suppliers take great pride in announcing that their frames are A, B or C rated. In fact usually, the industry refers to A rated only as this sells more windows to the consumer. Whilst I am in favour of energy rating, I am never in favour of installers that install energy rated windows and actually reduce the energy performance by their poor practices.
"A considerable amount of time and money is expended on the virtues of energy rating windows and doors by systems companies and fabricators – but often the installation is ignored" says Don Waterworth.
Unacceptable
The 2 photographs attached show an installation that I recently inspected which was completed 6 – 7 months ago. In the short period of time, the seals had become detached between the frame and the substrate. This is unacceptable and any installer carrying out this type of work simply does not know his job!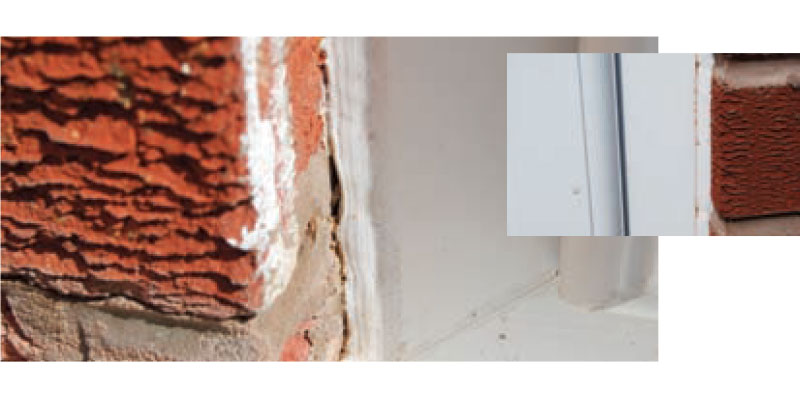 Inspections
All installers should be aware that installations will be inspected by any Expert using the trade standards, these are generally – BS8213-4:2007 & 2016. The GGF Code of Practice (which generally duplicates BS8213) and the FENSA, Assure, MTC guidelines.
I have lost count of the number of times I have inspected installations and found a miserable, narrow, poorly applied external perimeter seal of low modulus.
A job to do
Remember, the perimeter sealant has a job to do. The sealant must suitably adhere to the substrate and also overlap the frame by at least 2-3 mm. There must be a suitable thermal backing material and the seal should be 8-10mm wide.
Let us not forget that these low modulus sealants are meant to expand and contract and as such, absorb the thermal movement of the frame, as invariably the co-efficient of linear thermal expansion of the different materials to which the sealant has been applied, will move at different rates. If this sealant is not substantial and robust enough, the seal would simply be unable to accommodate the movement and split.
Complaints
The result will be that your customer will ring you and you will need to make a service call, and/or your customer will have a draughty house. Neither of which is favourable or acceptable.
As a professional window installer, you should be able to seal windows and doors correctly, allowing for movement and ensuring that no splitting occurs.
Your customers pay for professional skills and knowledge, therefore you MUST provide the kills and knowledge."
Article Credit – Don Waterworth, Technical Write for The Installer Magazine, September 2016
By Nicola Harrison – General Manager at Bereco